This has become the most creative topic on Lamma.com.hk so far! I started it one month ago, inspired by an email list of 88 Ways to Know If You're Chinese. It took off like wildfire and got over 40 great responses from dozens of members within the first day! Here's a list of the best 88 signs, sorted by member and slightly edited for spelling and grammar.
Signs you've lived on Lamma for too long
You never get anywhere on Lamma on time because you run on "Lamma time". (bbchris)

Your feet only feel comfortable when you're wearing flip-flops. (loveegs)

Your idea of nostalgia is $5 noodles with spam & eggs on the old ferries. HALCYON DAYS! (loveegs)

Walking past apartments and spiky reminiscences of nights in them when you thought it was so great to sit up with a room full of long gone people - with a guitar - blithering...wonderwall! while engaging in chemical warfare & the like! (hissing sid)

When you know Josh, Kevin & "Josh's mother", but not her real name. (alexanku)

You start to think that you ought to like everyone instead of doing what you did before you moved to the 'Island Shangri-la' and liked some, didn't like others, but that was OK with everyone. (My Hairy Ass)

You don't like anybody. (Fortune Chan)

You get your kit off and dance naked on the tables at the Deli. (anex)

You walk into the Y2K bar at 4am completely naked....... strange but true!! (anex)

When your idea of a productive morning is strumming a few chords on an out of tune guitar, then reverting to your normal sitting position - chin on chest, mouth open with a half glass of vodka in hand, then you've probably been on Lamma FAR too long. (zep)

When you have become a Swiss Franc millionaire by selling lentil soup to your friends. (Ronald McBobsy)

When someone describes a location on Lamma (in another thread) as "the red flowering tree near the rave party house at the top of Heart Attack Hill "; and you know exactly where they mean! (Poppet)

When you have no friends anymore. (bbdog)

When you start talking shite on a local website, on local issues, with local people, and local places, when you're local. (devils advocate)


Lamma-Gung: You haven't worn a watch in ages and use your mobile phone to check time, but rarely.

You're overcome by anxiety and nervousness when you have to go to town.
When in town, you're most eager to return to your island home.

The words "stress", "deadline", "rat race", etc. are just distant memories, but, unfortunately, also the words "regular salary".

You can hardly remember the time when you were way too busy-busy to think up your own lists, and instead just forwarded existing lists to your friends.

You think it's perfectly normal and common to live in a low-rent rooftop flat with BBQ, kiddie pool and harbour view.


webdog: You cannot bear the minimum level of noise, but immune to Mahjong cracking.

You don't know how to control a lift.

When you frantically check the time when the watch strikes 12am, not sure if you have time to finish another drink?

When you feel the glory that your last-10-seconds dash to the gate just made the last ferry?


Alan: You hate public holidays because:
a) of the herds of tourists who mill around and block your way, before heading up the hills to start a grassfire.
b) you miss the ferry because it's using the Sunday schedule.

You can walk from the beach to Main Street in the dark, without a torch, and not step in any dog shit.

When you go to the beach you don't take anything except your togs, because you know you can find beach mats, sand toys, newspapers, sandals, shampoo, when you get there.

You know the times to see nude yoga at the hidden beach, or when the Euro-trash are getting their all-over tans at PSB.

When you see a snake crossing in front of you, you go closer to see what kind it is.

You can live off the wild bananas, berries and turtle eggs when you go on a walk.

Though illiterate, you can swear in at least two languages.

You bring your dog into restaurants and throw him scraps under the table.


Insomniac: When you think that the waitress from Dan's means you personally when she says 'darling'.

When Dan says a word to you.

You've said hi to the same person twice in less than an hour.

You know who is up the duff (again) by getting a regular prescription.

You don't care what you are saying out loud.

You have credit at every bar and can pay it.


Doggy: When travelling to work in shorts, T-shirt and flip flops then changing in the office toilets on a rainy day seems normal.

When most of your friends' names have epithets - Scottish-Andy, cat-Susan, fat-Bob, spotty-Dick, etc - but you don't know their surnames.

When you recognise the local fauna by similar epithets - the orgasm bird, the whoop-whoop bird, the cow frog, the dirty-bastard centipede.

When Nick the Book doesn't look odd any more (sorry Nick).

When you often repeat, 'Oh but Lamma was different before 97', when what your really mean is that you were single, had no children and more time for recreational drugs before 97.

When you only need to remember 4 digits of all of your friends' phone numbers.

When you think that you know better.

Norseman: When you remember Keith Hassett.

You think that hanging your face mask off one ear is as effective as having it over your mouth.

When, on reaching the bins, you chuck your bag on the floor in front of the bin, and then complain about feral cats, dogs and rats.

When you think laying poison is a good deterrent for above-said wildlife instead of being hygienic.

When you don't chortle to yourself when you see village names such as Pak Kok and Wang Long.

When you care that the old dog on the corner before Granny Chan's died this morning in its usual spot.


e: Yes, and when you cared enough to know that he is known as Bobby whom Granny Yau-Giu took care of in the past years.

You only know the weekdays ferry schedules by heart but never the Sunday/public holiday ones.

Only the most important people/things can get you off the island on a rest day. And still you'd try all you can to defer that appointment to a working day.

A short trip to the main street to pick up some food could take ages because you have to stop so many times to chat with all the friends you run into or play with all the cats and dogs that you know along the way.

When 4-digit phone numbers make sense to you.

When your neighbour's cats come over for visits more often than your neighbour does.

You rush to get cat or dog food whenever you run into your favourite neighbourhood strays.


mrsLawless: You think the power station looks quite pretty when it's lit up at night.

Although you can hardly walk or speak, you manage to organise a sampan from Aberdeen to Lamma at 4:10am.

You know the names of certain dogs, but you don't know their owners.

You have at least one child/pet named after an earth goddess.

When you take stuff out of the bins, knowing it doesn't work, in the hope of fixing it sometime soon.

When you're seriously considering getting chickens/a pig/goats.

When you have perfected a method of catching and killing the bastard centipedes.

When the lady in the video shop knows your name and phone number without asking.

When you stop and talk to the stray cats in the bins.

When you can order a 'Bobsy Shake' at the Bookworm without cringing.

When you've been here 8 years and look down your nose at people who've only been here 7 years.

When you can't be bothered to be nice to people who aren't in your clique of friends.


pakcockien: When you know 12 different ways to get to your flat, how long each way takes down to the second, and which is better for avoiding crowds at various times.

When you have a nice elderly lady who becomes your 'Chinese grandma' who you take things to on public holidays.

When you remember such classic Lamma hits as 'ferry noodles' and 'I'm a V.V. Driver'.

You know who the crazy lady who builds is.

You remember squinty John as the human jukebox.

You've been here too long if you have slept with more than... shall we say, 5 people that you have to pass on a weekly basis. You've been here way too long if this seems normal and doesn't bother you.


MissB: You refer to the sitting out area outside the Island Bar as 'The Beer Garden'.

You consider Mr Hing on the High Street as a purveyor of high-end men's and children's clothing. (aka 'Man at Hing').

You STILL go on about the Corner Bar.


Fat Boy: You start moaning about people on bikes riding too fast.

You don't mind sitting on a busy ferry clipping your fingernails.

You sometimes walk around Central in a pair of flip flops (thongs to any defeated Australians out there).

You feel no embarrassment sitting drinking cheap beer at the seats of shame.

You start to smell.


Lamma-Gung: When you've attended ALL DickStocks so far.

When most of your furniture & household/ electrical appliances come from local moving sales.

When you personally know many of the people behind the member names above.

When you spend much of your time writing, editing, photographing & publishing a monthly e-zine, just for love and no money.

When you're contributing to a list called 88 signs that you've lived on Lamma for too long.
Another, more positive list has already been started: What we like about living on Lamma.
Two weeks ago, on a whim, I was walking an abandoned path up the hill between Yung Shue Wan and the power station. Just above the first phase of the reclamation, I discovered several deserted shacks. Here are 2 photo galleries of my hikes & all the strange but fascinating sights, with captions:
Photo Gallery: Deserted Village at Hunter's
I had NO idea about the history of this fascinating little village. It's completely hidden in the jungle, mosquitoes-infested, no vehicular access, but less than 10 minutes from Main Street. The official map calls it Kam Lo Hom.
Asking some friends about this area, I learnt that it was known locally simply as "Hunter's". On the left, a close-up of t
he area, incl. "Hunter's Beach", from a 1964 aerial photo, supplied by Richard. In the 90s, it was inhabited by barefoot artist & original Berkeley hippie Hunter, who was a fruitarian. Most long-time residents remember rave/acid parties around 1996, even run-ins with local "law enforcement". But there were also great Christmas pantomimes & theatre performances.

Clive Keep who lived up there in 1995, remembers the abandoned soap factory when Hunter moved in to store his stuff there, squatting, but living on his junk custom-made for him in China. Clive said further in a phone interview, that Hunter shipped stuff from his huge collections to California to make money. He was also growing herbs and fruits with varying degrees of success, even rearing ducks and geese!
Starting a new topic (Deserted Village above Hunter's Beach?) on Lamma.com.hk, I got quite a few replies & info from people who remembered Hunter's:
Alan
(moderator of Environmental forum):
More than 5 years ago there were some gweilos living there. Occasionally they'd have dance parties, admission $50. On the coast below the main house was a pretty little beach, known as Hunter's Beach. There was a little spring there.
This is now in the middle of the far section of the reclamation, where they pretended they were going to make a helipad. I think the guy who actually lived there was the eponymous Hunter, a Lamma legend though I didn't know him myself.
k@
(moderator of Oldsters forum):
Hunter arrived on his junk from China, I think. He lived on it opposite what is now called Hunter's Beach. He turned an old ruin behind the beach into a sort of storehouse for all sorts of bric-a-brac and junk. Every morning he and Chris Knox used to race to the rubbish dump on the pier to grab the best bits of rubbish.
After Hunter left Clive Keep was doing something up in the ruin. On one occasion Adrian Dyer held a 60's fancy dress/rave party up there. I think I won the men's prize but I had already left by the time they announced the results. Can't think of anything else about Hunter, he kept himself to himself most of the time.
bbchris
(moderator of Music forum):
Hunter is now living in Philippines - actually I made a post asking about him on the 'old lamma hands' section of My Lamma. I never actually went up there once Hunter started living there (squatting!!)
Yes, there were beach parties on that beach. Anyone remember the 'Pirates Party?' with Sisters of Sharon? I have a photo somewhere. Ginger haired Jimmy was DJing.... Some of you long-timers may even remember the CHRISTMAS PANTOMIMES held there around 10 years ago? Remember Alice in Wonderland? I actually have video footage of this panto. Remember German Julia, mad Jules, Martine, SASKIA, I think I've invoked enough memories here.......

I've heard that he's trying to get himself together in the Philippines. A friend of his is taking over the junk - which is falling apart - and hoping to get it brought back to HK for repairs.
ipkeemay
:
I remember Hunter. In fact, I think of him often, wondering how he is doing.
I'd like to get in touch with him, and sure he will be happy to hear from me, because on the day I left Lamma, he told me to keep in touch. He did give me a friend's contact in the States through which I could get in touch with him, as he was not sure at that point whether he would be leaving Lamma soon, and where he would be going.

Hunter had been a legend on Lamma even before my time. We crossed path when I was living on the Island. If you ask people who have lived there for more than a decade and know me, they will tell you that I did not hang out much (because I don't drink :)).

I had heard of Hunter for a long time, but only got to know him when I was going out with Oz. Oz and I broke up, but my friendship with Hunter was not affected. We became closer friend through Bobsy (who was my closest friend when I left Hongkong and still is). The three of us had a get-together at Hunter's a couple of days before my departure.

Looking at the pictures you took of the place brought back a lot of good memories. I was also involved in some of the pantomimes bbchris mentioned which happened there back in the jungle. I hadn't thought that Hunter considered me as a good friend and was surprised when he gave me a farewell present on the day I left Lamma and Hongkong.
Bobsy:
Hunter the Lamma Institution

(bobsy lived at hunter's for six months in 1993 and it was his first home on lamma island.)


i first met hunter in early 1993. i had first seen him walking down the main street, barefoot, straw hat with feather cropped on head and Rufus his faithful companion dog at heel. i immediately felt an affinity with the man. "he's an eccentric californian artist and only eats fruits," i was told. i felt intrigued to meet the man. so the next day i wandered round to see if i could meet the man. it was a gorgeous sunny lamma afternoon and hunter was on his beach mending his traditional chinese junk sails. massive faded canvas sails dyed in pigs blood, "the traditional way as they had done in china for thousands of years," he told me.

hunter was a bit of a recluse who enjoyed the quiet of his own company. the locals had long accepted this "crazy gweilo" and his eccentric ways. He was a gentle and quiet man who collected "lap sap", kept himself to himself and lived on his old boat in the harbour. that's all they cared about.

our first meeting was friendly and on the same wave length. hunter, i felt, although shy and reserved at first, also had an affinity with me. i remember asking all the questions that sunny afternoon and hearing fascinating stories from this berkeley sixties child... i myself had only just moved to lamma and was crashing on acquaintances' floors and sofas, as i had very little money and could not afford the obligatory two months deposit on a pad of my own.

i found myself spending more and more time with the man, as he busied himself on his beautiful boat and on his land doing his chores and errands. back then (before the phase 1 reclamation), the beach and the land above it were known as hunter's. after a short while he asked me if i would like to stay in his little shack and pay what i could afford and help with the land. i said i would love to and promptly moved my belongings and settled in. it was the beginning of a great six months of living in the semi-open under the stars, with no electricity or running tap water...

i loved every minute of it. waking with the sun, cooking on log fires, living simply and getting to know and work with the man as an artist, ecologist, organic farmer, health/nutrition encyclopedia and as a friend. he was a great inspiration and i learnt quite a lot from the man. we sat around camp fires at night on special occasions and during the day we made art together from all the special and amazing "lap sap" he collected and stored in the most artistic way.

hunter was a great collector of other people's rubbish and throw-aways. he couldn't bear to see things wasted from an ecological point of view and would frequent the main rubbish dump in yung shue wan and stroll lamma's beaches for odd objects and beautiful drift wood. treasures indeed! in fact, he would often find antiques that locals had unwittingly discarded, especially over chinese new year. antiques that he would carefully ship back to california, where he would later sell them for a small fortune.

hunter deeply cared for the planet and walked his talk. in every waking moment he put the well-being of the land and the sea first. he was the first person i had seen picking up other people's rubbish that he passed on the paths. he was the first person i had seen who had a deep spiritual bond with the earth. a trip round to hunter's back then was like walking into a cross between an aladdin's cave and a natural art museum. everything had its place and was displayed creatively. organic sculptures made from old rusted pieces of machinery, rubber wheels, drift wood, old timber, rocks, stones, even umbrellas and old hats... the list went on and on. everywhere you looked, there was something to marvel at.

he also farmed a small plot of land amongst the ruins. the land used to be an old soap factory many years ago that the government had demolished. on the land there was fresh, clean ground water that oozed out of an old man-made well, the water tasted heavenly! hunter would swear by it.

hunter was never an idle man. he kept himself very busy during the day pottering either on his land or on his boat. he loved books and reading and sustained himself on a healthy diet of fruits, nuts and seeds, with the occasional salad on those special occasions like the equinox or solstice. he went to bed early as he also had no electricity and woke up with the sunrise. at fifty something he was the healthiest and most dynamic person i had ever met...

in late 1996, just before the government was to start the reclamation of his beloved beach and land, hunter packed his essentials and sadly bade farewell to the place he had created and called home since the late eighties. that day, lamma lost an institution.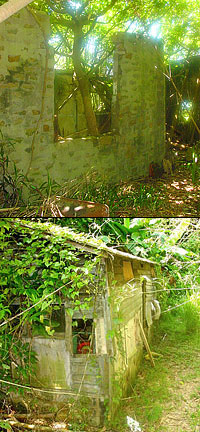 Bobsy supplied historic photos of Hunter, himself and their former home (see above left). I made up some "then/now" comparisons, using photos from a photo gallery during a 2nd visit up at Hunter's together. It was a true trip down memory lane for Bobsy, returning to his first home after moving to Hong Kong: Hunter's - 2. Visit & Historic Photos.

Finally, I reached Hunter himself by email in the Philippines:
Hunter Edward Wallof:
Hi Lamma-Gung;
Thank you for your e-mail.
I'm not sure why you have contacted me and at this time I'm very busy but if you would like to communicate more with me please use my new address.
My daughter Willow and I are soon going to California and I am giving the 'Long Hai' to a friend from Hong Kong, Graeme Morris; he plans to bring her back to Hong Kong.

What you are doing sounds interesting and I wish you luck. With Bobsy involved maybe you can make a profit out of it.
It is interesting to hear there is something left of my old shore base in Kam Lo Mam. I've got to get on with town business now;
Love Hunter&Willow

Discuss this story online:
Deserted Village above Hunter's Beach?
Does anyone remember Hunter? He had an authentic junk...
Yes, it's a bit early to talk about the next Lamma Fun Day already.
But better start early than being too late:
Doggy
(Lamma Fun Day organiser):
H

Lamma Fun Day 2003 is starting to simmer slowly, and we are starting to think of ways to make it bigger and better this year. The first big decision is that we are going to hold it mid-late November this year, rather than the second weekend in December, in the hope that, even if it's raining, at least it won't be cold.
If anyone would like to get involved in helping with the organising and running this year, please get in touch. If anyone has any good ideas for activities or events that can be added to the day, then please let us know as soon as possible.

One of our biggest concerns about the Fun Day is that it has been very much a western-orientated event. The local Chinese community comes along to support and participate on the day, but as far as the activities and the organisation goes, it has been much more directed towards the ex-pat community.

We would really like to have more local Chinese involved in the running of the event. If anyone wants to join us or has any good suggestions for how we can get more of the local community involved, let us know.

Contact: info@lammafunday.com, Website: www.lammafunday.com
"Getting someone concerned and knowledgeable on the District Council is one of the unprecedented solutions to the never-ending cascade of bad developments on Lamma Island that have plagued this beautiful island." (Alex Chan, see below)
But first you need to register to vote, by the July 16 deadline!
Save Lamma

:

Alex Chan, Chairman, Citizens Party:

Dear Friends of Lamma,

The upcoming district council election is an opportunity to select a candidate to represent the concerns and aspirations of Lamma Island. Choosing someone who supports the principles of sustainable development would help ensure that environmental and social issues are taken into account when deciding on infrastructure and building projects.

THE DEADLINE FOR REGISTERING TO VOTE IS JULY 16th. The actual elections are not until November, but people have to be registered before that. Anyone who holds a permanent Hong Kong ID card & lives on Lamma is eligible to vote.

REGISTRATION IS SIMPLE. Just fill out a one page form which you can get:

-at the bank and post office in Yung Shue Wan

-by fax (call the hotline 2891 1001)

-at District Offices & post offices

-The Registration and Electoral Office
10/ F Harbour Centre, 25 Harbour Road, Wan Chai

Fax: 2891 1180

Or download from:
www.info.gov.hk/reo/pdf/reo1_e.pdf (note below)

Or go to:
www.esdlife.com ( but e cert is needed)

If you live on Lamma and hold a permanent HK ID card please register to vote. By choosing the candidate you believe will best represent your vision of Lamma Island, you can contribute to making it a better place to live, work and visit.

Thanks for your support,
The Save Lamma Campaign

Note: the download of the election registration form will run into problems unless you have the recent Adobe Acrobat 6.0 (free download):

www.adobe.com/products/acrobat/readstep2.html

Or install the Chinese Traditional Character fontpack for Adobe Acrobat 5.0 (free download):

(He's very engaged in Save Lamma, the helipad issue and the Ring Road opposition. He'll be running in the District Council Election):


Be a Voter: Two more days before the deadline for Nov 2003 District Council Elector Registration

The scrutiny of Article 23 legislation tells us that we need to choose people who can represent us in the Legislative Council and the District Council. Otherwise, the welfare of society at large will be ruined. But how? Be a voter!

If there are democratic elections, we can cast votes, and support the candidates and political parties that can represent our views in the Legislative Council and District Council. Our votes can also kick people who do not do their work well out of the assemblies.

If you want to vote in the coming District Council elections in November, you must submit your forms on or before July 16, 2003. In HK, if you are permanent residents, you can register as a voter.

- If you have not voted in any elections before, you need to register, so that you can exercise your power.

- If you have moved, and have not yet informed the Registration and Electoral Office, you need to do it immediately.


The deadline is near, so don't miss it!

The registration deadline:

by fax: July 16, 11:59 pm (dated July 16)

by mail: chop on July 16

REGISTRATION IS SIMPLE. (see left column)


Please also remind the people around you of voter registration. It is time to make some real changes!!
Did you hear about the two new restaurants opening soon in Yung Shue Wan, "The Full Monty" and "Table for Two"? Yes, the local dining scene is becoming vibrant again, lots of promotions, specials and even live music!
Right, a great promotion for local restaurants in the SCM Post on Sun, July 6, showing Man Fung and Sampan restaurants, our two really "touristy" places (Photos Edward Wong). Subtitle: "Some of the best seafood is just a ferry ride away - and great views work up the appetite." and "Lamma Island seafood restaurants are a strong draw for city folk - even on weekdays."
More restaurant news:
Aroy Thai: Besides the recently introduced, very popular BBQ Night ("Vegetarians beware!") every Friday, Mr DanKwaiFong.com has recently added a Cocktails Night ("small, virulently colo
ured drinks with silly names, served in funny shaped glasses for exorbitant sums of money – you'll love it") and an acoustic Jam Night.
See the Lamma Events Calendar for more details!
Aroy Thai has become quite stylish after the redecoration and is even displaying frequently changing artworks these days. So far they've only been featuring local artist Nadja from the second-hand shop a few doors down from Aroy Thai. But the space might become available to other artists soon. This large-format oil painting on the right, is it depicting Nadja herself, or maybe even Geng of Gengburger fame?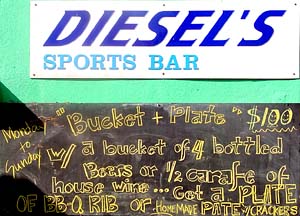 Diesel's: They didn't take the BBQ Nights success from Aroy Thai lying down, after having introduced their own occasional outdoor BBQ buffet a few months ago. So they trumped Aroy Thai. BBQ Mon-Fri instead of only Friday! Same price, but 4 drinks instead of 1!
But is the BBQ as delicious as Aroy Thai's? Has anybody been test-eating & comparing them? We patrons love competition & choice!
Island Bar: New exhibition of Bob Davis' 30 year of award-winning B/W photography in HK. Straight from the FCC, this is the first new exhibition by Bob in the Island Bar in over 20 years! Some fascinating & historic shots by this (in)famous Lamma personality.

Lung Wah Seafood: The "other" Dim Sum place, opposite Spicy Island, is still a great place for a really low-cost Dim Sum brunch, typically well below $100 for up to 4 people together, much cheaper than the very popular Sampan Seafood Rest. It's my new favourite spot for Sunday morning people watching, from the window table all the way down Main Street (see right).
New Holiday Mood:
It reopened just a few weeks ago, but I've already tried it 3 times, for a fair review:
Breakfast: I got a tiny hot dog bun with a little Wiener sausage inside and the only condiment was...mayonnaise! Plus a teaspoon-full of egg salad. Coffee is acceptable, nice pancakes with tuna or other fillings.
Lunch: When ordering a lunch set, the main courses arrived first, then soup and coffee/tea at almost the same time. Completely cold, hard string beans w/o salt or spices, plus very overcooked, mushy spaghetti and a really bland sole fillet with white sauce of non-descript taste.
Dinner: The same disappointment! We got not-overcooked, but totally unsalted noodles and unsalted, spice-less "Chicken Kiev". Most of the food seems to be tasteless and bad quality overall, even when measured by the most modest down-market standards. All my acquaintances seem to agree.
The inexperienced summer students - making a little pocket-money from waitressing - are really in way over their heads and have to learn this difficult job while doing it. When it gets a bit busy at lunchtime they start mixing up dishes and tables and dropping things... Even the personable manager Ricky had to shake his head at the ineptitude of his own staff. The other guests were making fun of the service as well, not in a bad way, more in a bemused, sympathetic and head-shaking way.
The decoration with dark-red walls, dark-green ceilings, mirrors and strings of Christmas-tree lights really looks best only at night, together with candle-lights on the tables. They considered calling the place Starlight Café but opted to keep the old name and logo for cost reasons, just adding the word NEW to the signage, but didn't fix the missing L (see left).
This place definitely needs even more time to develop and hasn't even had its official opening yet. It seems to compete head-to-head with Man Kee and B&B, unfortunately. However, both of these places offer far superior food, similar prices and menu - like Man Kee's popular breakfast sets and very similar lunch/dinner sets &
prices, as does B&B.
Most of all, they need to get a better cook to avoid another failure in this most failure-prone location. But this could prove somewhat difficult to implement, as the main cook is the wife of the manager... Personally, I'd love to see this place survive & prosper, but they'll have to make serious improvements.
The Full Monty: This upcoming place was founded by our local former Karate world champion (old photo on the right, taken when he had way more & darker hair). His adorable baby daughter Montana gave her nickname for the venture and actually owns The Full Monty 99%!
It'll be run by Peter & David who're doing the redecoration these days. This large place with a great location - right opposite the Deli Lamma - is scheduled to open in Sep. Besides traditional, high-quality fish and chips, it'll offer kebabs and other ethnic foods for take-away.
Table for Two: Bali Café (behind the public toilet, below the stairs to Po Wah Yuen) has already renamed itself, before even officially opening. Still no sign, name cards, logo or English menu.
I wonder why, but I can guess...
They offer freshly squeezed fruit juices, even small lunches. Nice retro-style decoration: comfy huge rattan chairs, batik table clothes, wooden rocking horses, hanging lounge chair, lots of Chinese reading material. It soft-opened at Easter, but is not scheduled for official opening till (maybe) Sep. Try a leisurely & relaxing cake tea set for $20.
On June 15, Thinking Out Loud were performing in a most unusual location - not a smoky bar, but in the wide-open, neon-bright, multi-storey shopping mall of Times Square, Causeway Bay!
As the "official photographer" of the event, I've shot and published a little photo gallery: TOL@TimesSquare.com.HK
BBChris had to behave on stage for once, as her mom (see right) was in the audience! No spiky bras, no moaning and no censorable words & gestures this time! So unusually tame & "family-friendly" this time, her fans might have been astonished about the lack of raunchiness, but the audience of shoppers was most appreciative and clapped politely.
From the TimesSquare.com.hk website:
"Never underestimate your talent. Perform at "On Stage at Times Square", and receive a big round of applause from your audience. We have no limita
tion on performance type and experience. Come up, and the stage is yours. Interested parties should email us. Enquiry: 2118-8854, Fax 2118-8934. Requirements:
Any Performing arts form will be considered.
Talented amateur performers are welcome.
Experienced performers are definitely eligible.
A small fee will be offered as a token of appreciation to the selected performers."
Photo Gallery in next Lamma-zine:
the Garoupa & the (Book)worm!
Many of you must have been attending the Wanchai Live VIII concerts, where 3 out of the 42 bands were from Lamma!
It's been amazingly difficult to get any live photos from 2 of the 3 bands, so I'm just using this great photo-montage from the SCM Post on June 27, subtitled:
"Hong Kong's top rockers (clockwise, from left) Papa Jack, Thinking Out Loud and The Bastards are ready to rip it up at Wan Chai Live.
Photos: Ricky Chung/Martin Chan/Anthony Dickson".
The 3rd Lamma band was The Small Corner Band, recently renamed into Garoupa (see Events Calendar above).
Quoting from the SCM Post story:
"The Bastards are hardly what you'd call struggling musicians: b
assist David Green -
or Dr David Green to you and me - has his own environmental consultancy firm. As does guitarist James Shorthouse. Mark Harrison has his own town planning business. Singer Dan James owns a bar/cafe on Lamma - affectionately referred to as Dan Kwai Fong by some locals. Drummer Dave McKirdy, meanwhile, spends his time refitting Ferraris...
...The riotous Thinking Out Loud is scheduled for a 10pm Saturday performance at Carnegie's and lead siren Chris B is champing at the bit. "We can't wait to play up on the new balcony," she trills, referring to the pub's recent refit, which separates band from mosh pit while ensuring there will be no stage diving this year. With her penchant for undressing during a gig, can the audience expect any surprises? "Absolutely," she booms. "Come and see my new bra!" She'll be glad of that balcony.
© david.watkins@scmp.com
(click on photo below right - her spiky new bra - for TOL's photo gallery)
BBChris
(Thinking Out Loud, Shazza Music):
Wasn't Wanchai Live an awesome event! Support for KELY by Carnegie's & The Wanch was outstanding! The staff stayed busy and they stayed smiling.
Every band we watched played with passion and showed that HK music is getting better and better. We look forward to WL IV!

THE BASTARDS - Wanch – 10pm
Formed 1990. CD indie release on NODAD records 1996. Aggregate age 227. Have played just about every venue in HK. Toured Thailand 1992/3/4/5/6/7/8. Reputation for punk and hard rock, but range covers 60s/70s/80s/90s and new millennium covers as well as original rock and pop and anthems. On Sat night, The Bastards will have played all 8 Wanchai Lives. One life left for these cats. Will play mostly originals & few requested covers on Saturday. www.hkbastards.com
THINKING OUT LOUD - Carnegies – 10pm
The biggest band at this year's Wanchai Live! Chris B. (ex-Sisters of Sharon) rocks the house with Hugh on drums, Ryan on bass, Aaron on lead guitar, Shaun B. on keyboards and Mysterious Mr. B on sax. Songs vary from catchy originals (including a zany bi-lingual number) to mad covers of Ween and Van Morrison. This year Chris B. is the only female rock guitarist performing! Current band description: "Teenage angst, sexually charged performance & plenty of free stickers". http://thinkingoutloud.com.hk
THE SMALL CORNER BAND Carnegies – 4pm - aka Garoupa.
A new Lamma-based band that have been together a few months. The international line-up includes Alex (England) on guitar & vocals, Hamada (Morocco, 4 caps, 2 goals) on lead guitar, Gary (New Zealand, U21 International) on bass and Magnus (Sweden, no caps, no hats, no clothes) on percussion. Play a mixture of original bluesy/rock/funk and Moroccan songs (no covers). They followed up a successful first gig at Pizza Milano with a stormin' debut at Wanchai Live. Catch them (no pun intended) at the Bookworm on the 19th July. Look out for the posters. (see Events Calendar)
Wandering aimlessly around Sha Po Old and New Village frequently, I've collected quite a few night shots, some of them looking quite acceptable, I hope. Judge yourself:
Sha Po Village Nights photo gallery
Many of you are taking great pictures. Why not exhibit your best ones in the Lamma-zine? If they're in some way Lamma-related - parties, events, hikes, anything - just email them to me! If they're non-digital, I'll even scan them for you!
Add a few captions and get a quick, hand-made online photo gallery of your best shots, viewable by your friends and family anywhere in the world! Show off your best shots!