CNY carousel in the Lamma-Gung/Por household
---

Kung Hei Fat Choy
to all our readers & their families & their friends & their acquaintances!
Here's a lucky Fai Chun for you, with the most appropriate good wish I could find: "The country prospers and people live in peace"!
Plus an animated CNY card for you, courtesy of one of my former websites:
www.DiscoverHongKong.com/getCard/39052982687075.jhtml
How well did you survive the Chinese New Year holidays? Well-rested?
Your editor took a long 2-week break in a beautiful, palm-studded, sandy-beached, balmy, cheap, subtropical Island paradise: Lamma Island!
That's one of the many reasons for the delayed publishing date of this e-zine. Due to a serious lack of contributors recently and work engagements, the My Lamma e-zine will be on a more irregular schedule from now on, about bi-weekly, plus Special Topics Issues whenever warranted (festivals, Funday, next DickStock, etc.).
Congrats to my neighbour, who gave birth recently ON the emergency helicopter to the hospital! What a high-flying start into life for her healthy baby girl!
Congrats as well to our moderator Alan, who made it onto TVB's Pearl Report recently, for an interview about the path from Lo Tik Wan to Luk Chau.
Have you voted already in our Photo Contest! A considerable number of great snapshots have been entered and are online now in our Contest Photo Gallery, awaiting your votes!
Vote for your favourites and for your friends' photos! Deadline is next Monday, Feb 17!
www.Lamma.com.hk/forum/Lamma-Gung/Photo-Contest-judging.htm
The winners will be announced, praised and prizes awarded in the next e-zine, before end of February.
New Chinese Year, new Chinese Avatars!
I've sized, prepared & uploaded several series of the 12 Chinese Zodiac animals for you to use as part of your online identity. Select them in Avatar gallery in your Profile!
We also have all Western Zodiac signs. Or have Lamma-Gung create a unique Avatar for you on demand! As a certified "Artsy Cybergeek" I love creating Avatars!
I'm presenting our usual 8 features in this CNY e-zine; most of them are light & fluffy like sheep's wool (pun intended), nothing

too heavy & serious allowed during the CNY period, spoiling the festive mood!

Yes, I finally got around to doing the first interview in my new, irregular series of "Laudable Lamma Luminaries", featuring local celebrities.

Thanks and acknowledgements to our member Pha*Q for the title!

I'm starting with one of the many Dans on the island, Dan the Bastard (or Tycoon?)!


Cheers from Lamb-Ah-Gung (sounds better than Sheep-Ah-Gung, yes?)
---
Monty:
Your My Lamma site is terrific, but as you say it could really do with more contributors / involvement from Lamma people. Keep up the good work.
k@:
I liked your new year e-zine layout.
The Stick Insect Hunter:
Great work. Thanks for promoting the Pull Moon Farty.
schan6:
Dear Ah gung, thank you, indeed. You are M A G I C A L !!!!!!!!
e:
thanks, ah-gung for the new avatar, not just one but 3! the signature and underblub are excellent too. thanks again. the spellbound e
---
• Picture

This huge painting by C. Davies for the ABLE Charity high up on the ferry pier notice wall is not new, but I just got around to stitch it together from four photos. I also had to performing a big clean-up job (Photoshop) on this already damaged painting. Click to zoom in to admire all the details.
• Topic:
Hottest topic: Pull Moon Farty of the new Official Court Artist (see feature 4 below). There's an on-going cash collection to get the YSWankers to perform at this "partival" in the Philippines!

Also, read everything you never wanted to know about La Miglione's recent "sinfully lucky so-called career" as an "arousing, hegemonial female"!
• Website:
Steve Cray - Photo Journalist: www.stevecray.zetnet.co.uk
View his amazing photos and reportages: "Hong Kong & Asia Picture Gallery", "Out of Context", "Blood on the Lens".
• Message
Dan (Anastasia's):
FYI, Anastasia's take away will cease to operate very soon. I would like to thank all the people who have come to the shop, tried the food and come back time after time for more.
Until Chinese New Year, we are having a 30% sale on all items (except food) prior to closing.
I would also like to thank the food seller on behalf of all of the customers who contacted the Hawker Control Unit in order to stop me from operating. Was my food really so much better than yours. Once again, thank you.
• Username:
ice-cream-lady: Nice, sweet and evocative name, but too easy to figure out who it could be! There's only one ice cream lady on Lamma!
We'll hear more from her in the next e-zine, with her new charity project of raising money for UNICEF, by letting you vote for your favourite Lamma celebrities in her shop!

• Flames
Ronald McBobsy:
Good to see Keith Hassle is still a total jerk off.
k@'s reply:
Good to see you haven't relocated.

My Hairy Ass:
Clearly, Lamma-Gung doesn't have enough to do with his days or nights and should get a life ..............like this ass.
Lamma-Gung's reply:
Well, I have to agree with the Hairy Ass above, I'm just a sad & pathetic loser with no life...
Sob, sob, sob!

But posting 3 messages per day on average (I joined this board half a year ago when it started) doesn't take more than a few minutes of my working day.

Maybe I've got a "real life" already and a small part of it is posting messages on My Lamma, contributing a little bit to the Lamma community by answering questions, supporting local businesses & good causes, giving advice to new arrivals on Lamma and Lamma.com.hk, plus meeting new friends online!
---
New section! Please inform me well in advance about your Lamma events, so I can promote them!
A male stripper performed in a YSW restaurant's Ladies' Night recently; and I didn't even know about it! But it was NOT the guy on the right performing!
I would have loved...not to attend...but to promote this daring event to all Lamma ladies over 18! According to the audience, it was a rousing & hilarious success and some would love to make it a regular event! Any hot-blooded, able-bodied males want to perform? No pay, but LOTS of tips from the enthusiastic audience!

Feb 12 & 14: SPCA Spay Wagon: already fully booked!

Next one: March 12! Book early with LAP

Feb 13: Darts Challenge in the Island Bar (see poster on the right).

Feb 14 and 15: get ready for the Western & Chinese (Lantern Festival) Valentine's Days!

Feb 15: Salsa Congress (see feature story below).
Feb 15: Global No War Action Day

in cities around the world:

3pm–4:30pm: Venue: Edinburgh Place (outside City Hall, Central):

Forum & performance, Peace Walk mass rally to US/UK Consulates!
Feb 16: Lamma Dragons kick-off party: next Sunday afternoon in the Island Bar!
E-mail lammadragons@Lamma.com.hk for details!
Feb 22: First paddle of Dragonboating season! Read all about it on Lamma.com.hk
---
We've finally reached 3,000 messages posted!
Message #3,000 was one of the shortest messages ever, from edmond: "thx e !"
Warning! Read ONLY if you're technically inclined & interested: 1-day statistics, Feb 9:
"A total of 1,090 pages were accessed by 68 unique hosts. There were approximately 103 distinct visitors; the typical visitor seems to have spent about 8 minutes visiting the site and to have viewed some 10.6 pages. There were a total of 8,597 hits."
---
Chinese New Year Photo Gallery
How did YOU celebrate the CNY holidays? This is my favourite festival of ALL Eastern & Western festivals observed in Hong Kong!

My favourite part was the after-midnight fireworks spectacular enjoyed together with most of our neighbours. Only minor injuries! Also, we've been eating the traditional CNY fried cakes for days now!
We won't run out of boxes of cookie/candy/snack (presents from relatives & friends) anytime soon...
But instead of more words, let's look at CNY traditions in the Lamma-Gung/Lamma-Por household:
What's Happening to Local Restaurants?
You might have noticed the recent closing of 3 restaurants in YSW:
Holiday Mood, Offtime Café and Anastasia's!
And the Y2K bar is looking for a buyer as well, it has been rumoured.
What's happening here? So many closings and no new openings!
Are YSW restaurants facing
extinction?
Business seems to have crashed so much in the last 3 months; "the worst ever!", according to a restaurant owner, the outlook looks grim. Eat out more!
Fortunately, Holiday Mood and Offtime Café have already found buyers, it has been rumoured, for around $220K and $60K, respectively, plus $16K monthly rent for Holiday Mood!
No news yet about when they'll re-open and which type of food they'll be serving. Suggestions from locals might be welcome...
One part of the problems seems to be that some local restaurants have "licensing problems", so they are very vulnerable. If somebody lodges an official complaint they'll be forced to close down if they can't afford to fulfill all the
conditions of a license. It can cost up to $300,000 to convert a residential flat into an approved restaurant with kitchen; less for a snack food place or bar.
Anastasia's will remain closed and is looking for somebody to rent the shop. Contact Dan!
I loved Anastasia's food and Dan's informative, fun & friendly banter. It's very sad to see him close down. There were lots of (sympathetic and critical) discussions on My Lamma about his special case: "Sorry that Dan had to close"
Dan has to support his growing family (2 daughters), becoming a wage slave again. He was lucky to find a permanent job quickly and started work already after CNY. Suit & tie, joining the morning ferry rush of the many lucky, still-employed ones...
Mr. DanKwaiFong.com: Bastard or Tycoon?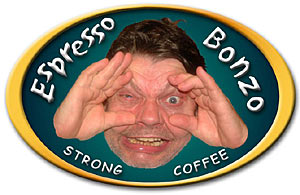 Here's the first installment in our new series of interviews with "Laudable Lamma Luminaries":
Dan the Bastard!
I've nicknamed him Mr.
DanKwaiFong.com, the "mastermind" (and Tycoon?) behind the steadily expanding "DanKwaiFong" empire of Lamma Gourmet, billiard hall, Aroy Thai bar, restaurant, coffee shop, plus a future, upcoming-soon website!
Someday he might take over Bookworm Café, turning it into a steakhouse, you never know!
He's been called "King Pubster, Prince of Punk and Champion of the Neckless Ones" and "our very eminent cheese supplier and advancer of male leg fashion" (see above and right) by his friends.
His punk rock band "The Bastards" has been playing for 12.5 years now, probably the oldest still active band on Lamma, starring at almost all DickStocks so far! His pub (nicknamed "Dan's") is THE most popular bar on Lamma, according to our long-running voting!
A really worthy long-time "Laudable Lamma Luminary", wouldn't you agree?
I've collected so many photos, posters, quotes, music & anecdotes from his many friends! I'm currently working on a big Dan supplement to this e-zine:
online Tue, Feb 18: Mr. DanKwaiFong.com: Bastard or Tycoon?

We've appointed an "Official Court Artist" of My Lamma:

The Stick Insect Hunter, Andy Maluche!

H

is art & music beach "partival" (Pull Moon Farty, Easter, Puerto Galera, Philippines) has become a hot topic on My Lamma.

His artistic contributions to My Lamma are well-known: DickStock Photo Gallery, "Mr. DickStock's Lewd Parlor Thoughts", many photos, Dan's coffee shop logo above, plus his daily new artworks on his hilarious website www.dont-touch-my.com.

All of this makes him more than worthy of this greatest of all honours! He has graciously (see the "crown" in his Avatar above?) and voluntarily (almost no arm-twisting) accepted to become the Official Court Artist/Court Jester of My Lamma!
His official duties will include caricatures of Laudable Lamma Luminaries, more Lamma photos & various "artistic contributions", plus he'll be entitled to take the Mickey out of ANYONE!
Meet him in person and get a signed copy of his new artbook by scheduling an Official Audience during the upcoming Lamma visit of this famous Lamma-exile! I've already reserved and will be blessed with a Stick Insect Hunting Photo Safari into the Lamma wilderness! Hooray!
But beware! You'll be "blessed" with the resulting photos! More bug snapshots! Eeeek!
Would YOU like to visit a Salsa Congress with our new Brazilian-Swiss member Brasileira?



Our first Site Admin webdog has finally returned from a long trip. He's back with a vengeance, posting messages all over! As a true gentleman, he's offering to help Brasileira to find a Salsa partner (NOT a date!), but she has to be VERY specific in her preferences:

webdog:

"Let me see if I can arrange you a guy, what's your preference: so/r/a/l/h/w/cs?
| | | |
| --- | --- | --- |
| so | sexual orientation | (straight, bent, gay, bi...) |
| r | race | (chinese, indians, caucasion, or the lesser monkeys, kangaroos, rabbits...) |
| a | age | (I have a bunch of 50+ desperately waiting) |
| l | location | (yours or mine) |
| h | height | (size doesn't matter, does it?) |
| w | weight | (again, ditto) |
| cs | chest size | (this is important, I know, it should be broad and hairy!) |
Depends on your choice, I will offer the most competitive flat/hourly rate."
A note of my admiration & praise for the Mass Wallpapering Operation of LAP (MWO-LAP):
Lamma-Gung:
"LAP are true professionals in the outdoor-advertising game! Their troops sneak out under the cover of night with stacks of huge, color-photocopied, desktop-published, waterproof posters, big paint brushes and heavy-duty glue pots. They're well-equipped and eager to wallpaper every available surface on a weekly basis, leaving little wall space in YSW undecorated!
A great cause like theirs is a powerful motivator! Amateurs like myself cannot even hope to compete with these professionals! My few, infrequent, small, inkjet-printed flyers promoting Lamma.com.hk or our Photo Contest become invisible and ignored in this sea of very cute puppies and urgent adoption appeals...
That's why I would hope to team up with them, adding my own ads to their professional MWO-LAP organisation. If you can't beat them, join them! They should make this into a nice little money-earner for LAP, putting up posters for anybody for a contribution!"

Responding to this message, an Official Spokeswoman for LAP informed me:
"about MWO-LAP: actually the posters are not waterproof, we just put glue over the posters and the glue will form a protective layer. dr john taught me this."
They are true professionals indeed! And they're doing a great job in Animal Protection, too!!!
BTW, the photo above is a truly extremely rare snapshot: A "notice wall" WITHOUT a single LAP poster!
"Fa-a-ark, Fo-wock...Fa-a-ark, Fo-wock…"
Can you guess which "Laudable Lamma Luminary" wrote the following single sentence?
"Fa-a-ark, fo-wock,…fa-a-ark. Fo-wock…the first sounds of this story are clear in my ears; it's the slap-dash susurration of the surf-suds on the sea and the side of the boat; it's the suck-inhale of scores of suppressed smokers in sensurround; it's the memories in future-tense of music yet to come; it's a fungal polyphony, a sporal soundscape from The Shroom; it's the sound of my blood, my heart, my eyes, it's…fa-a-ark, fo-wock,…fa-a-ark, fo-wock…"
No, it's not Dan, but our part-time DJ, mover and bookman Nick. This is an excerpt from his Second Wanchfest review, just added to his website at www.Lamma.com.hk/nick. There's also a new "Nick's Friends" Photo Gallery, incl. some really ancient shots of Nick with John Cleese and other "celebrities".

By the way, who knows the name of this cute pet (not Nick's!) Pot-bellied Pig? "Sumo"! So appropriate!
"Apply to join the COSMIC COMMUNION"
Guess which other "Laudable Lamma Luminary" answered the innocent question of "Where are you from?" with "I am a Child of the Universe"!
Another little, local, but cosmic story:
Recently, I've answered an innocent little ad, which was looking for Internet-savvy freelancers:
"I just saw your ad on the walls on Lamma and I'm interested in learning more. I work freelance from my SOHO office and have some spare capacity for more work, especially if it's related to Internet/online. Please advise."
Quoting verbatim from their e-mail reply (highlights are mine):
"Wishing you a wonderful New year filled with Joy, Wisdom, Peace, Health, Abundance worldwide. I am available to answer any questions or concerns you have regarding the online opportunity which I e-mailed to you recently. Please let me know what you think about it.
Returning the "Letter of Intent" (included below) will provide you with all the marketing materials which you will need to get started immediately, with a 30-day 100% no-obligation trial period (I believe you will see that this is actually the case by reading the information below).
As soon as I receive your Document Request Form (DRF), then confirmation of Lotus Starship Lift-Off Documents Request Form will be emailed to you promptly, along with the powerful Lotus Starship Space Port - Preparation for Lift-Off instructional materials you need to get going.
I, (***YOUR FULL NAME HERE***) hereby apply to join the COSMIC COMMUNION."


Despite of what some of you might believe, this wall ad was definitely NOT posted by the Bookworm Café!
But if you'll see a real Lotus Starship hover over YSW soon, then you'll know that I've accepted this Lift-Off offer and will be joining the COSMIC COMMUNION!
But I promise to continue publishing this e-zine, assuming that the Lotus Starship (above) will have cosmic super-Broadband Internet access from anywhere in our galaxy!
But if you don't see this Starship soon and don't hear from me in a while, then maybe one of our cute mini-ambulances (see right) has come for me, transporting me to the loony bin... I hope they have Broadband in there!?
---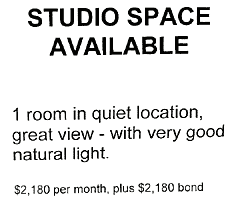 Introducing local artists:
First up: Mrs. Nick the Bookman!
Lamma celebs for UNICEF!

More interviews with Laudable Lamma Luminaries!

Let me know WHO you'd like to be interviewed!
New stories from our contributors
Suggest new topics, e-mail Editor
Created with MS-FrontPage 2002
Last updated: 17 Feb 2003
© 2003 Lamma-Gung, Compunicate! e-Marketing & Website Development