Emily's drawing, autographed by Lamma's most famous
local boy, starring in "Crouching Tiger, Hidden Dragon", incl.
his most fearsome weapon, Emily's Mint Chip ice-cream!
Mouse over picture to see her entire Lamma's Celebs Wall,
click to enlarge the Wall picture.
---
Editorial:

Hello, lucky readers living (now, before or soon) on this lucky island!
Did most of you survive Friday the 13th unharmed?
I surely hope so, otherwise you'd have problems enjoying the e-zine this week (no Broadband for hospital patients).
You could have neutralised Unlucky Friday by buying one of my $888 home pages, successfully mixing Eastern ($888) and Western (13th) superstitions this way!
Somebody wrote to the Editor, after I asked the person for unlucky or spooky stories:
"You know that I'm a witch. That's probably why Friday the 13th has *always* been a very good day for me. Nothing spooky to offer here, sorry. I've never had bad luck with black cats, either..."
For an explanation of this week's e-zine headline (the silliest ever?), see the photo caption above!
Usually, I would try to publish this e-zine on a Friday, but being afraid of the potentially unlucky consequences I moved the date to today, Sunday.
Also, I couldn't get any really unlucky stories out of people living on this lucky island, except these haunted-looking houses on the left. The only unlucky stuff I could find were some silly rumours of ghosts haunting Po Wah Yuen, but no details and proof! This isn't good enough for this e-zine's always serious, accurate, fact-checking, neutral style of reporting only hard news; no gossip, rumours & silly stuff! Oh, sorry, that's another e-zine, definitely not this one! Oooops!
Great excuses above for publishing late, sounding much better than me being late again, due to paid-for work! But I've decided to move the publication date permanently to Sundays, so as not to interfere with my paying work.
New submission deadline: every Saturday evening!
My weekends will be reserved for the e-zine now. Also, with a Sunday publication date, I'll never have to face a Friday the 13th issue again!
Superstitious, moi? No way, members of "Artsy CyberGeeks United" would NEVER admit to any superstition! See our new logo (and my new Avatar) on the right! Lamma-Gung claims to be a charter member & cheerleader of this new proud, virtual organisation! We don't accept any new members, except: you'll have to access our website at www.CyberGeek.com and hack into our member registration database to add yourself. If you succeed, then and only then are you worthy of membership! Hahahahaha!
Several guest writers this week, my more and more desperate pleas for contributors seem to show finally some fine results:
e's Taro story, Doggy's Funday de-briefing, et
c.
We don't have enough people posting in our Chinese discussions forum yet. So we've put a new Chinese hyperlink at the top right of our pages now, trying to lure in the clever & talented people who know how to type Chinese!
Follow-up on the horrible death threat received last week:
Obviously, the threat hasn't been carried out successfully yet, as I'm still typing (maybe only my preserved CyberGeek consciousness surviving, living inside my PC now?). I seem to be still alive, barely as Lamma-Poh keeps telling me, but for how much longer?
My would-be-assailant FingerNailFixer has dared to submit a really fearsome picture of herself (right), trying to instill terror (or lust) in my heart! But her threats continue!
I've also just picked up this flyer from HSBC on Main Street, selling "Year of the Goat Elite Gold Proof Medals". Next Year will be the Year of the Golden Goat! The threat on my life was initiated by a Great Goat Colin worshipper! How in Dionysos' name did Colin get a Chinese Year named after his Goatness (see the first real picture of the Great Golden Goat Colin (GGGC) on the left!
We'll have to do a follow-up on this connection! I smell intrigue and a really BIG story brewing... or is it just the smell of my pot of coffee brewing... Yes, it is! Way too much caffeine in my veins, as you can easily tell from this hyper, disjointed, rambling Editorial...
I better stop now and hand over to our creative contributors, posting loads of new, fun, creative and intriguing messages this week!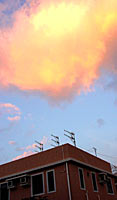 Christmas/New Year party:
We might have found a rooftop (see right?) to party on, but just a few have expressed any serious interest in attending at Boxing Day so far. We might make it a New Year party instead to get a good, mixed group of people together. BBChris, a true party girl, has volunteered (Yeah! Go, girl!) to help with the organisation! Great!
One last request:
We'd love to get more readers for this e-zine. As you can see from the counter at the bottom of this page, we're up to well beyond 100 unique readers per e-zine issue. Pretty nice, but not a lot, hardly enough to get contests and new initiatives going...
Could you forward the e-zine announcement e-mail I just sent you to all your Lamma friends, please!

Don't forget your ex-Lamma friends, as, from our experience, many of them really would like to hear what's happening in their former home on a weekly basis, seeing pictures of their old friends and their new antics. If you want me to send the e-mails, just give me their addresses for a one-time-only, single-use-then-delete e-mail shot!
Or include Lamma.com.hk in your Season's Greetings e-mails!
Cheers from Lamma-Gung, charter member of "Artsy CyberGeeks United"
---
webdog (Site Admin):
The e-zine is .... GREAT !!!!!!
Malcolm:
Grand to see the update on the harbour development and the new layout. The content is good and the whole site far better quality than lamma.net, lamma-island.com etc.
Mr Tough (of ToughDomains.com):
Thanks for the mention of our domain name and email Xmas Special in the e-zine this week. You're a star. It's looking good.
AutumnAuburn (USA):
This week's e-zine is packed! Wow! I've never seen it so full of information. Being a photog enthusiast, I really like the pictures. And of course, your humor is great. Well done!
. (our shortest username):
thank you for putting me in your splendid ezine.
e (our "Best Contributor of the Week"):
i have to congratulate you again for this new issue of e-zine. your magic has moved higher up to another level - like a magnet drawing my attention to the e-zine. i have to finish reading it before returning to my work, risking that my boss might know i'm reading something else!
---
Nominate messages, members, contributors, local websites for this section! You can nominate anything/anybody Lamma-related on AND off Lamma.com.hk!
• Message
Webdog (message #2,500, topic Useless Sexual Fact for Today!):
Yeah, the Chinese medicine doctor said:
"one drop of sperm equals to one drop of blood".
• Contributor
A new "Best" category this week, honouring the person who contributed most to the e-zine!
This greatest accolade will be bestowed upon "e" this week! She sent in an "E-mail to the Editor", scanned in the LAP Christmas cards & Funday pics, just submitted her first full story and posted 125 messages so far! A truly worthy winner and possible future candidate for our future "My Lamma Hall of Fame", reserved for 3-time winners of "Best Contributor of the Week"!
e wins a FREE SUBSCRIPTION to this e-zine! Well, everybody can have a free subscription, but it's the thought that counts and she has really EARNED it! Hahahahaha!
• Flame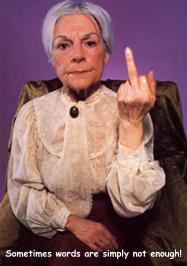 Another new "Best" category ("Worst", actually), for the naughtiest personal attacks! TWO entries this week, biker forum!
Leglessonlamma:
Alan, I did, you are just so stupid you don't understand it. You truly are the original whinging POME misfit with a brain the size of pea. Have you ever had friends or have you always been held in contempt as a weirdo misfit?
Alan:
You've occupied yourself inserting stupid and offensive comments about me in several forums today. I'm sorry for whatever personal tragedy or chemical imbalance has driven you to this obsessive behaviour. Perhaps you should look into getting professional help, or alternatively just drink yourself to death and end the pain.
Let's get Alan and Legless together at the Christmas/New Year party (see above), get them both seriously drunk, so they make up with each other (or kill each other off, alternatively!) I've adopted a new e-zine motto ("borrowed" & expanded from DickStock: "Peace, Love, Laughter, Lamma!"
• Website: www.sdbphoto.com

The website of local photographer berrybus (who just joined My Lamma) and his company BeachHead Studios: Nice-looking website with some amazing photos and photo-montages! But, unfortunately, EXTREMELY slow-loading!

Looking at it more closely, you notice that the entire site, even text and buttons are huge graphics! A most unusual & easy, but extremely slow-loading way of building a website. Well, looks count most in the photography business. Most Internet users on Lamma are on Broadband, over 800 at my last guesstimate...

• Username: foreign body

A new member with a most intriguing name. Is s/he a foreign body on Lamma, or has foreign bodies in his/her body, or is it just a more high-brow, non-gender-specific term for Gwailo/Gwaipo?

Occupation: hunter & gatherer.

Interests: Tuva Throat Singers, Mongolian Men, Philosophy, Politics, Sex, Korean Food, German & French Funky House, Nu Jazz, Psychedelic Drugs.

Definitely sounds like a very interesting, active person with wide-ranging interests, just joined and already posted 7 messages! Let's make him/her feel welcome on My Lamma and suggest an Avatar!
---
Let's keep this short this week, as I've wasted way too much of your time already with the Editorial!
Just a few superlatives: We've surpassed 100 unique readers per e-zine! We've also surpassed 2,500 messages posted and will reach 500 topics and 200 registered members very soon!
Most Hits ever: 18,059 on Dec 10, 2002!
Search engine terms: Internet users found Lamma.com.hk by searching for "Husband swapping" (10 people!), "masterbation parties" (where?), "I love Lamma" (yeah!) and "anti-beer" (?????).
Let's hear from a regular contributor again this week:
Lamma's very own "King of Fun" (see right, with his "Queen of Fun"?

Or could it be the famous Sheila of LAP?):

Doggy: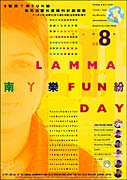 Hallo People,
This is to let you know that I have done an approximate count of the money we raised at Lamma Fun Day. Not all money is in yet, and there are a few licences and other things that need to be paid for yet, but from what I can judge, the total will be at least
HK$26,000
Which is the same amount we raised in 2001, and slightly more than 2000 - incredible if you consider what a grotty day it was.
So, thanks very much to everyone for coming along, joining the fun, eating the food, drinking the booze and chucking money in the donation boxes. It's great to be able to say that despite cold and rain, Lamma Fun Day 2002 was a definite success!!
The money goes a very long way to raising what we need to sponsor the nine students at the JYOTI centre.... but not quite, so watch out for the next fundraising event in the new year.
BTW - have a look at the www.lammafunday.com website, photos from the event should be posted up there any day now. If anyone else has any corking photos from the day to share, send them to me, and I will make sure they get put on the website too.

Here's looking forward to Lamma Fun Day 2003.
A photo of the Lamma.com.hk stall, raising money for charity (and for webhosting My Lamma, photocopying flyers and other very small, occasional expenses in keeping it running).
More pictures are here: homepage.mac.com/doodah2099/...
plus a few of my own:
and here, of course: http://www.LammaFunday.com

Lamma's Celebs
You've seen our silly headline this week, seen the cover picture and read the caption? No? Go back!

This feature coincides nicely with another visit of the most famous Lamma Celeb, Mr. Chow Yun-fat, to the Northern Lamma School this week, school anniversary celebration, handing out school prizes & taking photos with the pupils. He's visiting Lamma quite frequently, see my own recent encounter with celebrity.
Emily, owner of the Ice-Cream & Yogurt Parlour in Main Street, is telling the story of how she got her drawing of the "Crouching Tiger, Hidden Dragon" star autographed.
One day, a friend called her to tell her that Mr Chow was dining in Tai Hing Restaurant. She rushed over, introduced herself and got her drawing signed, incl. her name.

It has pride of place in the center of her Celebs wall now! Who are the other Lamma's Celebs on the wall? You'll have to find out for yourself...

A well-kept secret is that Emily's can be a great pick-up place!

Many more women than men are visiting this place, completely opposite to most of the bars who're mostly men-only. The women in Emily's are enjoying ice-cream in a relaxed atmosphere, not reluctant to chat to friendly guys...

Restaurant Ratings Results




I've finally updated & tabulated all the restaurant votes in our Lamma Bars & Restaurants (Reviews & Ratings) forum.
Here are some preliminary highlights:




Most votes (11): Spicy Island

Most "Excellent" votes (4 each): Spicy Island, Lamma Bistro, Blue Bird Japanese.

Most "Sucks!" votes (3 each): Spicy Island, Deli Lamma, Cococabana.

Best (2 Ex., 6 Good, no OK or Sucks!): Pizza Milano!

Worst (no Ex. or Good, 2 OK & 3 Sucks!): Deli Lamma!
No votes yet (besides ALL Sok Kwu Wan restaurants):
Sou Kee, Tai Hing, Lung Kong!
The voting continues at Lamma Bars & Restaurants!
A word from one of the Photo Contest sponsor ($500 bar tab):
Quiz Night for Operation Santa Claus in the Island Bar on Wed, Dec 18, 8:30! Be there and win!
See the famous, vivacious Anastasia of Anastasia's on the left! So young and already a restaurant owner and mascot!
Plus her baby sister Rhea, just one week old! She's rumoured by usually unreliable sources to be Dan's first franchise holder of soon-to-be-announced "Rhea's Desserts" take-away!
Stories of Wandering Kittens
A special Advent season treat this week, e's very first story for our e-zine!
It's the first installment of her series "Stories of Wandering Kittens", sure to overtake very soon the enduring popularity of "The Journey to the West" (Monkey King). Interestingly, e is starting her series with "Episode 3: Taro". But she said, "Star Wars started at Episode 4, so why not me?" We like her self-confidence! OK, without further ado, let's hand the e-zine over to our budding author e:
I remembered the very day I became a foster parent for SPCA – Tuesday, June 6, 2001. I fostered two little kittens with cat flu, but they were not too difficult to take care of.

On the weekend of the same week, when I was chatting away at Borg-Liu store, the store keeper came back and said that up on the slopes at Tai Yuen, a blind kitten was sitting in a box next to the garbage bin. It had been raining on and off all day. If the poor kitty is left there to sit through another rain, kitty was sure to go.

Running up the slopes, I found a very thin and tiny white and ginger kitty with eyes tightly closed sitting in the corner of a soaked carton box. An opened box of milk was beside him. Perhaps from a kind passer-by or a last gift from his owner – just someone who did not know that most cats could not take cow-milk.

A few people were standing around the carton box. "I would like to help but I am afraid that he might infect my other cats!", "He doesn't have eyes at all…..". Many were sympathetic, but who would want a blind cat? There was no time to waste. It could rain again any time. So I picked up the box, threw away the milk and ran to the vet. But the vet's office was closed. I had to take kitty home and wait for the vet the next morning.

When we got home, I had to separate my foster kitties from this new kitty. Then I carefully cleaned new kitty's eye and found that his eyes were shut only because they were too swollen. He also had a wound on his toes and his fur was very, very thin. Little kitty was still very frightened and curled up timidly. Well, kitty needed a name. Looking at his closed eyes, I thought of Katsu Shintaro, the famous Japanese actor who played the part of Zatoichi, the Blind Samurai. Shintaro was not blind - he only pretended to be blind, and so should this poor kitty. Taro was his name.

Taro's road to recovery was a long and winding one. The first vet diagnosed Taro as having an eye infection and cat flu, but he said that Taro was too young for medication. Suspecting that more could be done, we went to another vet. This time medication and ointment were given for his cornea ulcer and cat flu. The vet specifically said that the eye ointment had to be administered three times a day, but I had to go to work.

The only way was to swap day for night – apart from once in the morning and evening, there was once in the dark of the night. The alarm clock was set at 4am. A few days later, Taro's eyes started to show despite a sheer white layer over them. But two weeks later, Taro started to lose hair on his feet and tail. Off to the vet again. This time it was fungus. When the hair started growing back, new eye ointment was needed. The flu was still not cleared and Taro had a fever. Even the vet frowned.

Poor Taro. Endless medicine and ointment, and he was still so skinny. He had the perfect figure modern ladies crave for. No baby fat at all. He would only grow longer and never any rounder. Others would definitely think that his owner was ill-treating him. He was also an introvert. Other kittens would be running around, playfully fighting. But Taro would only sit and watch.

By the time Taro was 2 months old, his health was still a roller-coaster ride. Only on asking, did the vet give me an even bigger worry – he suspected Taro to have FIV, the Aids for cats. I felt doomed! The vet suggested sending a blood sample to the States for analysis, but needed to wait until Taro's health was more steady. As the blood test would cost a fortune, I sought a second opinion. The new vet suggested that a simpler blood test could be done locally in the clinic. Only if suspicious results turned up should we consider sending the samples to the States. The wait for the test result was so hard to bear. To my relief, the result was negative.

Taro slowly grew stronger but his eyes were still a problem. Apart from the scars that cornea ulcer had left him, Taro had inward-grown eye lashes which poked at his cornea. If left untreated, he might go blind one day... Taro had already gone through a cryo-operation to remove the inward-grown eye lashes, but the problem did not go away completely. He might need another surgery in a few months' time. Now, whenever I reach for wet towels or eye drops for Taro, he would start playing hide-and-seek.

But despite all the worries I had for Taro, I was glad that I picked up the box on that rainy day. Even the sickest kitten deserves a chance.

Just take a look at these two photos, and I think you would agree with me:

Before/after: Taro on his first day home and Taro at about 6 months old.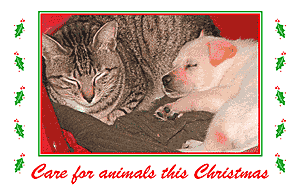 Let e know, if you liked her story, and if you would like to read Episode 1 and 2 soon as well! I surely would!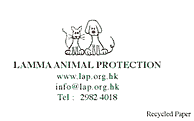 To thank e for this truly heart-warming & inspiring story, I'm promoting the LAP Christmas cards here!
100% of the proceeds go to the Lamma Animal Protection.
You can pick them up at Selling Point and Green Cottage. They're also available from My House (the shop opposite Emily's Ice-Cream Parlour).
See ALL LAP Christmas cards here: Lamma.com.hk/forum/viewtopic.php?t=446
With a title like this, who else could it be than our most frequent contributor and tireless self-promoter, BBChris!
BBChris (Classy Rock Goddess & Miss Lamma.com.hk):
Hi everyone,
"Time to see "THINKING OUT LOUD" - Your chance to win some prizes too!
Fringe Club
(Free to get in and drinks are really cheap!)
2 Lower Albert Rd., Central (just next to the FCC)
10:30pm start, Friday 20 Dec 2002.
For more info visit Thinking Out Loud's website at: www.acven.com/thinking
See you there! Please forward to your friends!
Thinking Out Loud - the POP band with ATTITUDE
(Expect posturing, simulations, titillations, some old classics, some Nu-metal!)
Somebody Said the "C" Word!
It had to happen finally on our mixed-race bulletin board:
In the bikers/VV/pedestrians topic, somebody dared to use the "C" word: Chink!
It really got our Chinese site admin webdog jumping up and down! It lead to such a flood of messages that I started a new dedicated topic: Lamma.com.hk/forum/viewtopic.php?t=456
Our "Fortune Chan"-impersonating Gwailo chimed in as well, further fanning the flames, getting a good discussion going about "Gwailos", and racism in general:
Fortune Chan (Location: Plastic chair by sewage pipe):
You silly gweilo people with your silly beards and silly spoilt children. Why do you not go back to Luton or wherever and stop bothering us with your liberal sassy whining. Okay la?
We're all getting very close now to unmasking the mysterious Mr. (or Mrs.?) Fortune Chan!

Useless Sexual Fact for Today
From wife-swapping chimpanzees, Bonobo orgies, pros & cons of semen donation, Taoist sex frequency rules to the "nine shallow and one deep theory", this topic really generates a great deal of sleazy interest. Check it out!
On a related topic, can you guess where in YSW you can find this "laid" graffiti? You're welcome to contribute more graffiti!
The location from the photo below is easier, as it might have been there since Goat Maison's infamous exploits:
Goat Maison (his (very fitting) Underblurb/motto: "My brain is fried"):
I shagged his (the Great Goat Colin's) daughter several dickstocks ago.
La Miglione:
Yeah, but those guys were not really afraid of the waste of their bodily fluids, they were concerned for their Qi, whatever that may be. So the idea was to have sex and get their female partners to have as many orgasms as possible, so they can somehow gobble up their Qi, all the while avoiding to waste their own. Sounds to me like a theory made up by some very clever girls
DJ:
His there a monetary incentive to sow ones seeds into a small plastic receptical? I would willingly sow mine for a little extra cash for christmas, but I would need something better than penthouse, perhaps vulcan.
Contests & Promotions
The Photo Contest deadline has been moved from the end of the Western Year to the end of the Chinese Year:
Jan 31!
The Members-Get-Members promotion is in full swing now!
But you'll have to beat a very dedicated e who's really eager to win my free home page, worth $888 (till Chinese New Year).
See an in-progress sample of a $888 promotional home page:
Nick the Bookman's website!
He got it for free as a donated prize, but yours would be of similar size: Lamma.com.hk/nick.
See Emily's ice-cream portrait of Nick on the left.
You can send e-mail to nick@lamma.com.hk now, forwarded through me!
He received his first-ever e-mail the other day!
Do you still remember YOUR first time... of receiving an e-mail...
Talking about your first time, our Sex Poll of Lamma-ites is still running...

Christmas Special Issue!
My Lamma 2003 Calendar
Interviews with Laudable Lamma Luminary Mr. Dan Kwai Fong!
suggest new topics, e-mail Editor
Created with MS FrontPage 2002
Last updated: 09 May 2003
© 2002 Lamma.com.hk<!/li>