Table of Contents
---
Welcome to this Christmas Special double issue of the "My Lamma Weekly E-zine"!

In the spirit of the season (Peace, Love, Laughter, Lamma!), I'm not featuring any of my usual stories about sex, drugs and violence today, but only peaceful, cheerful & Politically Correct stories...

Hey, don't stop reading!

There's still enough good stuff in here to entertain you for a few minutes! Sheesh!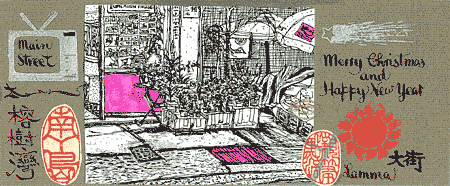 This week, we have Christmas messages from some of our moderators, but don't worry, our moderators are not sentimental, sappy, boring types...
On the right, another hand-made card from Eleanor's stall, between the bike shop and Anastasia's. She raised the price to $20 recently, as the cards were becoming so popular with tourists.
So, in true HK-style, she put the price UP, not down... Still a true bargain!
Saint Nick: Did you know that Nick the Bookman is freelancing as Santa Claus in the Stanley shopping mall these days? A truly suitable natural for this role! I was trying hard to get a photo for you, but I haven't succeeded yet. Maybe next week! I was playing my company's Santa Claus for several years. But those photos are from my pre-digital era, so they're too difficult to find and show you, hehehehe...
Very little text this week, mostly Christmas-inspired pictures to hype the My Lamma Photo Contest. This will hopefully inspire you to sort out your best Lamma-related shots and send them to me! I'll even scan them for you! You could also shoot some new ones!

On the left, you can see what happened to my pretty, but inkjet-printed Photo Contest flyer after a few days on the wall outside the "Bubbles" laundry. Looks almost like they've laundered my flyer...

The Photo Contest deadline has been extended to end of Jan

, giving you ample time and no excuses for not participating! Several thousand dollars worth of prizes are waiting to be won by you!

Trying to inspire your photos, I've included several photo galleries of my own shots as samples. They've ALL been taken within the last few days/weeks here on Lamma, a real photographer's paradise!

Have a look below. I'm sure that YOU can certainly do much better than these amateur shots!

Notice some of my novice mistakes in these photos and send in your best shots, so I & others can learn from you!

Any feedback or submissions for the e-zine, e-mail me or post them in the e-zine discussion forum.

Next issue will be e-published on Sun, Jan 5, 2003!

Cheers & Happy New Year from Lamma-Dung,
(as the "Legless Wonder of Lamma" likes to call me nowadays.
I kinda like the sound of Lamma-Dung! Ramma Lamma... Ding-Dong-Dung!
Remember the movie "Grease", with John Travolta, and the song "We Go Together":
"We go together like ramma lamma lamma ka dinga da dinga dong
Remembered forever as shoo-bop sha whada whadda yippidy boom da boom..."
Aieeeeyah, now it'll take me ALL day to get this silly melody out of my head again!)
---
FingerNailFixer:
The e-zine is a wonderful complement to a great site!
BBChris:
hahahaha Titillation! That's what I'm good at!!!!
A nice lead up to the Christmas week. Lamma will probably be quieter than usual as lots of people are jumping onto planes to colder or warmer places!!!!
I love this week's e-zine cause there's a mention of "Thinking Out Loud"!!! I was impressed to see the flyer there too! Thanks for including the music created on Lamma!
Interesting photo of Dickstock - I guess it's the 'in-thing' now to use giant trendy plastic ear-phones? hahahahahahaha
e (our new author with her first story last week: Wandering Kittens):
What should i do with the fame that you brought me?
first and foremost, i must thank you on behalf of Taro for publishing his story. i would very much hope that his story could inspire more people to take on stray kittens.
in fact, i have already received a PM from a fellow Lamma-ite/cat lover this morning saying s/he likes the story. this is very encouraging..
Marcus:
Here are a few ex-Lammaites that would probably be interested in receiving the excellent e-zine..
Berrybus ("Website of the Week" last week):
Thanks for the glowing review I'll be sure to buy you a beer sometime... and who doesn't have broadband???
foreign body (re: being mentioned in the last e-zine):
oh boy, what an honour! I am all excited now!!! Foreign body, currently hunting and gathering in some European borderland, will be back after Santa leaves HK. Can't stand that creep!
.:
thank you . (just a shy and embarrassed dot).
Doggy (Funday organiser):
Thanks for the great sending off for Lamma Fun Day 2002 -
We will definitely use My Lamma for drumming up even more support for 2003.
And how come all your photos seem to make the day look sunny? hope to bump into you in the pub to buy you a pint sometime.
Mr Tough:
Interesting e-zine, but I think it's getting a bit too long now!?
Perhaps e's story and Doggy's stuff could have been linked to the forum pages, maybe, for example? It's only that it's taking a bit too long to go through each time now.

Overall, a useful and interesting local e-zine, helping to build relationships [good and bad?] in our Lamma community.
---
Nominate messages, members, contributors, local websites for this section! You can nominate anything/anybody Lamma-related on AND off Lamma.com.hk!
• Message
Spike (new member, first message):
After visiting this site, I discovered that there is a community in Lamma. It's wonderful and I want to immerse into a total different community in HK, it should be a wonderful experience.
Such a
sweet message
, it makes me feel all warm inside...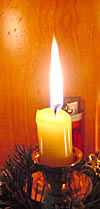 • Picture
A beautiful entry from one of our members for the Photo Contest's Scenery (night) category. Po Wah Yuen looks so festive!
• Flame
No personal attack message this week, but a Christmas candle's flame!
A much nicer flame, don't you agree?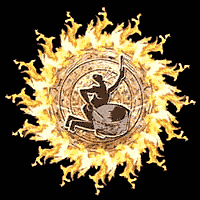 An informative and always up-to-date website by Lamma's very own Japanese drum queen, Kumi! Learn non-electronic, 100 % hands-on drumming this Christmas season and make some non-traditional, different Christmas music. No sentimental carols or saccharine-sweet songs this year, instead get together and groove at Kumi's Boxing Day Big Jam!

• Username: Brasileira

Shortly after joining, she started to post

messages in Portuguese, English and French, looking for Brazilians living on the island. Users like her will help us to upgrade Lamma.com.hk into a multi-language, multi-culti website.

This is most welcome and will be strongly encouraged!
---
No superlatives or new traffic records this week, just steady, constant, healthy growth.
We're hoping to reach 200 registered members and 500 topics by next week...
---
Have you finished your Xmas shopping? Hurry up for a few last-minute presents from Main Street shops!

A few of my sample photos to inspire you for the Photo Contest. Click to enlarge: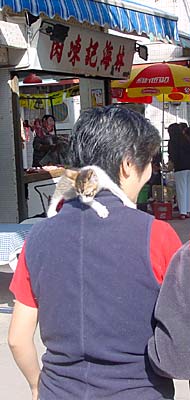 We've moved to Lamma just over one year ago. Why do we love living here more than anywhere else in HK before? Let me elaborate:
Sunday morning, 22 Dec, Yung Shue Wan:
* We're leaving the flat to go for breakfast, our landlady is greeting us, asking about when to play Mahjongg with Lamma-Poh again.
* Our neighbour opposite is asking for the pictures I shot of his daughter's hotpot party he invited us to recently.
* Another neighbour vis-a-vis is chiming in and joking from his balcony.
* Walking by Tropicana, a friend sitting inside and Ah-Can are calling out to us, inviting us to join them.
* Walking along main road, e runs out from her Dim Sum place, her latest kitty adoptee on her shoulder (see photo comix below) and walks with us for a while.
* Picking up the English and Chinese newspapers from the vendor opposite Spicy Island. The vendor knows which newspapers we like by heart now.
* Breakfast in Man Kee, beach-side, enjoying the view.
* Walking home, I reserve a place for Christmas Eve dinner in person in a Main Street restaurant.
* Returned home, I work on the design for a local restaurant. I also select the best from hundreds of my digital Lamma photos for this e-zine.
* A knock at the door, our neighbor upstairs, who's just moved in, wants to borrow my toolbox. She's locked herself and her visiting family out of the flat by accidence. While her dad removes the door lock, I crack jokes, we introduce each other and applaud her dad when he succeeds.
Yes, you've guessed right. That's why we love living here more than anywhere else in Hong Kong we've lived before! One word sums it up: COMMUNITY!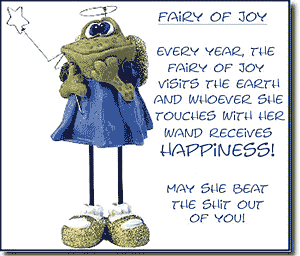 Several of our moderators have agreed to write Xmas messages for our members!
Left, an e-card from BBChris.

Right, from one of my clients. Look closely!

Below left, a very naughty card from Mr. DickStock, to avoid giving presents. NOT suitable for children!

Christmas messages from k@ & e:


e: master, we are asked to post a Christmas greeting for Lamma.com.hk.

mr 3: what's a Christmas greeting?

e: something nice you want to say about this festive season

mr 3: festive? You mean you getting all tho
se "presents" for the other humans instead of getting my treats?
e: OK, well others also sing joyous carols, decorate their homes, gather together for fun!
mr 3: Like you, trying to get me wear a Santa hat and look silly? Luckily your camera went out of battery. Think of my photo in a Santa hat all over Lamma.com.hk!
e: But Lamma.com.hk has always been a friend, promoting good causes, adoring your Royal Highness!
mr 3: Okay, in appreciation of the work of Lamma-Gung and Webdog who have brought us this wonderful site, I'll bestow unto all a very cat-ful, I mean joyful carol:
Deck the halls with box of cat treats; Fa la la la la la la la
'Tis the season to be meow-ry; Fa la la la la la la la la
Love thy kitties, love thy doggies; Fa la la la la la la la la
We will give you all our kisses; Fa la la la la la la la la

Meeow-ry Christmas!!
k@'s e-card on the right, without comment...
Alternative Khristmas Kracker:
Merry Christmas, Happy Hanukkah, Season's Greetings and Praise to The Great Goat Colin.
Well it's that time of year again. The end of December, when, for a few days we try to forget the troubles of a world run by scoundrels, ruffians and varlets.
Good luck with that.
'Twas The night before Christmas, And all through the house, Not a creature was stirring, So I took their stereo. Or as Santa said to the three blondes, " Ho Ho Ho ".
Wandering Kittens: Mini Photo Comix
Remember e's Wandering Kittens story last week? Here's a little follow-up!
A few days ago, rushing along Main Street, e joined us with the latest Wandering Kitten she had saved as a LAP Cat Foster Parent. Kitty was holding on for dear life while we were walking & talking...
Lamma-Poh was distracting e, while I was shooting the photos below...
Whispering into e's ear:
"Do you feel how soft and warm and cozy I am, like a fur neck-warmer."

"Stupid dogs, I'm safe up here, you can't catch me! Nyah, nyah, nyah!"

"Too slowwwww!
Hurry up to take me to my breakfast! How to get this Cat Transporter go any faster? Let's see..."

"Maybe, if I'll just use my 'spurs', like in a horserace." Clear the target area... extend claw... take aim... swipe... e: "Aieeeeyaaah!"
Quite a number of restaurants in YSW have Christmas/NY promotions. Here's a small selection of favourites.