Sample photo for "People" category in Photo Contest
(click to zoom out). Click here for Photo Contest details.
---
Lamma-Gung on his Editorial Desk?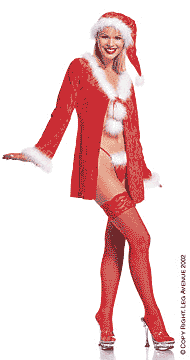 Editorial:

Hello to all Funny Funday Fun-lovers! Welcome to our Lamma Funday special issue!
Last-minute news for all Funday visitors, see feature #1 below.
The usual mix of silly'n'serious topics, with a heavy Xmassy focus!
Following up on last week's feature on the ad looking for "Outgoing Caucasian Females" (see Santa photo supplied by webdog):
BBChris (Miss Lamma.com.hk):
I RANG that advert up - he wants "Female Santa Claus" - not bad pay but of course I'm too much of a celebrity to do it. Have offered it to a couple of friends. I'll let you know if they get the job!!!!!
Here's one more ad from a YSW wall this week (no comment necessary):
I never suspected that being a Writer & Editor can be such a dangerous, even life-threatening job!
A most horrible, terrible and unspeakable ghost-written death threat against yours truly was received this week! A threat utterly horrible & terrifying for any hot-blooded male.
I was left uncharacteristically speechless, my face whiter than a bleached bedsheet, white
r than the white, ghost-written message below...
All I did was burn k@'s Avatar as punishment for offending our lovely dragon boat girls. Harmless enough fun, wouldn't you agree? And now his revengeful friend is threatening my body, and some most vital body parts! HELP!
FingerNailFixer (Great Goat Colin worshipper, USA):
Maybe instead of women we should burn the leader of the goat revolt, eh Lamma-Gung...
isn't Gung Goatenese for turd, someone consult the ancient scrolls, we must know!
Avatar burning is such a serious offense it must be attended to in it's own reply. the punishment is so severe that one can not even read it normally it must be ghost-written!
~All men who burn the sacred Avatar of the goat followers shall be strapped to the horns of the Great Goat Colin wherein the Master shall devour the persecutor's manhood so that he may be a eunuch and follow the Great Goat as a pooper scooper all the rest of his days!~
If I were you I would correct the offense at once in feeble hopes that the Great Goat Colin not see what you have done!!
LammaNetPolice has been informed, advising me to hide in dark corners of dark bars, drowning my terror with malted spirits... Spirits? Ghosts? Aieeyaaaaaaaah!

Do you enjoy writing? How about contributing to the e-zine occasionally? No weekly deadline pressure! Just send anything you think might be interesting to Lamma-ites to me at any time: silly ideas, new topics, rants, raves, anything is most welcome! Help to improve this e-zine!
Cheers from Sunny-Funny-Loony Lamma-Gung
---
Bono (former employee of Lamma-Gung):
Very rich in content with beautiful pictures!
e (human slave to the beloved mr 3):
What a touching love-story of you and Lamma-poh! and thanks for sharing it with us. I would vote this as the most interesting issue of the e-zine so far.
Goat Maison (re: being featured in the last e-zine):
I am famous! Hurrah for goats!
k@ (re: being featured in the last e-zine):
yes i saw. no doubt i'll be in more trouble

i will think of some comments later. i am going to bed now.
AutumnAuburn (USA):
I always love reading the My Lamma E-zine. I am fairly up-to-date on most topics and threads that interest me, but once in a while, one escapes my attention. The E-zine gives me the "heads up" to go check it out, if no one else does.
BBChris (Member of "Sister of Sharon" & "Thinking Out Loud"):
The info in the zine is AMAZING! Must take you hours to compile. We love you Lamma Gung -
love Sisters of Sharon xx
Having HIGH standards is wonderful! Another reason why we love you! Lamma needs to have its standards raised!!!!! March on Lamma-Gung and bang your gong!!!!!!
Mr Tough (of ToughDomains.com in Lamma Silicon Valley, Tai Peng):
I think that the e-zine is maturing very well as the weeks progress. Much better to only have a Web based version. In particular, it integrates with the content of the site really well, facilitating good teasers with links to dig further and wider.
---
• Quote

. (single-dot "Username of the Week" in e-zine #13):

...(please) remember the words of wisdom (from thumper the bunny)
if you cant say something nice dont say nuthin at all.

• Question

What have these 3 guys been doing in YSW this week?

Solution at the end of this e-zine! Guess first before you peep!

• Website
A very clean, clear, fast & easy to navigate website by very famous Lamma-based photographer Bob Davis. This site is showcasing his great photography and also has a bio, sitemap, even a downloadable e-brochure with pages flipping over visually!
Comprehensive list of Lamma websites:
• Username
don juan: Many guys would like to be an extremely successful seducer like the fictional Don Juan. But now there's only one Don Juan on My Lamma!
His newly registered Interests: "let u know later".
To welcome him, I've created a few Avatars for him to choose from. Would YOU like a new Avatar?
---
Sample photo for "Computer Graphics" Contest category
Instead of boring you with website traffic statistics this week, let me describe WHY I've been doing this e-zine for 15 weeks now!
It has grown so much bigger, taking me around two days every week to compile, write, edit, design, photograph, format, publish & distribute to all of you.
BBChris (Classy Rock Goddess):
Er - if it takes you TWO whole working days, why do you do it? I'm immensely curious.
Does Lamma-Po get pissed off with you!?!?!?!?
Answer: I do it for fun, as a creative exercise and challenge, the reader feedback and growing my publishing/editing skills & experience. It takes a lot of time to create, collecting materials, shooting photos, chasing infrequent, irregular, often late contributors,...
It would make a great part-time job, if I could find somebody to pay me for doing it... But enjoying full editorial freedom, no advertisers to please (yet), no direct interference from anybody... when do you get a great opportunity like that, surely not in the business world!
No pay, no money involved at all, but the satisfaction and sense of accomplishment from a completed e-zine is great! It's some of the best, most rewarding work I've done in years and a few people seem to like it...
Lamma is such a rich source of material, always much more than I can use. This week I had to select my usual 8 topics from more than 20 major new topic ideas I've collected this week alone, getting fed by the fast growing number of collaborators. Taking/finding/preparing all the photos & graphics, plus formatting is at least half the job, writing is usually quick & easy.
The e-zine hopefully helps to improve our great little community and gets people together, providing an online meeting place. Some meaningful volunteer work can be done by supporting the local charities and good causes, mixing silly and very serious issues. But above all, it should be fun & entertaining to read. If not, tell me and I'll try to improve it further, week by week!
---
BBChris (see above):
Oh - a few people have come up to me and ask if we can have a 'search engine' for the site installed, as they don't come daily, when they try and find the previous threads of interest - they don't find them.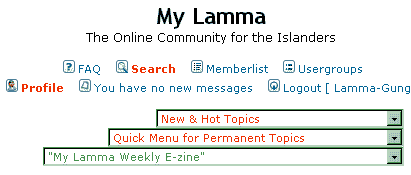 Answer: Yes, I've noticed as well. Even experienced Internet users complained about not finding messages!
The funny thing is that we've ALWAYS had a search engine. It's at the top of every page, as a "Search" button!
But it's not visible enough and easy to overlook in the current standard layout.
I've just highlighted the Search button in bold red! Check it out on the right!
(well, besides Xmas... and NY)!

Celtic Viking ("Mister Lamma.com.hk"):

Beach Clean-Up

This Saturday, 7th December, an organized beach clean-up needs a few cool bods to pitch in for the community, and Lamma Fun Day organizers, to perform the annual task of making Power Station Beach safe for small kids (and big ones) to have a great time on our golden Lamma sands on the 8th, (hoooooorrrrrraaaaaayyyyyy)

We will be meeting a few of the local ladies at noon, gloves, bags, bins, etc. will be provided and the job should only take an hour or two, anyway, it will be sunny and will be a giggle.

So come on down, bring a pal and a beer, and be a happier bod for "doing your bit".

Thanks, Lamma Fun Day organizers.

Printed on recycled paper (there's more to being cool than having long hair)




Meet webdog, Lamma-Gung & Lamma-Poh at the Funday, selling kitchen appliances & distributing My Lamma flyers:

Lamma.com.hk/forum/Lamma-Gung/Photo-Contest-flyer.htm

Lamma Fun Day Music Stage Schedule:
12:00

1:00

2:00

2:30

3:30

4:30

Mike Barrys' Classics Extravaganza

Brickster

Paul Frazer the Human Beatbox

The Little Foo Foo Girls

Mushrooom

Yung Shue Wankers
My Lamma Christmas Party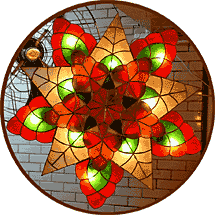 Christmas illumination at Anastasia's

It all started with two simple messages on My Lamma:

Insomniac:

Any advise out there for YSW events, parties, games over Christmas?

My Lamma could organise a party for contributors moderators and readers.... Or a boxing day 'b.y.o. turkey sandwich pic-nic' somewhere.

Good for pics on the Lamma calendar!

don juan (new member, famous (wannabe) seducer):

Well it's almost the time Christmas and New Year around the corner,well i was wondering if anything was happening i will be alone during the holiday period. We could have a get together at my house which can hold 25/30 people!

My Lamma Christmas party will be happening only if we can get enough people together, but we need to know a few things first:

How many would be tentatively interested? Would Boxing Day be a convenient day?

Anybody has a rooftop or a garden to party in? E-mail the Editor, or click Christmas on Lamma.

Christmas Letters & Home Pages


Have you sent out your Christmas letter to your friends already?


Why not do the letter as web pages to impress your friends and relatives? See the sample page header above of an online Christmas letter & personal home page I did for a dear friend

& his great family.

A home page with photo gallery makes a great Christmas present for a loved one & your family!

We're offering a Christmas special, $888 for your personal or small business home page, 5 pages (with or w/o Christmas letter, incl. CV, photo gallery, anything you like),

incl. 1 year US web hosting on Lamma.com.hk!

A big portion of the income from this almost unbeatable offer will support our non-profit Lamma.com.hk. If you'd like an e-mail address@Lamma.com.hk as well, total incl. cost: $1,000.

Valid till Chinese New Year only!


Have a look at some samples of award-winning websites from Lamma-Gung.
If you'd like your own domain name, plus your own e-mail domain, it's available for an additional $388 for 1 full year, provided by our friends at ToughDomains.com in Tai Peng.
Contact me for any questions!
More Internet Romance...
AutumnAuburn (USA):

Hannele Rubin (from Manhattan, not a My Lamma member yet):

I read your article "Real Romance in a Virtual World". I very much enjoyed hearing your tale of fiber-optic love. I have a few of those tales, myself, none leading to marriage (though almost, a couple of times). Personally, I think meeting potential mates on-line is safer than meeting them in a singles bar. I'm glad to see that yours has a happy ending. Take care.

She met her husband online, in Salon Magazine's great series Match made in heaven, match made in hell, about Internet Romance:

I'd had an ad online for several years, had met a few guys, and even dated several. I quickly learned that anyone who looks for love online must develop a really sensitive wacko filter.

I corresponded with guys who seemed normal, interesting -- even fun -- at first, but they gradually revealed enormous social maladjustments. I received complete curricula vitae (including links to publications), sexually explicit photos, proposals of marriage, really bad poetry, really inventive spelling, and letters that cc'd a dozen other women's ads.

Married men wrote looking for traveling companions or threesomes. New immigrants wrote offering to be gigolos for "financially generous females."
Harbour Reclamation Update

Campaign update from SaveLamma's Mishko:

Malcolm:

I spoke to Mishku at SaveLamma.org:

- The original phase2 development has been stopped.

There is no phase 3

- The reclamation is only part of the waterfront redevelopment. A new library was part of the original plans.

- The Govt is planning real public consultation - including open meetings etc instead of the normal " this is what you're getting. Live with it" approach. Probably before Chinese new year - but dont hold your breath.

- There is a Masters degree course in landscape architecture (or similar) at HKU which is using YSW as one of their assessment projects. The Govt will look at those plans, as well as the friendly guidelines proposed by SaveLamma and the results of the public consultation before coming up with its next plan.

- Given all the above we're probably safe from the pier being redeveloped in the next couple of years.

A great article by Mishko & Cecilia Chu, recently in the architectural "hinge" magazine, #64, scanned for your viewing & reading pleasure.

Click above & below for readable pages:
Dishonest Property Agents

Let me tell you a short story that very recently happened to me & Lamma-Poh:
For some time now, we've been looking for a 2/F & rooftop flat.
We've had an eye on the 2/F & rooftop flat in our building for many months and told the property agent/owner that we were very interested, if it would ever become available. She had found us our first flat on Lamma and informed us recently that our "dream flat" would become free in a few weeks. We were on very friendly terms with the agent, Lamma-Poh playing Mah Jongg with her frequently and she gave us newcomers lots of helpful advice back then, even coming up with a nickname for me.
We viewed the flat, loved it and the agent promised to reserve it for us, giving us something like "first right of refusal". No need for down payment between "friends".
We were getting ready to cancel our current lease, sign the new lease and plan the move for end-Dec.
But Lamma-Poh got suspicious about the agent never talking to us anymore when we met on the street regularly. She confronted her and the agent admitted that she had rented the flat to somebody else several days earlier, for just a few hundred dollars more, without even telling us! She also made up a very transparent, obvious lie why she had rented to somebody else, even though the flat was "reserved".
No problem with finding the highest bidder for her flat, but not telling us, deceiving us and breaking the often-repeated promises disappointed us severely... Obviously, we were really pissed off.
Talking to several other local friends they said she's reputed as a very troublesome, greedy woman, taking advantage of others, even though she's extremely well off, owning several flats on Lamma. No names will be revealed, this is just a tale of caution, not of vindictive revenge.
Beware of the practices of some of the local agents! Without signed papers, all promises are worthless!
Don't be deceived by friendly smiles, empty promises & lies. Interestingly, in over 10 years of renting flats on Hong Kong Island, we never experienced a bad case like this.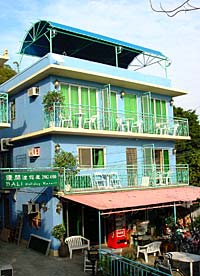 But this is not the first case of dishonest property agents we encountered on Lamma. When moving here just over one year ago, we used different agents to show us around. Several times we were shown the SAME flats by different agents. Valley flats were EXTREMELY rare one year ago, the complete opposite of the current massive oversupply of empty flats, even rooftops quite readily available. The quoted rents by one agent were consistently $1,000 to $3,000 higher than the other agent's, for the very same flats! Buyer beware!
We've looked at:
• a flat with an illegal Mah Jongg gambling den in the flat below (all-day, all-night clickety-clack!).
• a flat with a great harbour view, being blocked just weeks later by a new village house being built just besides it, blocking the view completely. The agent proclaimed to have no idea about this happening a few weeks later when showing the flat to us, of course.
• a flat where the owner living just below couldn't find the keys to show it to us. One of his several teenage sons climbed up on the balcony outside, opening the 2/F flat from the inside to let us in!
• a great, new flat with 2 bathrooms, but no kitchen in the flat, just a tiny kitchenette built into the storeroom on the rooftop. The list goes on, but I've bored you long enough now...
Flat hunting in YSW is a truly exciting adventure! Lamma-Poh has started to enjoy it as a kind of outdoor sport, just for fun & entertainment, like window-shopping expeditions!
Do you know any great flats w/rooftop in the valley, up to $7,000? Our quest continues... If we fail we might even rent this little, romantic cottage (left).
P.S. All photos in this feature have been shot this week as samples for the My Lamma Photo Contest.

Lamma Invading Disco Bay!

This is undoubtedly the very best & funniest new topic of the week!

A pillage & plunder raid on Disco Bay is currently being planned in great detail. It even has a flag already to fight and to die for! (see right: Arms of the County of Lamma Island). Even a strategy has been drawn up already:
STRATEGY for the evening before the attack (by webdog):
1. Send out our Sexy Santas (see Editorial photo) to defuse their men.
2. Our member Don Juan to paralyze all their women.
3. DAN the Anastasia can bake some magic cookies to help them to get into mood.
4. Last but not least, LAP would provide a troop of dogs and cats to befriend their guard dogs and
to distract their vicious kids.
Goat Maison (Lamma Oldster):
We might need a finger nail fixer when we invade Discovery Bay on Lantau.
I was thinking about a dawn raid using our dragon boat girls in the front line. They would emerge from the mist, scale the harbour battlements and stun the Lantauers with their clubs. (The cricket team would supply the bats - please organise this John).
Then the Bookworm vegetarians would storm McDonalds and BBQ the staff on the spot. Meanwhile, Mr Stock would be playing 'Napalm Death' at full volume from the pirate ship that would by this time be moored just off the ferry pier.
The Lamma-ite infantry will follow in the second wave and slaughter and pillage offending members of the Lantau population, before raising the 'Peace and Love' flag in the main square. All Lantauers apartments will be searched, and anyone found with a Chris De Burgh recording will be tortured by the FingerNailFixer.
All raiders should bring their own helmets should they choose to wear one. (Lunch will be served at McDonalds)
The sign that we are ready to invade will come the night before. There will be purple fireballs rising to the sky from Mt Stenhouse.
That's about it. Thank you for your cooperation, and remember that idle talk costs lives.
Members Get Members
We need more registered members! For a more active online community, more messages by more contributors and, last but not least, so we can spam more people with this e-zine!
We have to admit that most people on Lamma don't know ANYTHING about the existence of Lamma.com.hk yet. This is most shocking & we cannot allow them to continue living in ignorance!
You'll see our Lamma.com.hk flyer on the walls (see left). You can view and print it here as well.
YOU can help to change that quickly! The more new members you can attract to register at Lamma.com.hk, the more chances at winning!
We'll run a Lucky Draw, one chance per referral, first prize:
One of Lamma-Gung's Christmas promotion home pages, valued at $888! (see feature 3 above)
How's that for a great prize? Alternative prizes available as well!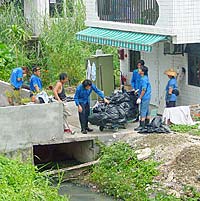 The 3 guys have been dredging the overgrown sewer canal in Sha Po Village. Here you can see them and
their mgmt. in a progress meeting.
New forums & moderators!
My Lamma 2003 Calendar
Restaurant Rating Results
Northern Lamma School in the spotlight
More interviews with Laudable Lamma Luminaries
plus: Lamma's Dark Side...
suggest new topics, e-mail the Editor

Last updated: 18 Dec 2002
© 2002 Lamma.com.hk