Tigger wrote:
That centipede looks pretty scary though!! I've never seen one of those. How big was it?
The body only was about 3-4 centimeters long, 1.5 inches, according to Icey who found it scurrying it on the floor. As a typical Lamma Lady, she didn't freak out, but grabbed her mobile to take not just 1, but 2 shots to show us.
I was freaked out much more when, as a Lamma Newbie, one of these critters hid in my bathroom towel and dropped onto my naked shoulder when I stepped out of the shower and grabbed the towel. I didn't get a photo back then....
I think this is the young version of the pretty common, several inches-long centipedes on Lamma, the ones with the shaggy legs that can crawl up walls, but are not quite as aggressive and poisonous as the short-legged yellow-black centipedes that look much creepier than this one. I've got a recent photo I took in here somewhere....
Ah, found it, higher up in this very topic, about 10 inches long including legs, crawling up a tiled Village house wall just outside our flat.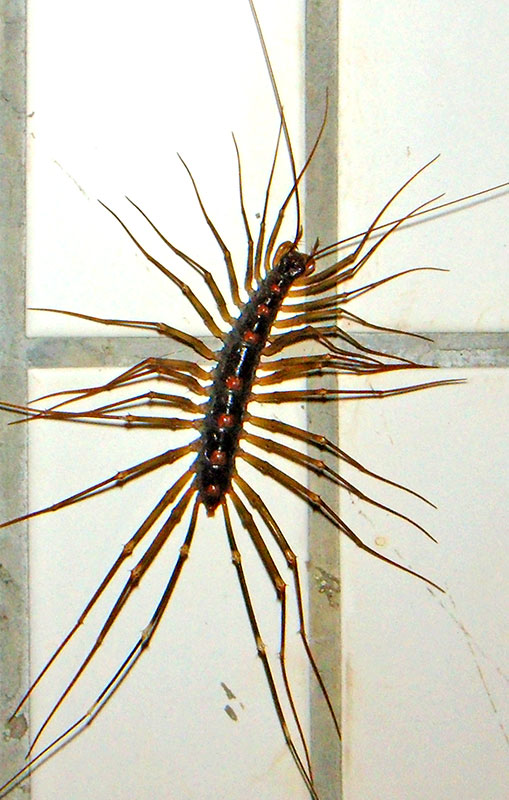 This has been identified already 9 years ago in this forum:
Centipede? Cockcroach? Freak Of Nature??
Scutigera Coleoptrata
, also called the American House Centipede colloquially, so they seem to like it indoors and not just common in SE Asia, but also in warmer regions of the US...
A good description of their eating and mating habits can be found here:
http://work.colum.edu/~cshaw/scutigera.php
"Icey's Centipede" is the current Lamma Wildlife Photo of the Day on the home page, crawling up the right column. This should give people something to consider before moving here. If you're worried about all types of our local wildlife, outside AND inside - mosquitoes, snakes, centipedes, wild boars, feral dogs, almost-feral druggies, etc. - then maybe Lamma is not for you....