Lamma Community Market
this afternoon starting at 3pm, spaces outdoors and indoors still available.
Contact Lamma Grill at 2982 1447
.
More Lamma Grill events...
---
One fun foodie experience we've just experienced on Lamma was ordering
Canaan Kitchen
takeaway from the ferry from Central and picking it up when arriving, during the 5-minute switch-over to the Pak Kok Ferry!
This might become very popular for commuters from Central or Aberdeen. A well-known, hotel-trained Cantonese chef is cooking from prepared ingredients, right after your order by phone
(9739 7816)
, so the food is ready, freshly cooked and ready within a few minutes.
You arrive at the YSW ferry pier and the food is awaiting you, ready to take home! Just $48 for a complete set, including Chinese soup, including delivery. Daily changing 3 options, available from
Wed - Sat, noon - 9pm
.
Talking to their friend last night at Shrove Tuesday, who's also doing the intensive Facebook marketing -
https://www.facebook.com/canaan.kitchen
- this is expected to grow and become a regular offering on the Lamma foodie scene.
We loved the great, original food (think Man Kee before it changed ownership) made with high-quality ingredients. We highly recommend the extra options of a $15 (HUGE) pork chop or chicken fillets.
The single dinner was big enough for the two of us, plus enough left-overs to keep me happy for next day's lunch!
Attachment: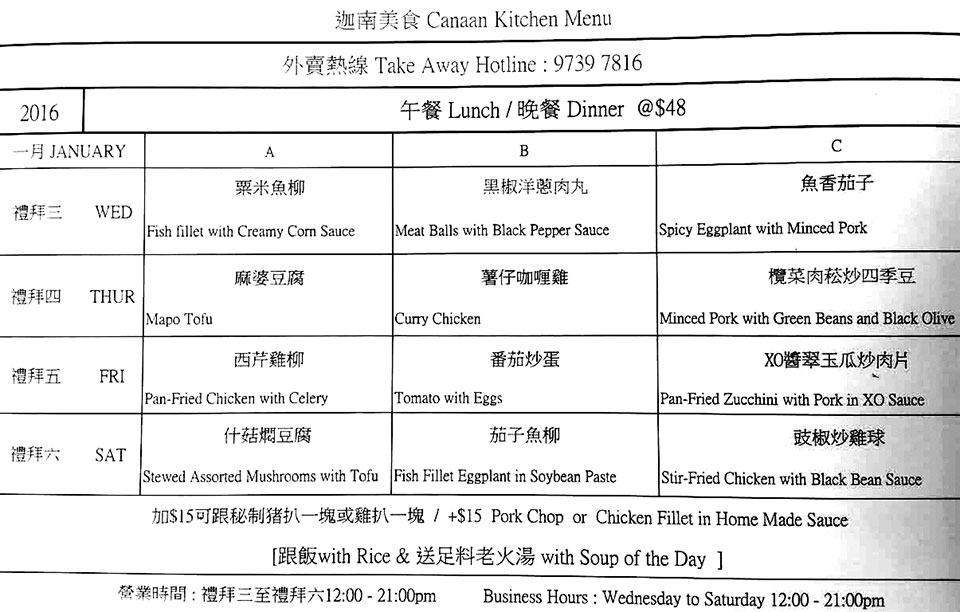 Canaan-Kitchen-menu.jpg [ 115.51 KiB | Viewed 4145 times ]