Attachment: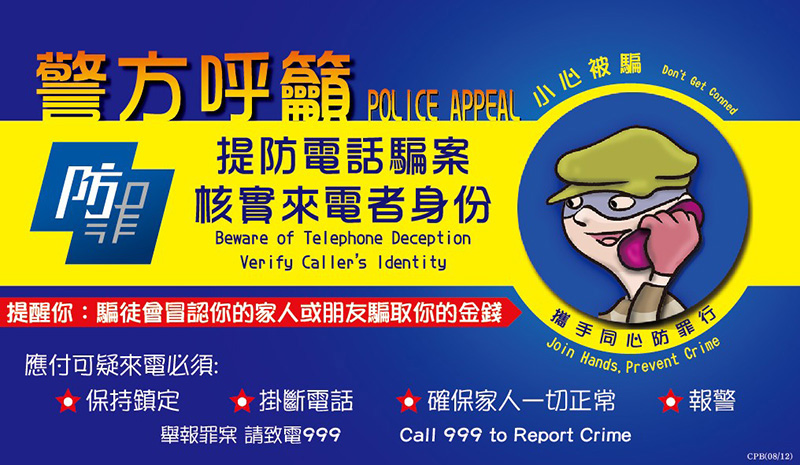 Police-Corner-1507.jpg [ 192.08 KiB | Viewed 5872 times ]
Police Corner July 2015, submitted by:
TUNG Hei-man, Camas
OC Lamma Island & Peng Chau - Cheung Chau Division
Office: 2982 2135 - Mobile : 6148 2295 - Fax.: 2982 1824
There is a rising trend of telephone deceptions in the past few weeks. Many residents living on the outlying islands have received phone calls from fraudsters who claim to be staff of an express courier and requested the residents to provide personal information or deposit money to claim the parcels under their names. The fraudsters often speak in Chinese (Cantonese or Mandarin).
Fortunately, our residents are smart enough not to fall into the trap and hung up the phone without believing the fraudsters.
While police are conducting investigations to try and locate the culprits, I hope all of you can protect yourselves from this kind of crime. Prevention is always better than cure. In a nutshell, be cautious when receiving phone calls from strangers, especially anyone who claims to be the staff of an express courier.
The following key points should be noted :
Do not transfer or deposit money to strangers' bank accounts or any other unconfirmed location;
Do not disclose your bank account numbers and Internet banking passwords;
Always verify information by independent means (call the company direct on the official company phone/hotline);
Do not disclose the names and telephone numbers of your children, relatives or friends;
Remind the elderly at home of the above crime prevention messages, especially those who rarely read newspaper or watch television.
For more tips on telephone deception, please check out our website at :
http://www.police.gov.hk/ppp_en/04_crime_matters/ccb/cct_09.html
Rainy season is here. While we all enjoy the lovely nature of Lamma during sunny times, heavy rain and strong winds often cause many fallen trees on the island. Please be cautious when walking or biking during bad weather. Report to 999 immediately in case of danger from fallen trees or trees that you think are in a precarious position.
If you see any trees in a weak state and not necessarily in immediate danger of falling but you think need checking out, please call 1823 which is a centralized Government Hotline that would refer your reports to the most appropriate authority.
As a general reminder, in order maintain appropriate confidentiality; remember not to post reports here on the blog relating to cases, crimes, complaints or criminal intelligence. You can always report by phone, email, fax or in person direct to the Hong Kong Police Force as per the below list of contacts. Remember, if you have any information relating to crime or offences taking place on Lamma or anywhere in HK, we want to hear from you.
All contact numbers are linked below:
http://www.police.gov.hk/ppp_en/contact_us.htmlLamma Police Post Tel : 2982 1577 Lamma Police Post Fax : 2982 1824