I've been "strong-armed" into joining a new Bear Camp!
My long-time weight loss doctor in Queen Mary Hospital, Dr. Chan, and Dr. Urso the Bear seem to have teamed up to give me some "doctor's orders" to return to fitness ASAP!
Well, I've been severely slacking off over these sweltering summer months, mostly remaining inside air-conditioning 24 hours/day, only venturing out of my home office to shop, eat out or meet people. My bike has gone rusty, my hiking boots mouldy, my bones creaking and my muscles atrophied.
It's high time to get OUT OF HIBERNATION and get active again, returning to being FAT BUT FIT!
It's been a long while (if ever) since I've flipped a tyre, swung a hammer, pulled a rope or lifted a sand bag!
Join us Lammaites who are new to or returning to fitness this Monday morning, 8am on the Cable Road!
No ribbed abs, bear roars and no taking our shirts off in this session, unlike some of the other "strongman" Bear Camps, see above. No need to feel intimidated, it's for everybody and we have a good mix of people of various ages, nationalities and fitness levels joined up already.
---
Dr. Justin the Bear
writes in the
BEAR CAMP - OUT OF HIBERNATION
Facebook events page:
RETURNING TO FITNESS??
Introducing:
BEAR CAMP - OUT OF HIBERNATION
Mondays, 08.00-09.00
BEEN A WHILE SINCE YOU FLIPPED A TYRE?

CAN'T REMEMBER THE LAST TIME YOU SWUNG A LARGE HAMMER?
DOCTOR URSO's Fitness & Wellbeing is here for you!
We want to show all of you that our functional strength and fitness training protocols are for EVERYONE, and are high effective for EVERYONE. We WILL get you results fast!!!
OUT OF HIBERNATION session structure:
- This new introductory session will have large amounts of individual attention and instruction that focuses on form and posture essential for completing the required movement correctly and safely.
- After we are comfortable that everyone is happy in completing the movements we'll move on to completing one circuit of 8 stations.
- This session is concluded with a lengthy stretching-down session, in which expert advise for any postural issues highlighted in the course of the session can be given, and begun to be practiced.
We care about our community!!!!
ANYONE AND EVERYONE IS WELCOME
- We cater for all people (yes - both male and female!)
- Age is not important.
- Fitness level is not important.
- Ability is not important.
- You set your own personal TARGETS, and we guide you.
- But, we all MOTIVATE each other, and all work TOGETHER.
DOCTOR URSO's training session are fun!
You'll find training outside in a group and surrounded by trees is much more fun than being alone and enclosed in a gym!... And we have much better music!!
We will put you on the FAST-TRACK to fitness and wellbeing.
(... and maybe imbue a little BEAR TOUGHNESS!)
Attachment: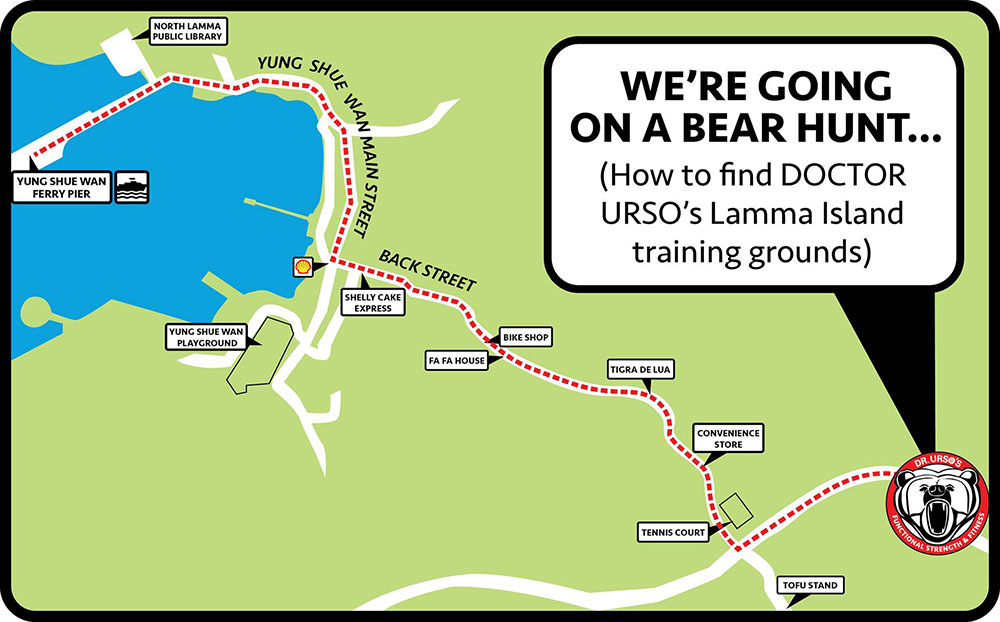 Bear-Camp-map-wp.jpg [ 107.8 KiB | Viewed 4602 times ]
LOCATION:
All BEAR CAMP training takes place outside, away from housing, surrounded by green trees on a 50m x 50m flat concreted area (see map below for directions). Adjacent is a wide strip of steep hill, surfaced and perfect for group hill training. Toilets and basic wash facilities can be found nearby.
PRICE:
For this session we'll be asking for an introductory contribution price of $100 per person - WE'RE BUILDING A COMMUNITY!
WEATHER WARNINGS:
It's looking like no rain this time. But, do look out for our message updates one hour prior to start time. Weather on Lamma is often different (and better) than the rest of HK. Only amber rain stops play.
HOW AND WHEN TO GET HERE:
If coming from Central jump on the 7:00 ferry at pier 4 to YUNG SHUE WAN. Please see map below for details of how to get to the training site - any problems please phone/message me. It's a 10-15 minute walk to pier to training site.
Dr. Justin Gregory, D.Phil. - Director of Operations - 6140 1974
Bring plenty of water/electrolytes (VERY IMPORTANT).
If you're interested in joining this training session, request to join the
DOCTOR URSO's
Function Strength & Fitness community page.
Then you'll be able to 'accept' the training session invite, so that they can see the details and we can judge numbers and plan for everyone accordingly.
It's going to be fun!