Submitted by The Island Bar:
ALL IN A GOOD CAUSE!
The OSC / ISLAND BAR ANNUAL TREASURE HUNT is coming SUNDAY 8TH DECEMBER
What a Great Way to spend Sunday!
Come along and join the fun by making up a team for the 15th Annual Island Bar TREASURE HUNT!
The Treasure Hunt is held in each year in support of Operation Santa Claus, which, as most of us know, is a charity event held jointly by SCMP and RTHK with support from companies and individuals throughout Hong Kong. The contributions raised go to help needy people and organisations in Hong Kong.
THE TREASURE HUNT
Notably, that this will be the FIFTEENTH YEAR that The Island Bar has organised the Treasure Hunt and it therefore goes without saying that IT MUST BE FUN!
Witty clues to follow, silly questions to answer, bring your dogs, bring your children (OK, not necessarily in that order) and be prepared to enjoy a great trek around parts of Lamma you have probably never seen before.
AND the scurvy crew of Organisers has improved over the years, actually, to the point where they are just a smidgen off competent and professional enough to give us pirates a bad name.
WHO's IT FOR?
All of us FUN lovers!
WHAT IS IT?
Teams of four, made up of friends, families or just a few individuals who would like to get together, following a trail that might, just might, bring them treasure! The trail takes between 2-3 hours (depending upon your effort and cluelessness). It's all in good fun and all for a good cause!
Attachment: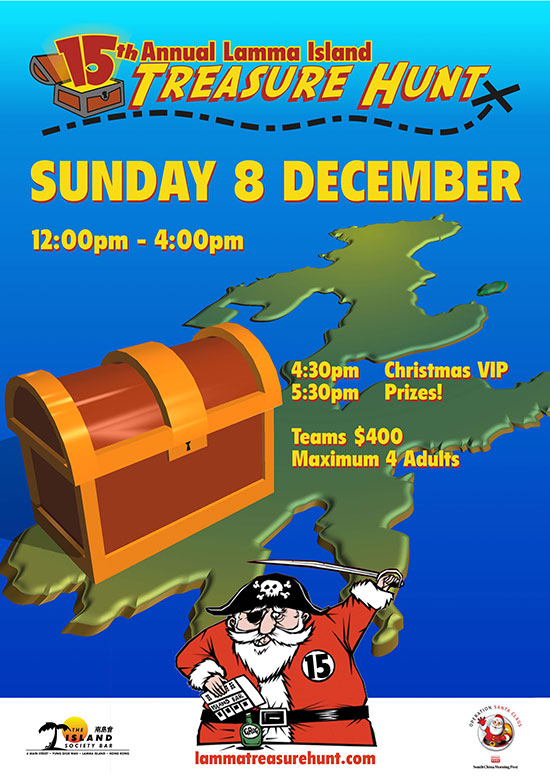 LTH2013_Poster-b.jpg [ 129.67 KiB | Viewed 3027 times ]
HOW IT WORKS:
Simply register at The Island Bar in Yung Shue Wan (straight off the ferry, first bar on the left) and pay your HK$400 team registration (which you can personally put straight into the Operation Santa Box).
Receive your instructions (very brief) and a trail pack (with clues, often very funny), relax for a few minutes while you think up a really intriguing name for your team (you win points for the best name) and then set off following your clues.
Follow the clues, answer the questions in the booklet you will be given (IT HELPS IF YOU BRING A PEN) and find your way back to The Island Bar tired, happy and extremely ready for a FREE tot of ale or soft drink which you will enjoy whilst we mark your papers.
Listen to the team results and enjoy receiving your prize!
YES, it's that simple.
PRIZES are given for the team to finish the trail fastest, with the most correct answers, the best dressed team, most creative moniker, etc, etcet al. Loads and loads of fun things to win, from coupons for local restaurants, to fine wines and more.
PLEASE COME AND SUPPORT THIS GREAT FUNCTION FOR A GREAT CAUSE!
For more information and helpful suggestions:
Sharon Chandler 2982 2800
Daniel Clarke 9122 2849
For complaints:
Please complete by hand and submit in triplicate (3 originals in block printing) using the fourteen-page
Official Whining Form
, which can be obtained for an exorbitant fee from Somewhere Else and deposited Anywhere You Choose. You will probably receive a banal and soulless autoresponse within 7 to 10 weeks and, if you're lucky, a painfully poorly ritten repose with in sevn 2 Ten aeons. (In other words, me hearties, this a FUN event and whingers will be harshly dealt with. Aaarrrgh!)
For more info:Lamma Treasure Hunt
group on Facebook;
Lamma Treasure Hunt Website.