Submitted by Island Bar: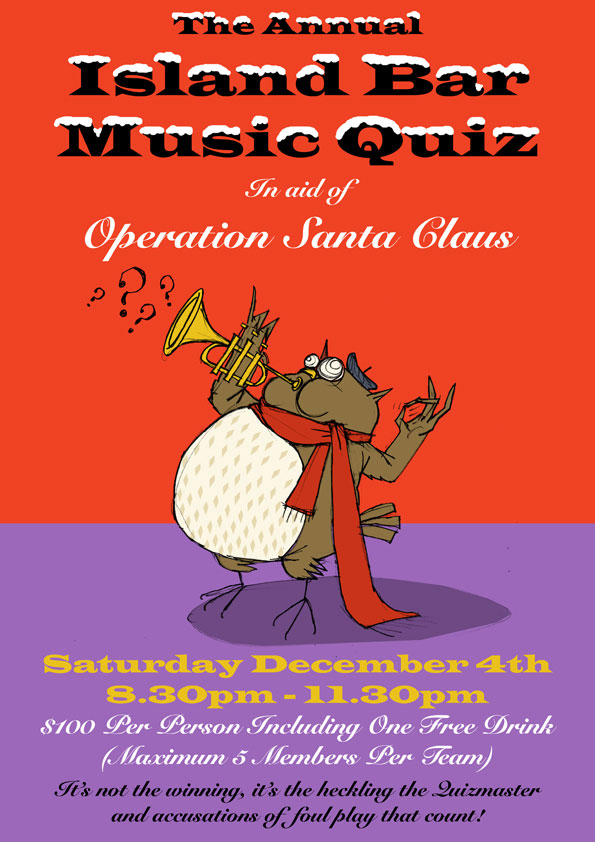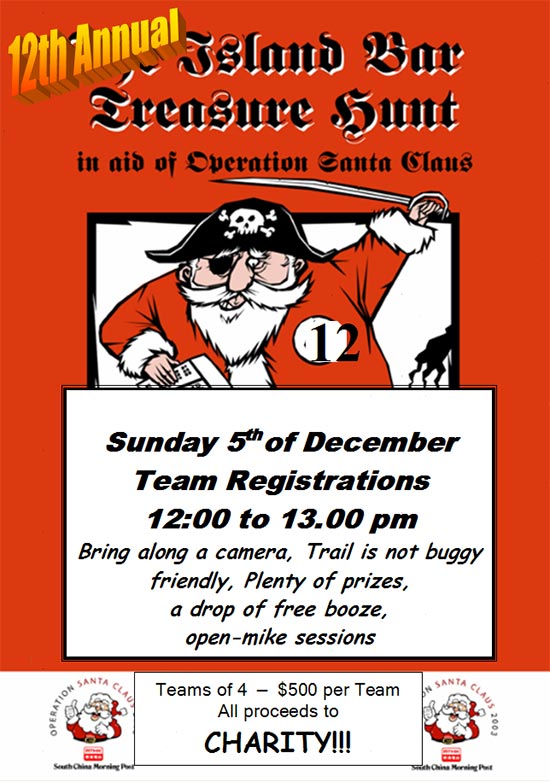 25NOV10
Operation Santa 2010 at THE ISLAND BAR, Yung Shue Wan, Lamma Island
The folks on Lamma are quite big on raising money for charity. We might not raise a huge amount but throughout the year whether it be a children's charity, a response to an earthquake, flood or other disaster, people dig into their pockets. Rest assured though, at Christmas our focus is always on Operation Santa Claus! We have some great sponsors for great prizes including a luxury night in The Concerto Inn complete with dinner and more donations on the way.
Here's a look at the first few events . . .
The Annual Christmas Quiz – Sat 4th December
With the first event on the Island Bar agenda, The Christmas Quiz to be held on Saturday 4th December, we are gearing up to make this year's collection as high as possible. Teams of 5 are invited to pay $500 for Op Santa to pit themselves against some seriously strong contenders for the best prizes.
The Annual Treasure Hunt – Sun 5th December
Tally Ho! It's off we go! The following day, Sunday 5th December, will see teams of four setting off on a walk from The Island Bar and heading into the hills as part of our Annual Treasure Hunt. Following cleverly worded clues to an unknown destination, our intrepid travellers will traverse vast and hitherto barely discovered parts of Lamma in search of the big bootie, or at least a glass or two of beer. Their contribution of $500 per team will also go straight into the Op Santa boxes along with a series of 'fines' for not completing the course properly!
And we have had a secret - we understand that Father Christmas is planning a surprise visit on his sleigh that day to see the children in the village!
On a yearly basis, the customers and management of The Island Bar contribute huge wedges of their time (and ultimately contents of their wallets) in pursuit of these fun activities to raise money for Op Santa.
This year, in addition to the 'Annual Favourites' we are planning a Darts tournament, Bingo Night, Elvis Karaoke and more. A second and much different Christmas Quiz will also be held in our sister restaurant, The Waterfront, also in Yung Shue Wan.
Fun lovers unite! Pop over to Lamma to add your contribution to our contribution to the Operation Santa Claus appeal 2010.
Everyone is welcome to every event. We'll even give you FREE membership to the Island Society Bar, 6 Main Street, Yung Shue Wan. Whether you want to get your glad rags on to have a go at sounding like a Hound Dog, walk till you drop (not literally) in search of treasure, or join in any of our activities, you can expect a warm welcome in true Lamma style!
---
Contact:
Sharon Chandler
Tel: 2982 2800 (or Dan 9030 2888)
Email: <dashansa1@yahoo.com>