Attachment:
!DSC07902-wp.jpg [ 152.06 KiB | Viewed 1626 times ]
DJ gig at Lamma Grill - Sep 3, 2014
Review by DJ Nick the Bookman
Well, there's a lot to get through now, so lets just jump right into the thick of the action. It's 1900 hours on Wednesday 3/9/2014 and Jim and I are going to be sharing the DJ duties at the sixth weekly DJ showcase at the Lamma Bar and Grill. Jim has already appeared there, but it's my debut. Jim has kindly brought his "wheels of steel" (i.e. CD decks) and a mixer so we can both go Old Skool. I don't (make that can't) DJ with e-decks and computers and UBS sticks, but I do have some interesting CD's I'm looking forward to playing. I get to start the night as Jim has gone for his dinner. Caroline and Raj, my genial hosts, have made me feel more than welcome and so, hey ho, let's go.
Lamma-Gung has come and snapped some photos of me playing to an empty room. I'm showcasing some of my most liked songs and tunes. Americana, some world music, some old folk stuff by Eric Bogle about WW1. I'm not bothered by the lack of audience. There is one. Lisa and Jim and a few other people are sitting out back where the speakers work very well. (Something, I only find out later, but, hey, they're not in my face chanting for impossible requests). Stress levels are basically nil. On with the show.
Attachment:
!DSC07904-wp.jpg [ 130.8 KiB | Viewed 1626 times ]
People are strolling in and out. Chatting, imbibing, having what appears to be their weekly Wednesday hoedown/shindig/good-time/thrillerama. Nipper has arrived and is having a good gossip with Jim. Yea! I'm entertaining two of Lamma's world class DJ's (they are, as far as I'm concerned) and all too soon, Jim's tapping my shoulder and asking to come on. He starts off with the latest Brian Jonestown Massacre release which leads nicely into Noel's recent email to me that Anton, the leader of TBJM, still regrets the fateful bout of onstage fisticuffs at a previous US gig that scuppered his band's debut show in Hong Kong. At the Rock-It Festival 2005 in Victoria Park. The BJTM were replaced at the last moment by Princess Superstar who didn't disappoint. Anton's a lot more together these days and is hoping that the band will have a long awaited opportunity to play in HK sometime in 2015 and whatever he can do to help matters swing smoothly he will do...
I pass this information to Jane from Songs For Children who says that the Lighting Director of Slowdive is one of Anton's best mates and they (SFC) are aware of his desires and hopefully will be able to fulfill them. Jane and Mike recently brought Slowdive to Hong Kong for a stunning show (28/7/2014) and here, finally, is my one month + tardy review...
HK's KITEC building is hosting what is the tenth stop of Slowdive's 27 show World Tour. Their first performances since reforming some 20 years after first coming to prominence as one of Britain's best "shoegazing" bands. They've recently turned in a "blinder" at the Fuji Rock Festival in Japan and equalled that in Shanghai (and in HK and in Singapore...) Slowdive are a feisty quintet comprising founder Neil Halstead on 2nd guitar and co-lead vox. Rachel Goswell on lead vox, tambourine and sporadic 3rd guitar. Nick Chaplin, the bouncy bassist. Simon Scott on the thunder drums and the recently unretired and short of practise Christian Savill on coruscating and frenetically melodic lead guitar. Neil was also in HK in August 2013 with his other band Mojave 3 and that's where the first hints of the Return Of Slowdive first started to drop. (I've noticed that there are a lot of "firsts' in this paragraph. Fuck It. Call it my tribute to the late Edward D. Wood Jr. and his immortally inept "Plan Nine From Outer Space").
Slowdive pay about 10 longish songs over their two hour show. The sounds and moods range from happy-jangly guitars to great swathes of almost prog-Melletronic workouts. If you close your eyes that is. It's a virtually non-stop horripilatory, gestalt vibe. Heartbreaking in places. Awesomely moody in others. The band are tighter than Scotland during Hogmaney. And the audience - more than 1,000 strong - is lapping up every last lick, note, and swoonsome vocal inflection. Rachel is particularly easy on the eyeballs. What makes this audience almost unique is that most of them are locals. Young locals who were probably not more than a gleam in Daddy's randy eye or a foetal bud in the Mummy tummy when Slowdive first exploded into prominence, I reckon me and my old RTHK buddy Cliff Bale are the only ones here who were of voting age back in the late 90's. And we're both right up the front. What's more, the youngsters are greeting each track with near hysterical whoops of applause and acclaim and short bursts of head banging and muted efforts at pogoing. There's A Party Going On. And It Shows No Signs Of Abating. (fast forward a couple of hours...
The only song I do know the name of is a stunning version of "Golden Hair". Words by Irish poet and occasional Occultist/Member of The Golden Dawn, W.B. Yeats. The musical arrangement is damn near identical to Syd Barrett's version. The first version to be put to music. It was recorded about the time Syd was slipping into his lysergically inspired dementia that led to his sacking/withdrawal from Pink Floyd. Rachel does a spellbinding cover of the song while the band slip into a slow echo-ey-ey-ey breakdown that implodes into a white noise dissonant deconstruction ending. And the light show is fucking stunning. I'm experiencing involuntary, but welcome, acid flashbacks. A massive phosphenic breakdown of cobalt blue and ultraviolet blipbursts. A retinal flashdance as you get when you squeeze your eyes tightly together. "Wow!" as the immortal Kate Bush so eloquently put it lo, those many years ago. After that stunning encore ending, there isn't really any place to go. Except home. Can't top that amazing finale. Slowdive are winding up their triumphant global comemback tour at La Batie, Geneva, Switzerland on 9/9/2014.
Attachment: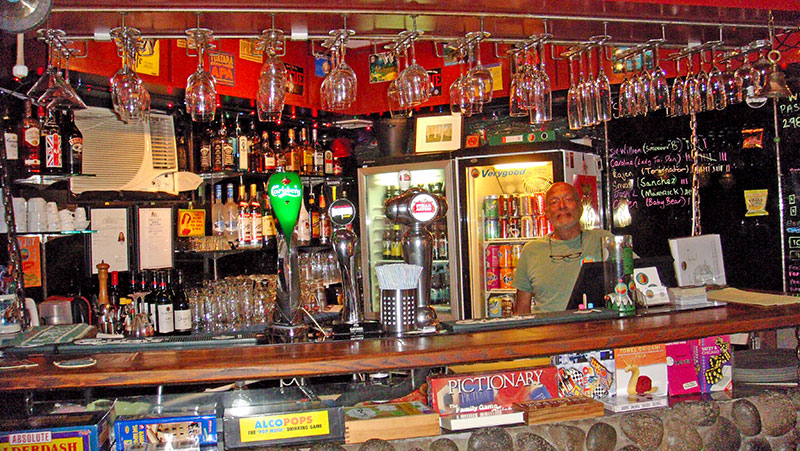 !DSC07907-wp.jpg [ 183.04 KiB | Viewed 1626 times ]
Aaah, sorry. Jim's tapping me on the shoulder. He's finished his first tasty set with an extended spell of sorta nu acid jazz type music. None of which I know, but it skitters and shivers and ticks and bebops along and kinda leads me into "Shapes Of Things" by Nazareth. Then "School's Out" by Alice Cooper, "Fox On The Run and "Ballroom Blitz" by Sweet. Plus "He's Gonna Step On You Again" by John Kongos (later "found" and recorded by Happy Mondays) and some 12 inch remixes of Human League and Pete Shelley before getting into a bit of "Babylon's Burning" by The Ruts. All great tunes that are between 30-50 years old now(!). Keep The Music Alive! Old Skool Rocks Too! and now it's time to hand back to Jim again.
The party rocks on smoothly until about 0100 Thursday. A good crowd has arrived. Parksy, Josh and Bryce and neighbour Louis(?)/Lewis(?). Nick, who lives in the mansions opposite Dickstock and is keeping the chasers going and going and going down wonderfully. The lovely unknown lady whose name I was too dumbstruck to ask who says she knows my nephew and niece, Christopher and Tara. Meatball and his lovely tattooed ladyfriend. Shit, there were probably abut 60-70 people in and out all night and I feel happy that I did a good job and Jim did a better job and everyone was really nice. as seems to be the welcome vogue/vibe for Lamma Parties.
The Wednesday Night Music Club gigs should be continuing. I think Barnaby is up next. Once a month. And if Jim's happy to bring his CD decks down once a month, I'm more than happy to split evenings with him playing tunes. As long as you lovely, lovely audience members are equally happy to come down and listen. Dancing is optional. I never bought into the myth of the DJ who gets everyone dancing. Never has happened. Never will. The thing is to see who's still standing at the end of the last tune and hope everyone had fun. Again, special thanks from Jim and me to Chef Jim, Caroline and Raj for their superb work behind the bar and for making this one of my most enjoyable DJ gigs. Better stop now before I get too wet eyed with emotion and short-circuit this keyboard with the tears of a clown. ntb