Here are a few events for Lammaites in the next few weeks, organised by the Rural Committee and District Council offices, all free or heavily subsidised by the Govt.

The first one is a stool sample screening for intestinal problems, for example the fast-increasing bowel cancer. Free for ages 50+ (one of the quite numerous local, medical and welfare services for the "elderly").

Plus a "Fire Safety Hiking" on the Family Trail; not sure if any fire safety demonstrations will be included.

Plus a 2- and a 3-day "all-inclusive" tour into Mainland China.

It's not mandatory to speak Cantonese when joining these events, but it would be easier for everybody involved. If not, take at least a Cantonese-speaking friend or relative with you! I've done this myself in the past and it worked out very well, even though I was usually the only non-Cantonese speaker. Thank you, Lamma-Por, for being my (occasionally) patient guide, interpreter and translator.
Attachments:
!DSC05337.jpg [ 230.81 KiB | Viewed 652 times ]
!DSC05339.jpg [ 332.23 KiB | Viewed 652 times ]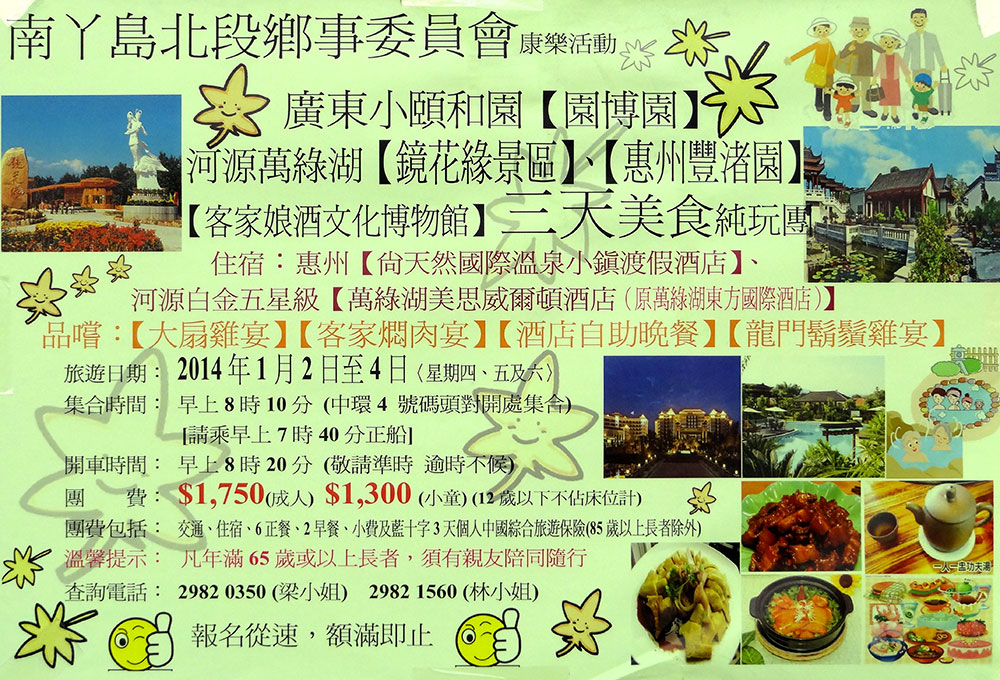 !DSC05338.jpg [ 278.95 KiB | Viewed 652 times ]
!DSC05295.jpg [ 191.32 KiB | Viewed 652 times ]
_________________
Click here for Lamma-zine stories and recent Lamma Spotlights of the Week:
Photo, Video, Person, Wildlife, Bird, Artwork.