---
Pandas, yellow umbrellas dominate Post cartoonist Harry Harrison's new show
"Items for sale at exhibition opening next week include both new works and selected cartoons from the Post
Monday, 21 September, 2015, by Enid Tsui (enid.tsui@scmp.com)

As the first anniversary of the Occupy Central protests looms, Hong Kong's top political cartoonist has a timely exhibition that should satisfy fans of his daily dose of biting perspicacity in the South China Morning Post. In "Pandamic", Harry Harrison will present new works featuring both the panda - his favourite representation of mainland China - and the yellow umbrella, emblem of last year's mass protests for universal suffrage for the 2017 chief executive election in Hong Kong. These are original, non-commissioned drawings inspired by China's "recent flirtation with Hong Kong's political reform", he says. Selected Post cartoons from the past three to four years are also being offered for sale.

The timing of the selling exhibition wasn't planned to coincide with the September 28 anniversary of the start of hte Occupy Central protests, Harrison says. Rather, it is a happy coincidence given that he is best known for his political commentary. His daily "Harry's View" cartoon has appeared in the Post since 2001 and, in the best tradition of political satire, conveys both a deep understanding of news events and enough humour to deflect the propaganda and hypocrisy that comes his way. They are all the more devastating because the artist is not afraid to stick his neck out and take on the powerful by making them look utterly ridiculous.

Harrison's no-holds-barred approach has seen him practically sweep the board in the editorial cartooning category of the Society of Publishers in Asia awards, as well as being recognised at the annual Hong Kong Human Rights Press Awards. The new works are standalone drawings without words - quite different to his newspaper cartoons, in which the characters are usually seen saying something punchy about one of that day's top news stories."
Read more... (SCMP paywall)
Attachments: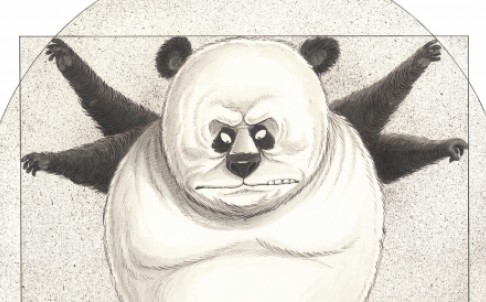 Harry-Harrison-poster-1509.jpg [ 41.22 KiB | Viewed 4285 times ]