The Ruts In Concert @ Fringe Club, Jan 31, '18 ~ by Nick the Bookman
Well... I'm going to start this review on 1/3/2018 and give a FUCKING HUGE one-finger salute to Google for LOCKING ME OUT OF MY ACCOUNT because I haven't used it for 4 months. All in the name of security!! I hope whoever gives you your blow jobs at Google CHOKES and BITES - really, REALLY HARD!!! While swivel-pivoting for added stress and tearing. That's the end of the promo message of support to Google. Now on with the story...
Attachment:
File comment: Photo by Lauren James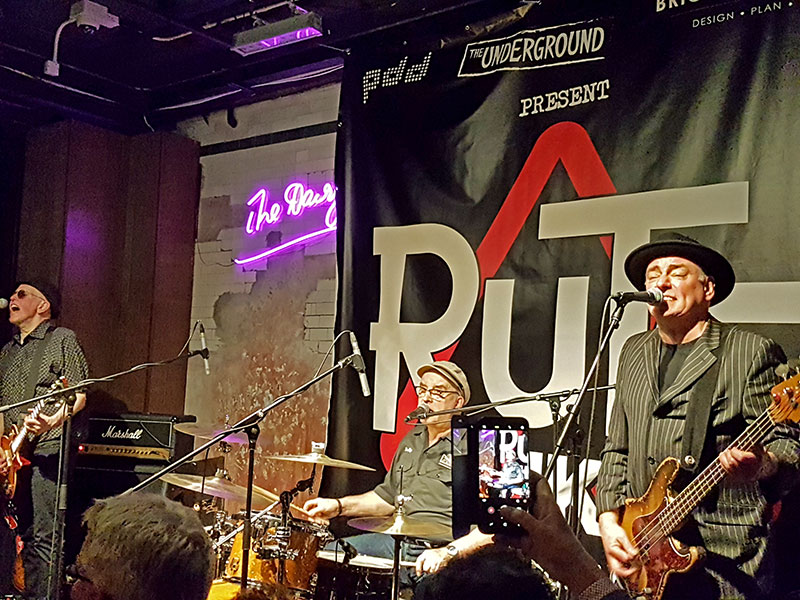 Lauren-James-Ruts-2.jpg [ 156.7 KiB | Viewed 2168 times ]
It's about 2000 hours and I'm swigging a couple of cheap beers in the small park halfway down Lan Kwai Fong. Can't afford to buy the beers in the Fringe Club, where The Ruts are making their long (un)-anticipated HK debut in about 30 minutes or so. First, a happy adult birthday greeting to youngest sister Sarah who turns 21+ again on this very night (31/1/2018). I'm probably going to have a better party than she is. In fact, I know I am as I'm about to see The Ruts and she isn't. Anyway, as I said, (swig, swig). I don't know how much of the back catalogue we'll hear (not a royal we, but extending the scope of this story to the other 80-100 other fans who are gathered in The Fringe Club), but it's going to be major fun. I just hope they'll play the song with the refrain of "We're in the hands of dangerous minds" which is off the first Ruts D.C. LP I bought. The first one they made after losing Malcolm, their singer. I think the line refers to the Body Politic which was wreaking havoc on Merrie Olde England at that time. Anyway, enough babble. Time to get back to The Fringe.
The opening act is a fine punk quintet called Two Finger Salute. They are Glen (drums), Simon (bass) Tim (one guitar), Paul red tee-shirt (second guitar) and Phil on OI vox (as he wrote down in my book). They did a splenetic and thoroughly approved short set of 5 originals and a masterful cover of "The Kids Are United" by Sham 69 which get everyone tunelessly bellowing in approval. Among the crowd is the lovely
Lauren James
(SCMP) who's also working with Chris B at Underground as a reviewer in her spare time. Lauren and I have crossed paths about 3 times now and it's always a pleasure to catch up. So much so that I'm happy to let her do a guest review. Take it away Lauren:
"The first band was very well-oiled and tight. The singer looked like he'd come straight from a football match in 1986. It was a joy to watch".
Not to be outdone, her partner of the night
Chris
chipped in with these epic words:
"Punchy and powerful guitars - raucous bass playing and intense drumming. The vocalist worked the room with his consistent grunts".
I can find no fault with these excellent summations.
The style of the music ranged from hard punk to duelling guitar frenzies to touches of rock and psychedelia, while Glen showed touches of a jazz style sensibility in how he shaped the tunes and urged his bandmates on to higher peaks of sweat loss. He got a couple of brief solos as well. Two Finger Salute have been in existence for a couple of years.Have played The Wanch and hopefully Dave may get them to come and play Lamma Fun Day 2018. We'll see.
There's a short break for beer refuelling and all of a sudden it's time for The Ruts to strut their stuff. I'm standing to the left of the hall, basically right in front of Leigh, the guitarist. Also "The Yow'won" as he's only been in the band for 7 years. In the middle is Dave, the drummer and to my right is Segs, the bassist/vocalist. I think of them both as "The Old Geezers" (In the most complimentary of meanings, of course). They're currently (as of 31/1/2018) on tour with The Stranglers and will rejoin them in New Zealand after this 2-day detour to HK. They've promised a rocking great saunter through the back catalogue, mixing songs they recorded as The Ruts and also as Ruts. D.C. The information about touring with The Stranglers comes from my right hand side fellow punk bopper, Rob. He say's he's seen the band in concert at least 15 times - including 3 times last year on the joint tour with The Stranglers. It now seems a good time to introduce John who has graciously penned a brief tribute. "Hi, Nick, I flew all the way from Christchurch NZ ,just to see this show. An absolutely fantastic gig. (John has lived in HK before. We've met at some of the same punk gigs at AC Hall back in the 1980's.) I think his bi-hemispherical jaunt to Honkers wins the prize for most travelled fan of the night.
Chris B of Underground fame and sporting the same blue hair from our last meeting and Olivier are the co-promoters of this show. Olivier says he's planning to bring other punk superstars to HK and mentions some names that I've inconveniently forgotten. I'll leave it to Olivier to break the news whenever. He's delighted that The Ruts are here and isn't bothered about losing money on this show. The music is what matters and he wants to do his best to keep us unworthy wrock and wroll wretches satisfied. One random sighting. Phil had a bikechain with padlock attached to the right side of his jeans. Part of the costume. No menace implied. Dave is wearing a similar chain when he sits down to drum for The Ruts. Great minds think alike perhaps? Or the ornamental chain budget only stretched to one purchase?
Anyway, this show has thrashed my memory banks wide open. Back to the early 1980's when I was lucky enough to see The Boomtown Rats, The Clash, The Pretenders and The Banshees in the space of 3 months at the A.C. Hall near Broadcast Drive. That was most of my live punk experiences - plus Bauhaus in some seedy TST night club. Keith Hassett was the only other European there for that show and I got photos of Bauhaus and all 4 of them were kind enough to autograph my copy of "The Sky's Gone Out", which I still have in my vastly reduced LP collection. Along with 2 signed David Bowies and "Regatta De Blanc" by The Police. (I've also got a lot of signed folk artifacts from the glorious days of the HK Folk Festivals at Island School. Maybe you all didn't need to know that. Now, I've go to buy new locks for the flat.
I've always liked the spirit of adventure in The Ruts. The punktitude, coupled with a refreshing social conscience. They fluidly expanded the boundaries between punk and dub-reggae with hits like "Babylon's Burning", "Something That I Said", "Shine On Me", "Dope For Guns" "SUS", "Jah War", "It Was Cold", Backbiter", "In A Rut"' etc. All of which they played. Their 5th number was the aforementioned "Dangerous Minds". Segs also trotted out an easy going nice line of patter/banter which kept the crowd amused. He mentioned Malcolm the deceased first vocalist, in more or less present tense terms. He's gone, but not forgotten. Segs also informed me that Mark E. Smith (leader and mainstay of the mighty Fall) had died recently. That I didn't know. Segs told a story about meeting Mark while he (Mark) was on an "E" and asking how it was going. Mark said it was "Fucking horrible.I couldn't stop hugging people!" I'm not a huge fan of The Fall, but any band that has recorded and released some 60 LPs with an almost equivalent number of band personnel changes is worthy of mention.
I've got to say that the crowd was exemplary. This is The Most Civilized Moshpit I've Ever Experienced. The audience is all drawn to this gig by the memory of the music. We're all 30 years younger in our heads while listening, but our current day bodies are really not up to fisticular flareups. Vicious slam dancing is not an option. Not while we're clutching $70 beers in our hands. Everyone has their own sector of space and there's no shoving or rude antics. In fact, and with the right kind of eyes (as the late Dr. Thompson once wrote) and a hypothetical snootful of psychedelics we can almost see the 2-way telepathic love links twixt the band and audience. These flowing joystreams nourish The Ruts who respond with relish through the force of their performance. Make no mistake folks. I'm hearing the acid touches dotted amidst these bracing tunes. The way the trio play to each other and encourage more mayhem. It's a Masterclass. Dave and Segs told me later that they could see me bawling out the lyrics to the older songs and joked that they they could have shut up and let me do the vocals on my lonesome ownsome.
What made this gig more exceptional was learning that after The Ruts had arrived in HK and been met by Chris and Olivier who took them out to dinner was that the band happily picked up the tab for the meal. They were also kind enough to come out a few minutes after finishing their set and mingle with the fans who had stayed behind. They were genteel and civil and joyful at being in HK. They signed autographs and posed for photos with all and sundry. I think there should be a photo with this story of what they wrote in my book. If not, here it is. Dave (drums) wrote "I loved playing in HK". And Segs said he "loved the show - Surprising/ Hard Work/Beautiful. A pleasure and an honour. Big up Hippy's with Attitude". This first gig of 2018 has set a standard that's going to be a hellacious endeavour to surpass. A real blast from the past straight out of the 80's section of my musical memory bank. Another anonymous quote I received is "a note perfect replication of the records, improved by 40 years of non stop touring" I hope you guys return to HK sometime so I can reduce the distance between Rob's 16 (at least and counting) gigs and my debut.
I missed the 2330 ferry back to Lamma, but had time enough to get the 0030, the following morning. While waiting, I found myself thinking of Mark E. Smith's death. There were others this year. Ray Lodge (?) ex-Moody Blues died at the beginning of January. Dolores of The Cranberries recently passed away. My saddest death was that of John Young on 5/1/2018. His death came less than a year after Eugene Cernan passed away on 16/1/2017. They were the only two men to travel to the Moon twice. Both were on Apollo 10 which circled the Moon and tested the Lunar Lander in late 1968(?) or early 1969. John Young was commander of Apollo 16 which touched down on the lunar surface in April 1972. Gene Cernan was commander of Apollo 17 which repeated the mission in December 1972. John Young was the first astronaut to say "Fuck" on the Moon's surface. Gene Cernan left the last footprint on the Moon and claimed a Lunar world record of 17 mph in the Lunar Lander. Now, there are only 5 Moonwalkers left from the original Dozen. A decade from now, there will be none - unless the Chinese get there. That is a haunting thought. By which I mean the demise of The Dozen, over the expectancy of a Chinese inhabited moon.
P.S. Oops, I forgot about James Lovell - the only other man in history to go to the Moon twice. He was on Apollo 8 which sent back the stunning photos of the "Big Blue Ball" that we call home during Xmas 1968. He should have landed on his second mission to the Moon, but that was Apollo 13, so he didn't, although Apollo 13 orbited the Moon en route back to Earth. He might still be alive. I'm not sure. The Apollo Moon Missions have been described as a 21st Century feat of Exploration that somehow got transferred back through time to the late Sixties and early Seventies. That's in one reality.
Other potentialities are that Stanley Kubrick faked some Moon footage and no one went to the Moon and that the Moon was already inhabited by aliens, hybrid humans, Americans and Soviets before JFK made his speech about going to the Moon. I discussed this in more detail in an earlier story called Seven, Zero and X which should be somewhere on the Lamma homepage. Your viewpoint is modified by belief or nonbelief in Aliens, ETs and "We Are Not Alone".