Red Star Rising @ Lamma Grill ~ Sat, April 29, '17
by Nick the Bookman

, edited w/a very light touch by Lamma-Gung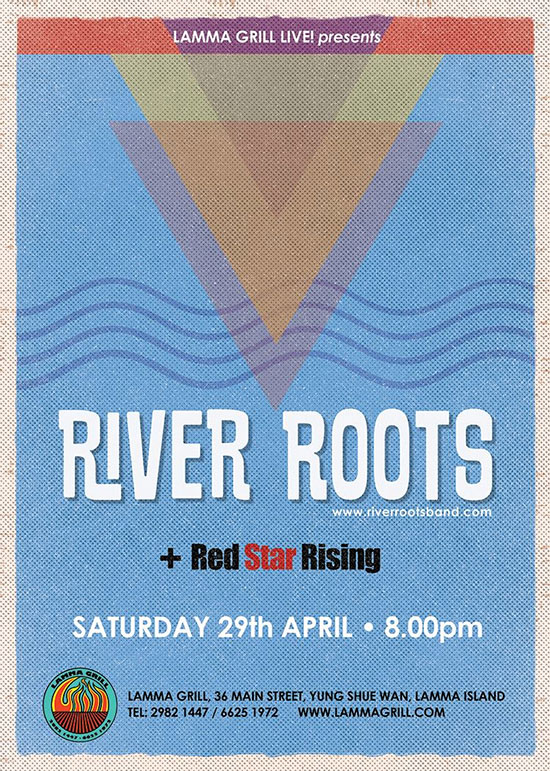 I've been getting a bit sloppy with my time date keeping. No doubt due to the usual raucous revels on the Lamma Strip. Anyway, I stumbled by accident across the first
Red Star Rising
gig in some eight years...
It took place the Lamma Bar and Grill. I'm almost positive it occurred on some day that definitely ends in "y"
[Editor: Saturday]
. Steve has been pre-occupied with other mortal matters recently, but it was a delight to hear his seminal blues rock band had reformed for a quiet(ish) gig. Steve was joined by new members (or the latest iteration thereof):
John on bass. He said later it was the first time he's played bass in 32 years. And there was Al who took time away from messing with his Moog-y machines to thunder crash and pummel his way round a rather respectable drum kit. I think there were nearly a dozen songs in the set. I did have a set list but it's vanished since I put it in my bag prior to coming to Green Cottage
[Editor: free PC use for guests]
to write this rock and roll ramble.
This latest power trio started about 2000-ish hours. Mostly the same old set, most of which I missed. Not because of absence, but inability to squeeze into the premises and enjoy. Steve had promised he would play
"Shopping Malls"
and he did. The penultimate song. And I missed it. I can't say if there was any magical backwards guitar solo and heart rending lyrics about being taken to the cleaners, but I would make a good guess that the answer is yes. I came awake by the window near the One Million Words bookshelves near the end and woke right up for the final song which was something about erections.
Al was in mighty fine fettle. Whacking six shades of symphonic shit out of the drums. Almost (two bad words coming up - Gary Glitter-style) thunder drums which paced and propelled John's effortless looking and sounding big bass beats. Steve's voice seemed a little frail, but the guitar magic is still there. The trio admitted to doing some practice. Like about 6 months worth to get that just-threw-some-clothes-on-out-of-bed-like-laid-back-cum-furious vibe. And the audience loved it all. Many rounds of applause were heard in the not quite vacuum packed space.
The big surprise was that Lamma's version of Cream was opening for an English version of ? - let's say Buckingham-Nicks. A He-she duo playing a sweetly acoustic and fast paced at times blend of originals and covers. The only song I knew was
"For What It's Worth"
by Buffalo Springfield, About the Sunset Strip Riots. It was sung a bit too slow for me, but no arguing that their hearts were in the right place. Other songs were splendid originals about life in the fast folk lane. There were a few other interesting segues including a splendid mash up of
"War"
and
"Superstition"
which got the liquor lubricated listeners breaking out some funky dance moves. In between the near non stop applause.
Oh yeah. This dynasmic duo rejoice in the name of
River Roots.
They are Gem on sultry singing and occasional tambourine and Matt who is content to busk-bash all sorts of delightful melodia from his acoustic guitar (I just noticed that I spelt "dynamic" rong. I rather like the Freudian slip. Kind of rhymes with "orgasmic" in a way which can be taken as a favourable comment on their style and delivery.)
River Roots arrived in HK a few days prior to this gig. They asked around about venues to perform. Gareth found them and invited them to come to Lamma and Voila! - another completely unexpected Saturday Night Special musical gig. The couple have been together for nine years, but only singing for two and travelling the world and bringing joy to the masses. Aided in no small part by their sweet and friendly demeanour and raggle-taggle joie de vivre. And amusing in between song banter. They didn't have much time to stay around on Lamma as early flights were beckoning on the 'morrow. They hope to return to Lamma again and for a longer stay. I sort of wobble walked down to the last ferry with them and they were kind enough to sign my book. So in the interests of free promotion, anyone who would like to learn more (like they say in the original
"Starship Troopers"
) is welcome to drop them as many emails as you want. They are contactable on [url]riverrootsband@gmail.com[/url].
Meanwhile, any chance of this year's
Dickstock Memorial Concert
taking place any time soon? Or are we waiting for a less rainy season?...
[Editor: Postponed to undetermined date, not cancelled]