Let's hear from one of the Lamma Reggae Fest organisers, a behind-the-scenes look at the festival.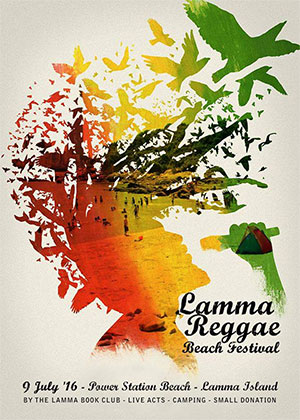 Lamma Book Club:
I don't even know where to start. Again – what a party, what a turn up.
I'll take a few steps back and try to give a 'behind-the-scenes' look.
About 1.5 year ago, we were barbecuing on the rooftop of 2 Lamma Book Club members in Pak Kok (Lamma Island), listening to some old-school Dutch Ska/Reggae band named 'Doe Maar'. We talked about everything and nothing, but somehow started talking about throwing a Reggae party somewhere. Back then we didn't know anything about throwing parties/festivals – we didn't own any speakers/generator/audio stuff – we didn't know how to market something like this, or how to approach any of this, but we agreed that if we did a party and 50 people would show up, it would be a success. Well – that was the start of our first proper big festival on Lamma Island. The 2015 Reggae Festival. We made a Facebook Event, rented all the equipment, asked a few DJs to come and we set up a small booth on the beach and played some music – turn up of 400 people…(!)
Since our first Reggae fest, we organized a big NYE festival, 2 beach cinemas, some smaller beach parties and a massive rave on a secret location.
Fast forward to June 2016. We're sitting in the Blue Goose Tavern, a few days after the Rave… still a bit hungover and exhausted but all very satisfied. We're quickly talking about 'What's next?'. Something small we agree upon, or not? A reggae festival again? Yes / no / maybe – OK, let's try it. We recycled the flyer from last year and created a
new Facebook Event.
July 9th is the date.
We did a shout-out to see if any performers/DJs were interested to join the party and slowly started to plan the stage design. Like always we had to trolley a bunch of pallets to the beach, hunt around for bamboo for building the upwards constructions- moving some plywood to the beach for our stage floor and think about our decorations. We also now know that one of us screams like a girl when he sees a centipede – you can guess who in the Facebook Event comments.
A few weeks before the event we found 3 dragon costumes in the trash on Lamma – and we hung them around the stage. We managed to put a smoke machine in the mouth of one and a laser shooting out of its eyes. I think that worked out pretty well. We also hung a big cinema screen next to the stage with a Lamma Book Club Reggae projection – looked pretty cool right?
We got some cool banners printed that were designed by one of the Book Club – they looked awesome right?
Attachment:
Reggae-Festival-16-1-b.jpg [ 83.12 KiB | Viewed 2333 times ]
Anyway, we built the stage and set up on the 9th after a big beach cleanup (thanks guys!). Apparently it was the hottest July day in the last 50 years. We used up 21 pallets, 19 pieces of bamboo and 8 plywood boards (which we didn't burn this time). We recycled the plywood boards from our previous NYE festival where they were used for a graffiti workshop.
With help from
P
and
J
we got the audio running just before 17:00. The sun was quite intense – but luckily we had 10 big canopies, sponsored by
http://www.linksmoving.asia
, so people had a bit of shade. We kicked off with some chill good old reggae tunes to set the mood (DJ-ed by the Book Club members themselves!) and were followed up by
Walter
who was playing some songs on a big ass guitar and
Oz Walker (Chic Y Mankee)
got the crowd moving!
Next up was
Fraser Douglas
and by this time more and more people were arriving. He looked at me smiling when he was rocking the tunes and pointed at hundreds of people dancing in front of the stage and said, 'Is this what you wanted?' Yes, Fraser – that's exactly what we wanted!
Attachment:
Reggae-Festival-16-7.jpg [ 78.78 KiB | Viewed 2333 times ]
We had a little surprise planned at 21:00 – and we shut down the music to start reading from a book – hey, we are a Book Club after all! The story was about Monkeys that were stranded on an island and they wanted to make a fire because they were cold. Blablabla – in the end they asked the advice of our Dragon, and the dragon fired up the lasers and smoke. One of the Book Club members was hiding behind the dragon to shake it a bit and to speak in a dragons voice through a megaphone. Well, the megaphone turned out to be out of battery, but he managed to shout out his lungs. Anyhow – The dragon gave advice how to make fire, and the monkeys gave a bit of a fire show to the audience. Hopefully that was successful – looking forward to some comments on it, hehe.
Attachment:
Reggae-Festival-16-6.jpg [ 122.66 KiB | Viewed 2333 times ]
We gave the stage back to the next DJ –
Cerberus Collective
– but he needed 5 more min to set up. So I saw my chance, and went for it. I told a joke in front of 800 people, and nobody laughed. It's a solid joke, I will keep telling it to people until I crack some laughs!
Well – then Cerberus pressed Play and started doing what DJ's do and totally got everybody crazy. This was followed by Chemical Kris and Flawless. AAAAaaaamazing performances! Big big respect to these 2 guys. They got interrupted a bit by the rain, but I think the crowd didn't mind dancing in the rain.
Attachment:
Reggae-Festival-16-5-b.jpg [ 69.73 KiB | Viewed 2333 times ]
Then the rain increased and increased and it was pouring – poooooourrring down with the biggest thunderstorm I've ever seen. We had to shut down all the equipment and try to save everything. Most of the gear survived, except for the lasers, 4 big disco lights, 1 microphone, and my laptop doesn't play sound anymore. But luckily that's all fixable/replaceable. After an hour or so of intense rain, it calmed down a bit and we wanted to start playing music again.
We checked all the gear if it was good enough to start, checked the cables and extension cords to see if nothing was laying in the water and decided it was time to start the generator again. Imagine 5 tired, drunk and wet to the core guys standing around the generator discussing, pointing fingers, and trying to get it going again. We made an attempt to add petrol, but came to a quick understanding that somebody more sober than us should be doing that. Anyway, we ended up not having anyone sober enough and it's better not to write here what happened - but it involved a fire extinguisher being sprayed empty for no reason, someone covered in petrol and a generator that didn't need refilling in the first place (fuel pump switch).
Long story short - we fired it up again, and
Jim
and
The Groove Thief
and co. started rocking the beach with some killer tunes! What a show! Absolutely amazing. They eventually got shut down by the police, but it turned out to be just a warning... we were allowed to continue under a lower volume. 45 minutes later we were shut down again....
Started playing again 1 hour later… got shut down again…. I think in the end it went on until 04:20 in the morning, with a restart around 09:00 in the morning on Sunday, until 18:00 on Sunday evening when the cops came again to say it was over. We were tired, done, hung-over, exhausted, drunk, happy and satisfied anyway, so we took all the gear home, cleaned up the beach and ended with a celebration dinner in Bombay restaurant.
Again – thanks everybody for coming and battling the weather. We had a blast, and we're pretty sure you did too. Everybody that helped – Ja Bless!
Peace Out!
Attachment:
Reggae-Festival-16-4-b.jpg [ 51.88 KiB | Viewed 2333 times ]
Attachment:
Reggae-Festival-16-2-b.jpg [ 73.66 KiB | Viewed 2333 times ]
Attachment:
Reggae-Festival-16-3.jpg [ 97 KiB | Viewed 2333 times ]