Lamma Book Club:

All I can say is that the Rave was a big success. I'm still completely exhausted, but with a big smile on my face. I'll try to give some insight from an organizers point of view here.
We started with the initial 'rave' plan a month or 2 ago – agreeing between the 5 of us that Lamma could use a decent Rave. We've organized a number of other events and festivals in the last year… but how exactly does one throw a rave?
Well – first up was deciding on the location. We didn't want to do it on Powerstation beach like we did we our previous events, but wanted a more secluded 'special' location. We talked about Coleman's Beach, somewhere around the windmill, somewhere on Mt Stenhouse… but in the decided on the end of cable road, the northerst point of Lamma, on the big concrete slab overlooking Hong Kong Island, with all the big container ships cruising by… just very magical. Then we needed to decide on the name. We coined it 'Lamma Rave' in the beginning, but we did some back and forth messaging and agreed that we had to add some more words to it, preferably words that rhymed with Rave. After suggestions like Cave, Save, Microwave Rave – we somehow ended up with Lamma Please Behave Rave… and that got twisted in to Lamma Shave or Behave Rave.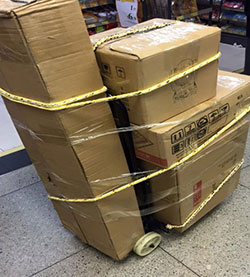 Well – hardest thing done right? We got the location, we got a name… The rest shouldn't be too hard.
One of the book clubbers rushed to design a beautiful event flyer before leaving on a Laos backpacking trip but got it done the night before, and it looked awesome! So… we created the
Facebook Event
- and invited a bunch of our Hong Kong based friends. The event started snowballing bigger and bigger as the days to the rave came closer. Only heavy rain could stop the event from being a great success --- or not?
2 weeks before the Rave we tested some of our new audio equipment on the beach to see if everything was ok – and we found out that our Mixtable and 1 of the speakers (treble cone) was broken. So – we decided to go to take a weekend trip to the audio/light market in Guangzhou to buy a new mixtable and a bunch of funky disco lights. Of course we got carried away and bought way more then we planned on buying… ended up with a 7 color animation laser, 4 massive LED disco lights, 1 360 degree rotating disco light, 2 three meter high tripods to hang lights in, 2x 10 meter color tubing, a bunch of new audio cables, a beautiful 8 channel mixtable, 4 tambourines, 4 samba shakers, a megaphone, LED banners… and 1 cowbell.
Was quite a journey to take it back to Lamma, by minivan, train to Shenzhen, over the border, in to the MTR, Gogovan from Hung Hom to Central ferry, on to the ferry, trolleyed home from Yung Shue Wan… Exhausted but happy!
The evening before the Rave we met together, and decided to bring a big freezer, all our discolights, the tripods, our new massive canopy (thanks for donating!), all our cables and I don't know what more (but a lot of stuff) to Pak Kok already, we sat off at 23.00, and after we all died like 10 times from exhaustion, pushing all that stuff up and down the steep hills from Yung Shue Wan to Tai Ping and then to Pak Kok…. Wwoaaaah.. Anyway, we made it back home at 04.30 in the morning to at least have 3 a 4 hours of sleep before we had to start building up our gear. Tired and with sleepy eyes I met the VV driver in Yung Shue Wan, and lifted all the speakers, generator and what more in to 2 VV's and he brought it all the way to our rave location. Why didn't we also do the rest by VV the night before again? To save a few dollars probably… (we could really use a sponsor for these kind of things hehe).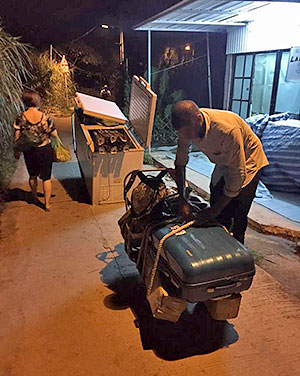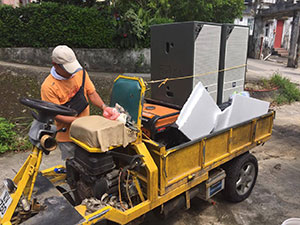 Anyhoo – the weather was looking great, might not even rain today after all! We set up the canopy pretty fast (it's huuuuge!) and packed all the gear underneath. Picked up a table, brought down our disco lights and all the other stuff that we brought to Pak Kok the day before and started putting the things together.
The time is 15:30
SPLAASSHHHHH
It started raining. A lot… and very hard. We told each other it wouldn't last long.. right? We checked the Observatory app and saw that it was going to stay like this for quite a while… damnit! We got a shitload of messages from people that were cancelling and deciding not to come, because of the weather. Well - nothing we could do about it. A well-known oldschool Lamma raver helped us A LOT with rewiring the crossover, testing our cables and setting up everything properly (audio wise), because yeah, we don't really know how all of this stuff works ourselves haha. Thanks mate!
So.. now it was still storming and raining… we still had to hang all the directional flyers, get the petrol, go to Yung shue wan ourselves to grab something to eat and to pick up our laptops from Pak kok. After an hour or 2 of waiting out the rain, a few of the book clubbers had to get out in to the rain to start hanging the flyers… while two guys stayed behind to sort out the rest of all the cables and lights. Sometime during to rainstorm, we got our Petrol delivered by boat from Aberdeen. 2 big jerry cans (40L)! He tried to dock at the concrete slap, but the waves were too big, he then took the boat to the pebbles beach, but couldn't get close because of the waves again, so he went on to the small pier at the end of pak kok. I met him there in the pouring rain, but he couldn't get close enough --- the rain was so intense that I could barely keep my eyes open. We were shouting back and forth, and we then decided to go back to the Rave location. I ran back and met him there a while later, but still couldn't come close enough to the beach. Decisions we're made quickly, the anchor was thrown out, and I started swimming out to his boat – which was about 20 a 30 meter out. The 2 jerry cans were thrown overboard and the captain jumped out in to the water himself as well. Together we swam back, dragging the jerry cans behind us… somehow we made it, but not sure if this was the wisest thing I've done this year.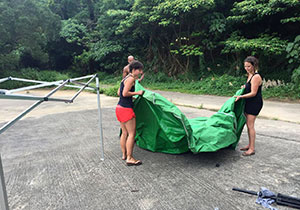 Anyway, we had our petrol now, so we could fuel up the generator and start sound checking! With some help from the soundguy, it all worked in a jiffy and we started blasting the bass! The rain died down, we posted a few messages on the event page that the party is still on, hoping we would pull at least 50 to 100 people. We built some kind of rain shelter in front of the canopy out of bamboo that we found on the beach and some tarps that we still had… which kinda worked – but we took it down later because the rain didn't seem to come back anymore.
Party kicked off at 22.00… just a few people there. Damnit… is this going to work? I'm sorting some cables behind the canopy and check on the generator if everything is going ok…. and suddenly I see like 50 people! I'm like waooaah people are here!!! The next hours were madness… groups of people covered in glitter and 'raving' outfit came walking down the dark paths, ready to rave. A book clubber was still hanging in a tree to connect some LED light strips, people took camping gear and started setting up tents on the side of the 'dance floor', people arrived by boat, by climbing over the rocks, coming from the beach, coming from the dark cable road… looking a bit confused after the long dark hike, but ready to party! I did a headcount around 02.30 in the morning and came to 350 people. The DJ's were blasting the right music, people were loving it, we were loving it!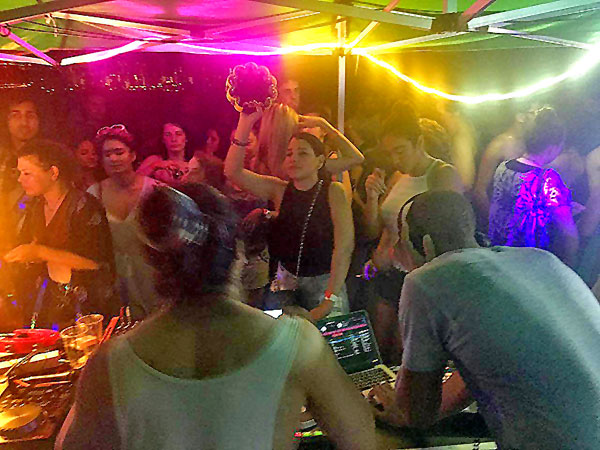 I didn't make it all the way through the night, I went home around 03:30 because I could barely stand in my feet from exhaustion, let alone string a normal sentence together. A friend looked at me and said, dude, you should go home and sleep, I took his advice.
What I heard the next day was mostly good feedback. We had some incidents around the private boat that ran between the rave and Aberdeen, people started pushing and overcrowding the boat, but it worked out in the end, I saw some bruises and gashes from people that fell on the slippery rocks (don't walk on the rocks when you're off your face!).. 2 people seemed to have fallen of the side of the pak kok ferry pier, but came out all right (wtf?), and we had some noise complaints from the people living in the surrounding villages. Next time we should guide the 'ravers' away from the villages to minimize this noise. Sorry to all of you that we disturbed!
Anywaaay – All was amazing. Thanks (almost) everyone for the donations, I think we almost broke even now. We blew 2 speakers and the 7 color laser was damaged, so we're going to sort that out… and then slowly plan out our next event.
A special thanks to the DJ's Jungle Jimbrowski, Enry, Wayne Young, DRTY LRGY and Elliot "from the block" and to Parksy for helping us out with the electronics.
Thanks!