Tin Hau Festival - temple stove for paper offerings
(Mouse over to zoom in, click to jump to photo gallery)
---
Happy Tin Hau Festival!
It was a great day for the Tin Hau Festival this week, cyan sky, calm waters and a refreshing breeze, ideal for the first dragonboat races of the 2003 season, lion dances at the Tin Hau temple and Chinese opera performances!
It was also a very Happy Easter weekend indeed for most of Lamma's restaurants and shops. Business was booming and a new all-time visitor record has been set!
We even spotted the Easter Bunny, the "Cutiest Bunny in the World", looking for a new home on Lamma!
Spring has definitely arrived, fearless plants sprouting through concrete walls & floors (see below, right of the E-mails to the Editor).
This e-zine has a lot of photos, some in separate photo galleries, and much less text than usual. Let me know if you like it.
I've also added a new "Photo & Art Galleries" drop-down menu at the top of all pages of Lamma.com.hk. You're most welcome to showcase your best photos to all our local & worldwide site visitors.
Following up on our cover story in the last e-zine, the Varuna has returned from China via Macau to Lamma recently, repainted in royal blue. For a night photo gallery shot at the return party at the public pier, Sat, April 12, click the photo on the left.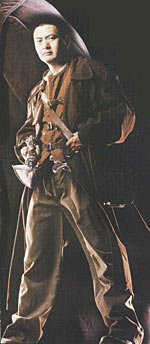 The new Hollywood movie "Bulletproof Monk" from Lamma's most famous son just opened in HK's cinemas. It's not great, but really good & light-hearted fun, just what we need these days! Sample reviews:
"If you prefer ancient myths and Chow Yun-fat chop-socky, the Lamma native's Bulletproof Monk is now out. It tells the story of a martial arts master whose duty it is to protect a powerful ancient scroll that holds the key to unlimited power. But now he has to find the next guardian, which brings him to America and a street scammer named Kar, played by Sean William Scott."
"Bulletproof Monk is a Hong Kong action movie on paper. It is the story of a quest for enlightenment along a road fraught with challenge and conflict, from vicious street gangs to affairs of the heart."
John Woo was announced to be directing this movie, based on a comic book, but he's only one of the co-producers. Have a look at www.bulletproofmonk.com for more details. Chow Yun-fat, is truly our best-known Laudable Lamma Luminary! You can meet him yourself when he's returning every few months to his birthplace and where most of his closest relatives still live today.

Do you want to see photos from your party published, your event promoted or you just need a soapbox to stand on, contact me! As always, all kinds of Lamma-related stuff is most welcome for uncensored publication in future e-zines!

Cheers from Ah Gung, just one of all the happy & Sars-free Lammarites
Spring on Lamma!
Blossoms photo above by Barry
e (former Contributor of the Month):
gentle-gung,
just had a sneak preview of your april fool's issue e-zine.

although i think i have just read 3/5 of it, it was just marvelous. no wonder u are so much less active on the board lately, you are keeping so much good stuff up your sleeves!
can't wait to read the rest of it!

the e-zine is your baby. we are the lucky ones to get to read your work free of charge.
making things that are not board-related would make it even more interesting.

it would be so nice to have our own island magazine. i don't think this could be a wrong direction. your baby is destined to grow up to be a charming one!
BBChris
(Sarstruck rocker, see feature 4.):
Looks fabulous! Well done! Have a fantastic weekend!
Bobsy
(Bookworm Café, ABLE, SaveLamma. see feature 5.):
yes nice one! keep up the good work and your good service to the lamma community... you play an important role...

congratulations on another excellent edition of e-zine. you are doing our community a good service. please keep up the good work. many thanks
Debra Morris (Lamma Artist of the Month, see feature 2.):
Thanks for the email, this months issue is great. I would be happy to take part.
Let me know what kind of thing you want.

My only comment so far is that it does take a while to download if you haven't got broadband. Will elaborate later..
Shantisonix:
really liked the e-zine!
the chatty e-zine is great! it makes it more like a magazine and you can flip through reading the bits you're interested in,
Tracy (former work colleague):
You have become some sort of Lamma Guru, it seems like? And a busybody gossip!
Hope things are well with you two.
Mr Tough (ToughDomains.com):

Great job on the e-zine Hermann. Newsy, comprehensive, with just a hint of gossip. Thanks for keeping us all informed.

The Stick Insect Hunter

(Official Court Artist, see Picture of the Month):
No wonder that I didn't hear from you anymore.
You put a shitload of work into your website and e-zine.

Your new wallpaper is great and of course the rest of the e-zine as well.
Excellent e-zine, but I guess I mentioned that before.

Claire Powell

(Lamma Dragons captain, see feature 7. & 8.):
That is exactly what we intend to do .. get out there and WIN!

Thanks for all your work, and for putting us in both e-zine. Hopefully this will attract a lot of attention to the dragon boat team and also the fishermen for Tin Hau!

Luciene

(Island Bar manager, active member of Lamma Dragons):

I have had a look at the e-zine, looks good.
Thank you so much for the Dragon boat section, it was very good.

Pete Spurrier

(Editor-in-chief, Town Crier):

Very good, you're doing a fine job.

Our Official Court Artist has been dabbling in special effects night photography; mostly at wild parties (self-portrait on the left). He's gotten pretty good at it, in fact, quite amazingly good!

This month's pictures, fresh from his digicam wizardry on his HOT website, a really hot singer (right)! Plus a party girl and an "enlightened" being...

For a REALLY, REALLY, REALLY embarrassing photo, which I'd NEVER dare to publish in this family-orientated e-zine, see his exclusive picture of the Sars virus. Click, then panic!!!




• Message

A Rich Hard Cook (in topic I've written you all some poetry):

I thought I'd try some creative writing for a change.
Please let me know what you think.
This one's called I Love Yung Shue Wan.......

I really love Yung Shue Wan.
It's small and fluffy like a Char Siu bun.
It's so full of colourful folk,
You can only get there by boat.
Yung Shue Wan lifts my soul,
It's unlike Stepney, or Hull.
I hope the council don't spoil it,
Especially the sitting out area / toilet.

the end
I look forward to your constructive criticism..




Like it? One more? OK!
Fortune Chan (in topic I've written you all some poetry):

Fortune's Ode...

I am Fortune,

I am Chan,

I am Big Balls Fisherman.

I cruise high seas,

On boat at night,

Back on Lamma I don't mind a Fight.

I Yum Yum Beer,

Brandy Too,

I prefer Old Slipper to Lapsap Shoe.

Great Big Belly

And Heart of Gold,

Marry me Gwei Mui, before I get too old.

I am Fortune,

I am Chan,

I am Lonely Fisherman.
• Username

Toadlicker: When seeing this new registered members username, I had visions of a down-and-out junkie, desperate for anything to get another high, even from a toad's hallucinogenic secretions... But I met this new member recently, and she's actually a young, fit, very pretty Eurasian lady...with a great sense of humour, obviously!
• Topic
(forwarded by Parksy & His Merry Pranksters)
(on the right: the infamous HK tourism board, from UK magazines. I'm almost ashamed to admit building & running their website for 4.5 years):

"Think we need to compile a useful shopping list to outlast the big bug:
Item
Quantity
Alternative
Source

Stash

0

old rope

ferry

Beer
2 cans, 1 open
quick brew kit
Bacon
0
none
Keren's got
a big pig
Condoms
too late
gloves
Gloves
1
old socks
Masks
8
nappies
Rizla
5
SCMP
BLUE BIN LADEN
Conversation
Do we?
SMS
SUNDAY
Yoghurt
The older the
better???
don't ask
Bookworm
Chicken
Yes please
Duck
Wanchai
...
...
...
...

"I've already run out of some, we can probably barter.
Please add your own requirements, updates and surpluses to this list."

By the way, if you're interested in the latest Sars rumours (who isn't?), have a look at the revamped www.sosick.org.
No more infected buildings list, as the govt. provides that now, but they've started up a bulletin board, looking exactly like Lamma.com.hk, using the same freely available bulletin board software.
There are thousands of Sars-related messages up there already, in English & Chinese... It's a paradise for rumour-mongers and people who're eager to terrify themselves even more...
• Publicity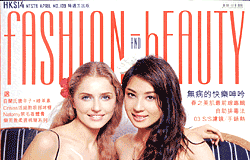 This Chinese magazine (submitted by Alert Reader e, a regular reader) has published a 4-page travel feature on YSW recently. It highlighted several boutiques and arts & crafts shops, like Gema's Gallery, Selling Point, but also Farmer Eo and Bookworm Café.
For our Chinese-readers and those who only want to look at the many pictures, here's the full feature: Page 1, 2, 3, 4
Barry: Lamma newbie & freelance photographer Barry Swerdlow (email, Tel. 6204 5554) has agreed to contribute some of his great photos to this & future e-zines! You'll find them all over this issue, all credited. Thanks, Barry!
For a bit of free publicity, send YOUR Lamma-related photos to the Editor!
• Website
www.Artlab.com.hk: This "Ceramic - Painting - Gallery - Workshop" in Sha Po Village does weekend pottery/painting workshops. Their motto: "Where You Can Create-Discover-Explore your own Art world". Highly recommended!
Events:
Submit YOUR events for listing here to Lamma-Gung@Compunicate.com
Check out the new, frequently updated Lamma Events Calendar!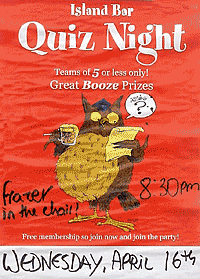 Apr 16, Island Bar: Quiz Night
Apr 18 (Good Fri), 10:30pm, Fringe Club, 2 Lower Albert Rd. (next to FCC):
Thinking Out Loud - Live!
"Well for those of you who fancy a Good Friday night out, pop down to the Fringe in your boiler suits."

Apr 19 (Easter Sat), evening: Island bar: Dragonboating Bric-a-Brac
Apr 19: Disinfection of Households: Did you get a free disinfection set from outside our "town hall" (opposite HongkongBank) and the "junk mail" Disinfect! leaflet? Feeling safer now?
Apr 19, late, Powerstation Beach:
Easter Bunnies Birthday Party, organised by Parksy:
"Clean air, private beach, messy posse. 10 DJ's.
Bring a Tent, Beer, Blanket, Sun Tan Oil.
Water wings may be useful for first timers."
Apr 20 (Easter Sun), 10am-5pm, outside Scorpio Business Centre, Sha Po Village: Meet LAP Day
"Please drop by and take a look at our work, our adoptees and all the items we have collected for your donation. For enquires/donations: please call 2982-4018 or email info@lap.org.hk"
"From last November, we have been organizing some LAP events to promote our work and to raise funds for our running expenses. Thanks to the input of our volunteers Beatrice, Jennie and Kenny our last LAP event was renamed Meet LAP Day and we have added a feature of showing our adoptees. The Last Meet LAP Day was a success and we were able to raise $9,000 and completed two adoptions."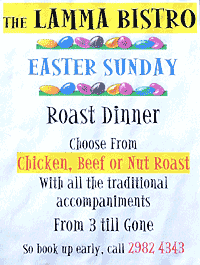 Apr 20, Lamma Bistro, from 3pm:
Easter Sunday Roast
The Bistro has been a sponsor of the Photo Contest, so they get to promote their specials! Also, they seem to be doing this EVERY Sunday now! Yummy!
Apr 20, 10pm, Powerstation Beach:
Easter Beach Party, organised by Dung Dung.

Apr 23-27, evening, football pitch (close to Lamma Clinic): Chinese Opera performances (see Photo Gallery)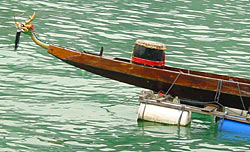 April 24, all over Lamma: Tin Hau Festival (see Photo Gallery)
April 24, from 10am, public pier:
1st Dragonboat races of the 2003 season (see Photo Gallery)
Apr 26, evening, Powerstation Beach: Beach Party
organised by Parksy & his Merry Pranksters.
April 30, Emily's: April Special
Last day of 1st Anniversary Special.
April 30, Lamma Fitness Centre:
Fit for Summer (see right)
May 1, Stanley: Dragonboat races
May 3, Island Bar:
Lamma Dragons Fund Raiser
"This is a party we do every year again at the Island bar with raffles, etc to raise money for the team."


May 6-31, Muse Gallery, Muse Gallery, G/F, 40 Ship Street, Wan Chai:
For One Brief Shining Moment
"First solo exhibition by Lamma-based artist Christine Dodd Myers of her paintings and ceramics, a collection of 25 new pieces related to the seven charkas, or energies, which flow through the human body."
Gallery opening hours: Tue-Sat, 2pm-7pm. Closed Mon & public holidays.
See one of her paintings on the left. You'll see more of this Lamma artist in a future e-zine pretty soon...

May 8, Cheung Chau: Bun Festival
May 9, 10:30pm, The Wanch, 54 Jaffe Rd, Wanchai:
Thinking Out Loud - Live!

May 9/10: ABLE Charity tree planting: More details in Lamma Forest feature below.
May 11, Deepwater Bay: Dragonboat races (right: photo by Barry)
June 4, all over HK: Dragonboat Festival!
Stanley: our Lamma Dragons will be racing in a BIG BOAT!

From our online statistics "Record Book":
Most hits ever: 18,683 (Apr 06, 2003), most bytes downloaded: 188 MB (Apr 05, 2003)
Last, but not least, the last e-zine - the biggest ever, #21 with 21 pages - had over 350 unique actual readers, not bad considering that my e-mail subscription list contains 500+ e-mail addresses!
---
Record Easter Crowds on SARS-free Island!
Photo by K. Y. Yeung
© 2003 SCMP
It was a Happy Easter for most Lamma restaurants and shops indeed! A new all-time record in visitor arrivals was set on Easter Saturday: over 15,000 visitors by ferry!
TVB Pearl & several newspapers were recommending the SARS-free Outlying Islands for a weekend getaway and a hike. The absolutely beautiful weather helped to lure people out of their homes, where they've been cocooning for weeks now.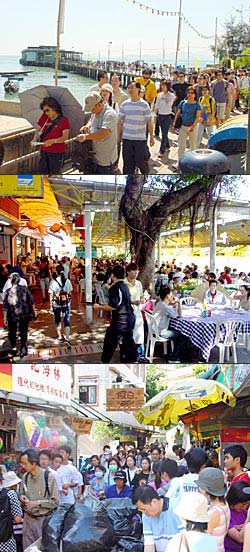 Here are a few photos I shot on the weekend fighting through the crowds of rarely face-masked city dwellers.
Many restaurants and shops were stuffed with people, doing absolute record business, often up to 2-3 times of a regular sunny Sunday!
A new restaurant has been opening just in time for the holidays:
Bali Café, part of the Bali resort house, close to the public toilet. No sign, menu or name card yet, but it's looking interesting. Cozy rattan couches & chairs, cakes at $22, sandwiches, snacks, ... More details in the next e-zine!
On the downside, a usually very reliable source (e) warned that "On Easter Monday, several shops along the road towards the beach have been visited by shop-lifters. Two woman were caught in the act and two escaped with the rest of the loot."
Denise of the new Articles shop also complained about shop-lifters. Lamma-Por told of one of her favourite boutiques having loot returned to them by the police, who told the shopkeeper that many shops had been hit on Main Street & on the tourist route to Hung Shing Yeh beach.
Some locals hated the crowds, afraid of them importing Sars to our so far lucky island. You can never please everybody...
But with such a sunny weekend and so many face masks, there must be quite a few oddly shaped suntans, even sunburns! For the first real photo, I'll buy you a drink!

A very suitable cartoon (© & courtesy of SCMP) by Lamma's own cartoonist extraordinaire Harry. He's also the artist creating all the zany, often hilarious promo posters for the Island Bar, and many classic concert posters for the Bastards!
As you're interested in SARS rumours, have a look at the revamped www.sosick.org. No more Sars buildings list (provided by the govt. now), but they've started up a bulletin board! They're using exactly the same software as Lamma.com.hk (phpBB), having thousands of SARS-related messages already. It's a paradise for rumour-mongers and people eager to terrify themselves even more...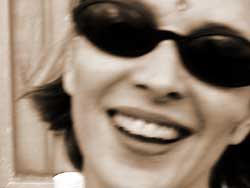 Our second Laudable Lamma Luminary is a well-known local freelance artist, illustrator and designer. Inspired by the vivid colours of Asia, Eastern teachings and influenced by her training as a jeweler/silversmith, she produces a unique range of art and designs on canvas and computer.

You might have seen her postcards, available in the Bookworm Café or in selected places around HK and Lamma or as cards from www.chakrasynergies.com? She has an excellent, comprehensive and colourful website www.debramorris.net, showcasing her illustration and design work for greeting cards, brochures, business presentations, logos, CD covers, wedding invitations, textiles, meditation images, and jewelry.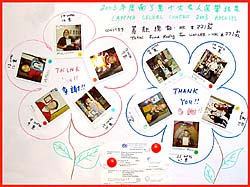 Malcolm, her husband and occasional Lamma.com.hk contributor, says that "She's notoriously camera shy, but I do manage to capture a picture of her every now and then. Attached is one of my favourites." (see above left). Malcolm & their daughter Kira (Polaroid photo by Emily), were also selected as one of 10 Lamma Celebs featured in the recent contest. (Click above to enlarge winners gallery)

Debra writes: "The explorations into chakras, or seven parts of the self, is a project which developed after studying yoga and working with Debra Mulkern on the Wheel of Life Synergies mandalas. In November 2002 this developed into an art and aroma exhibition "The Wheel of Life - a sensory journey through the self" with artist Karen McKeon Wilson and magical aromas by Debra Mulkern of The Wheel of Life Synergies Ltd."
Finally, let's enjoy her amazing artworks! As usual, click on pictures to enlarge: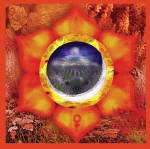 Lunar Cycle
digital photo collage for The Wheel of Life Synergies Ltd.
Woodland Spirit
digital photo collage for The Wheel of Life Synergies Ltd.
Sahasrara, Crown Chakra
digital image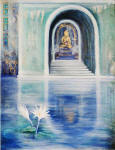 Water Buddha With Lilies
acrylic/collage/relief on canvas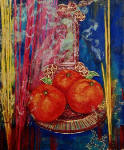 Shrine 1
acrylic/collage on canvas
Bali Offerings
photo collage of original canvases
Pink 1
Collage on canvas
White Flowers
mixed media collage on board
Blue Shrine
digital photo collage
Red Shrine
mixed media collage on canvas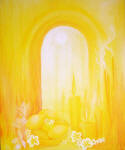 Yellow Shrine
acrylic on canvas
Green Shrine
acrylic on canvas
Yoga Nidra CD cover
(for Yoga Space)
Blue Buddha
digital image
Lord Ganesha
collage on canvas
Blue Moon
collage on canvas
Our very own Laudable Lamma Luminary "Dan James - Lamma Island Entrepreneur and Musician" has become an aspiring writer and budding author. Adding to his many other (in)famous talents, he's started work on his future masterpiece, the definitive, ultimate Lamma novel!
He's had lots of practice, penning songs for the Bastards for so many years. Here are a few excerpts, with his friendly permission, from his new website, a "work in progress": www.DanKwaiFong.com. It's currently being designed & programmed by the multi-talented Dan himself, learning all the skills "on the job"! Soon, we'll have to get him to work on our Lamma.com.hk upgrade...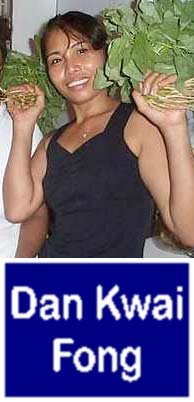 Mr. DanKwaiFong.com:
Down Through the Swirling Mists of Time
In the beginning was Aroy Thai, with Geng in the kitchen and on the serving ladle. That was back in December 1995. Two years later came Lamma Gourmet, and Dan decided to give up the day job. The name was originally going to be Lamma Deli, but Eamonn objected. Another couple of years, and then the coffee shop came along - Espresso Bonzo. More about that name later. Some time around then, some bright spark hit on the idea of calling the whole damn thing Dan Kwai Fong. Who the hell was that person? Bastard Boulevard was an alternate and snappier title, but so far it hasn't quite gained the same degree of street cred. (gerrit?). So, for the moment at least, Dan Kwai Fong it is. Maybe...

...Underequipped or not, Aroy Thai seemed to work. It was 1996, and Lamma was full of young Brits taking advantage of the last days of Empire (ie no visa required), working on the Convention Centre and the airport and various other big projects, getting home to Lamma knackered and hungry, grabbing a quick fix of cheap and cheerful nosh at Aroy Thai or wherever, then off home for a video, or a shower and down the pub. Remember? That's when there was blood on the floor in The Fountainhead on a fairly regular basis, and the boys in blue (or green) took to locking themselves in the police box at the first hint of trouble brewing. Aah, happy days. Geng misheard or misunderstood the name of the pub in question, but her version seemed to sum up the spirit of the place far better than the official name - she called it The Fighting Head.
And on the subject of names, what about Aroy Thai? The literal translation is "tasty Thai". People had been suggesting things like Baan Geng, Geng's place, or simply Geng's, but Geng wasn't having any of that. It was Annie who came up with Aroy Thai, and that's what we settled on. And ever since, of course, everyone's referred to it as "the Thai" or "Geng's"...

(to be continued on www.DanKwaiFong.com)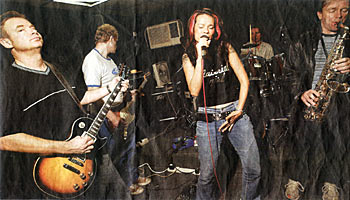 Photo by Martin Chan
© 2003 SCMP
E-mail to BBChris, re: her recent big feature story in the SCMP, "Sarstruck rockers":
"Leave it to you to get great free publicity out of actually NOT playing at a concert and getting into the SCMP because of Sars! You're the absolute master of self-promotion, oh shameless one! I bow to thee, oh Classy & Shameless Rock Goddess! I'll have to add a Best Publicity section to my e-zine, just to be able to keep up with your various & frequent successes in self-promotion. Could you apply this great talent to promoting more good causes on Lamma, and the e-zine? ;-) "
Quotes from the very entertaining article:
BBChris

("Sarstruck rockers", Apr 4, by Clare Tyrrel, © 2003 SCMP

):

A TAIWAN HOTEL has ruined the plans of one of Hong Kong's most pioneering alternative musicians. Chris Bowers squats on the floor of the minuscule Mongkok rehearsal room as her band stand around somewhat dejectedly. "I've been trying to go every year!" shrieks the singer theatrically, breaking into a howling laugh. "It's jinxed for me."

The eye-catching Eurasian, with her mop of multicoloured hair and tattoos circling her arms, was set to travel this weekend with her new band Thinking Out Loud to the Spring Scream music festival in Taiwan. They had a headlining slot to fill, but the hotel at which they booked rooms has just called to inform them Hong Kongers are no longer welcome. There are fears of an outbreak of Sars.

With a town already full to the brim with festival-goers, the band have decided to ditch their travel plans and give in to caution. Couldn't they have camped? "Oh, we could have, but I'm not camping," retorts Bowers, launching into another ear-piercing laugh.

"I'm a rock star. Not a f****** camper!"
Bowers is a recognised rock musician around town. Playing on Hong Kong's stages since 1989, she has dedicated most of her life to music, persuading other musicians to travel to Hong Kong and fiercely supporting local bands. She is best known as a co-founder of the notoriously loud, all-female rock act Sisters Of Sharon. When that band split last year, she remained active, jamming with a teenage rock band called Smoking Monkeys, running a music publishing company and becoming famous in cyberspace.

Her alias BBChris caused a riot at the MP3.com Web site earlier this year when she challenged guitarists around the globe to make their instruments sing the Cantonese translation of: "I kick your ass on guitar with the two middle fingers of my left hand taped to my palm with duct tape." (The hilarious results can be heard at www.mp3.com/ducttape.)

Now backed by a group of men, Bowers seems to be truly hitting her musical prime. At Thinking Out Loud gigs, she struts the stage with all the swagger of a Mick Jagger, with the band behind her dressed in leather and delivering a tight blend of funk, rock and pop. Perfect timing for Bowers' first trip to one of Asia's most respected music festivals...."
Do You Know the "Lamma Forest"?
Apr 22 was Earth Day and a short feature (written by Laudable Lamma Luminaries Bobsy & Tobias) has been published in the SCMP: "Seeds of Inspiration".
It was all about the history, present and future of the "Lamma Forest" project, a really deserving and exemplary community initiative, positive news in these gloomy days!
Here's the much extended version of their newspaper feature. Plus a selection of historic & brand-new photos. I've even included a detailed MAP, so you won't miss the "Lamma Forest" during your next walk!
Join the tree planting on May 9/10!

ACTING LOCALLY…..THINK GLOBALLY

Bobsy Jureidini (Chair) and Tobias Forster (Secretary),
ABLE Charity, Lamma Island, Tel. 2982 6994, able_charity@hkisl.net

The vision is to create a forest on the scenic northern hills of Lamma Island in what is possibly one of the island's most beautiful spots. Ten minutes walk from Yung Shue Wan and a forty minute journey from Central. The scenic yet barren hills of Northern Lamma between Po Wah Yuen and Pak Kok were chosen as the site of THE LAMMA FOREST PROJECT due to their proximity to Yung Shue Wan and the rich flora and fauna in the near-by valleys. The vision is to unite all the valleys with forest land creating one large eco-system.

Our first tree planting day was on 25th April 1997. The task was to plant 1,000 trees for Lamma, 500 on the 25th and 500 on the 26th. The Forest had started to grow.....

With the exception of one year we have systematically planted trees every year. Sometimes it was easier than others, and sometimes we had lots of people helping and at others just a handful of dedicated volunteers...but we accomplished every event successfully. We also had the fortune of the Agriculture Fisheries & Conservation
Department (AFCD) of the HKSAR deciding to plant thousands of trees just next to our site. One could see a forest coming together in the not too distant future. All we had to do was be consistent.

ABLE also planted a "Handover Forest" consisting of '1997 trees' in Quarry Bay Country Park to mark the handover of the colony from British rule to Chinese rule. 1000 on 28th June and 997 on 5 July 1997. As Tobias is fond of saying "We planted half the trees in Britain and half in China." Trees were planted in the Quarry Bay Country Park on a wet and foggy two days.

At the same time we managed to plant one "friendship tree" in Chinatown, San Francisco. One of the founders of our Charity managed to plant it on our behalf to commemorate the peaceful transition.

We also took a decision to focus on our "own backyard" and to act locally. As we are such a small voluntary based organization it dawned on us that to focus our efforts in our community was going to make a bigger impact. The old adage of 'think globally, act locally' was turned around to become "act locally and think globally". As a result our efforts have been more apparent and it has given us a stronger sense of mission.
Besides there were no other green organizations on Lamma Island and the island was undergoing a rapid growth of small housing and construction with very little concern for the environment being practiced. Looking back it has been a very wise move. Although the charity still continued to get involved in many other projects all over Hong Kong (see history of ABLE CHARITY) our heart was now deeply set on our own little island in the south china seas.

After planting trees in the spring of 1999, disaster struck on the day of the 'Cheung Yeung Festival'. One careless family clearing an ancestral grave set the whole hillside on fire. The fire spread northwards towards Pak Kok and burnt hundreds of baby trees that had been planted the previous year. Although we had been 'fire patrolling' that day we had all run to cover a large fire that was burning out of control on some other hills. That day alone Lamma Island experienced 40 fires!!
It was heartbreaking to go up and see the blackened hills where nothing but dead tree stumps stood. However, every cloud has a silver lining, and today the trees have grown back are more evenly spread out making it more conducive to natural forest growth. Since then we have kept a fire watch vigil around the Forest twice every year with the "Lamma Forest" as priority zone. So far so good! Fingers crossed.

As neither Tobias nor I had any real experience in trees we took the advice of some experts who were able to come out and guide us. We also followed the example of the AFCD tree planting methods and the rest we learnt as we went along. Today we are still learning.

Besides tree planting we also have to maintain the Forest and give attention to the trees as they grow. We have organized many a "Tree Maintenance Day" and that consists of the never ending rubbish clean ups, dealing with illegal dumping, pruning, mulching, feeding and so on...all great fun. We generally invite schools and companies out to help us with the events. It is both educational and experiential for the people to come out and work with the earth.
We have particularly enjoyed working with the school kids and the feeling of inspiring them to maybe one day do the same in their own communities.

To date 15,000 trees have been planted in the one area. It is amazing to look back at the photo-graphs that were taken in 1997 and to compare them with the photo-graphs taken today. The extent of the Forest is apparent. People can now see with their own eyes and the feedback is inspiring. The trees are also attracting some wild life and many birds. The land feels alive. Walking in the Forest today one can breathe the fresh air and enjoy the tranquility. What would it be like in ten years time I wonder?

We have planted over 12 different species of trees. Some indigenous and some exotic, especially the Australian hardy trees that do so well in Hong Kong. We are now wishing to plant more local trees and will continue to experiment and learn as we go along.
We also wish to plant some indigenous fruit trees to provide food for the birds and the wild life.

The vision for the Forest goes beyond planting a beautiful forest. There is the:

- idea of creating organic sculptures dotted throughout the hills using local materials that blend with the surroundings and encouraging local artists to contribute is a novel one.

- putting up signs and other information at the four sides of the Forest north, east, south and west.

- erecting some fencing at certain key locations. To also build a centre piece sculpture that acts both as a welcome sign and a landmark...

Unfortunately this all requires dealing with a lot of red tape and a move that possibly has not been done in Hong Kong, therefore making it even more complicated to negotiate. The area is Government Land and is currently designated as 'GB' (Green Belt). That is only one zone above land available for development and not strong grounds to rest such a long term project upon.

ABLE CHARITY is now in the process of dealing with what feels to be "the right civil servants in the government" and we are optimistic that we can cut through the red tape and legitimize the area as a protected land for future generations to treasure...

These are early days but the vision is there. Our charity has had a very good record of working successfully with various Government Departments over the years and we are encouraged to closely liaise with the relevant departments and people involved to achieve what we have imagined.

On Saturday the 10th of May we will plant another 500 trees up in the Forest. Rain or shine. We will need the local peoples support to accomplish the task as due to Sars the school and company scheduled to plant have pulled out.

We will make an effort to spread the word in our community to allow the maximum amount of people to come up, get some fresh air and exercise, but above all to feel part of a community based environmental action and solution.
Recognise EcoToby, ca. 1997?
Photo by ABLE
View from footpath near rain shelter, Apr 25, 1997
Photo by ABLE
Tree planting - before, 1997
Photo by ABLE
Friendship Tree, Chinatown San Francisco, Sep 1997
Photo by ABLE
View down to footpath with rock, Apr 25, 1997
Photo by ABLE
Hill fire, 1999
Photo by ABLE
Fighting hill fires, 1999
Photo by ABLE
Hill fire, 1999
Photo by ABLE
Cheung Yeung fire, Oct 1999
Photo by ABLE
View up from footpath with rock, Mar 29, 2003
Photo by ABLE
View down to Pak Kok and HK Island, 2003
Photo by Barry

Tree maintenance - moving bamboo, Mar 29, 2003
Photo by ABLE
Preparing to climb "Heart Attack Hill", 2003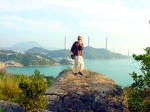 Powerstation chimney #4: Chairman Bobsy, 2003
Photographer's shadow at sunset, 2003
View from Rock Circle, 2003
Have you seen the latest revision of the much improved Reduced Harbour Reclamation Plan?
Here's the latest "E-Newsletter V" from the Save Lamma campaign, just in case you haven't subscribed yet to their very informative quarterly newsletters (at www.SaveLamma.org).
Please provide them some feedback and comments on the new plan!
Dear Friends of Lamma,

Much has happened since January. This e-mail gives an update on the campaign's progress.

It looks like the original Phase II reclamation plan is history! Thanks again to everyone who made their views known by writing in etc., you got the ball rolling!

In a meeting on January 27th the government presented a new indicative plan for the Yung Shue Wan waterfront in response to community concerns and Save Lamma's suggested alternative planning approach. The plan is a big improvement over the original one, however there are still some significant issues that need to be resolved.

On March 12th, the Save Lamma campaign submitted a response to the government which outlines our concerns, and suggests alternative solutions. This submission is available at Latest News, as well as additional background material.

We are optimistic that the current spirit of cooperation between the government and community will result in a plan that is truly enhances Yung Shue Wan.

---

POSITIVES

The positive features of the new plan include:

i) No new government buildings on the waterfront.
Main Street will remain the Main Street and any new facilities will instead go on the unused space on Phase I.

ii) Existing outdoor seating and sea-views of restaurants retained.

iii) Upgrading of existing entry to the village,
e.g. relocation of building material pile, relocation of refuse transfer station, redesign of small park, etc.

---

NEGATIVES

However, some of the areas that we feel still need to be improved are:

i) Size of new waterfront walkway

The government's indicative plan calls for a reduced, but still wide reclamation along the waterfront to provide for pedestrian and vehicle access. We believe that such a reclamation is unnecessarily large and disruptive to the character of Lamma, and instead propose a narrower waterfront walkway on piling (for detailed descriptions of these points: Latest News.)


ii) Wave reflectors

The proposed plan also includes wave reflectors along whole waterfront, and experiences from Peng Chau and elsewhere indicate that this would have a significant negative impact on the character and visual appearance of the village (See ReclamationElsewhereII.)
We believe that given this impact, alternative solutions such as restricting waterfront access during major typhoons should be explored.

iii) Integration and Interface

We believe that the best result for Yung Shue Wan will come if the integration between the existing village and the new development, as well as the interface between land and water are carefully considered from the outset. The goal is to achieve a contextually sensitive enhancement of the waterfront, that will avoid the tendency towards standardized and sterilized solutions and instead focus on something locally appropriate with attention to both the overall plan as well as design details.

---

REQUEST FOR FEEDBACK

We would appreciate any feedback about these considerations, or about the whole plan in general. The full text of our response and the supporting maps and diagrams are available at www.savelamma.org. We will try communicate all of the feedback we get to the government.

Specifically, we would like to get input on the following issues:

1) Is it important to you that the small beach next to the Sampan Restaurant be preserved?

2) What is your opinion on reclaiming land for improved waterfront access vs a raised walkway or boardwalk.

3) Do you think that any new walkway / reclamation along the waterfront for pedestrian and emergency vehicle access should be narrow (3-5 meters) or wide (10+ meters), and why?

4) Do you feel that the use of wave-reflectors along the whole waterfront should be avoided? Wave-reflectors are the standard treatment in such cases, but are they appropriate for Yung Shue Wan?

5) Are there any additional comments or suggestions you have?

Please reply to info@savelamm.org

---

We hope that all friends of Lamma are healthy and well, and that the SARS crisis will soon pass.

All the best,
The Save Lamma Campaign

P.S. The Save Lamma campaign is having some unexpected ripple effects. For example, We recently received a surprising request from the Education Department to use Save Lamma material in high school curriculum material. Also, we have been informed that a book being written about the Hong Kong political process by a university professor will include a section on the Yung Shue Wan reclamation.
<![if !vml]>
<![endif]>The very best of last year's entire season of dragonboat racing! These exciting, dynamic and sometimes hilarious photos were submitted by active paddler & "Website Liaison" Luciene. I've also added a few more shots from the "Official Lamma Dragons Photographer", "Nick Cam".
Click here for the Photo Gallery of the Lamma Dragons 2002 Season:
Races in Lamma, Cheung Chau, Deep Water Bay, Internationals and Penang, Thailand; plus the outrageous drag End of the Season Party.
Did you join in the many activities during the Tin Hau festival last Thu, Apr 24, 2003? If not, have a look at my new photo gallery below.


Plus, browse the brand-new photo gallery of the exciting Tin Hau Dragonboat Races

.


The Chinese Opera troupe Hing Fung Ming performed their 10th anniversary show on Lamma from Apr 23-27:

Tin Hau Festival 2003 Photo Gallery

(click to enlarge):
Next Monthly E-zine (#22), to be published on May 22!

Introducing more local artists: Christine Myers!
Lamma Dogs Photo Gallery (see right, by Barry)!

For any suggestions & submissions, e-mail Editor,

deadline May 20!

Created with MS-FrontPage 2002
Last updated: 10 May 2003
© 2003 Lamma-Gung, Compunicate! e-Marketing & Website Development