---
How did you survive all the holidays recently? Any worse from all the wear & tear?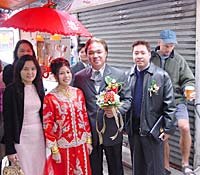 A new year, new hope and a new, fresh start, as this local couple on Main Street a few days ago proves! We're wishing them all the best for a bright future together! But who's that Gweilo-in-a-hurry trying to squeeze by the wedding party with his coffee?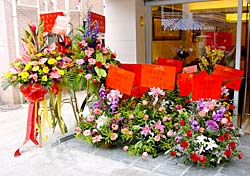 Speaking of a fresh start, a Chinese tea shop has also just opened, close to Scorpio's. Nice flower bouquets...
This is the first e-zine since Dec 25. I might not be able to publish it weekly anymore in the future, as my work commitments are slowly picking up recently. It's also proven extremely difficult to find any regular/occasional contributors. I'll try my best to put out at least 2-3 issues per month.



Did you tell us your birthday (no year necessary)? We have birthday surprises for our members, different for everybody, but at least a custom-made e-card (see left, made for Insomniac's baby son, also an insomniac!). Let us know, get a free birthday surprise!

Cheers ... from Gamma-Lung,
(as the Legless one dubbed me in a bar recently).
---
Jing Ling (e's kitten):
Dear Lamma-Gung,
I am Jing Ling, the kitten on e's shoulder that u have kindly featured in your Christmas e-zine. I have asked e to send this message to you to express my thanks to u. u have made me a tiny celebrity after mr 3 and mr taro.

apart from my thanks and kisses to you and Lamma-Por, i have a question: how did u read my mind? how did u know what i was thinking? curious! are u a cat in human disguise? tell me, i won't tell e.
meow, jing-ling!
Doggy (Laudable Lamma Luminary):
Thanks for including me, and thanks for your continued hard work on My Lamma...
it is a great site and a great addition to the ever thriving Lamma community.
Mr. DickStock (Laudable Lamma Luminary & Website of the Week, see below):
My Lamma looks great. I'm gonna have to whip out my camera and start snappin.
Top Brownie (Dragonboater):
I looked at your E-zine the other day and it looks great!!
schan6:
Much thanks for enlisting me in your site. I am acknowledging your email and look forward to enjoy your interesting articles/information regarding our dear Lamma Island.
Keep up the good work, lads!!!! With love from MALTA
---
Nominate messages, members, contributors, local websites for this section! You can nominate anything/anybody Lamma-related on AND off Lamma.com.hk!
• Message
BBChris:
"When I die, I want to die like my grandmother who died peacefully in her sleep. Not screaming, like all the passengers in her car."
• Picture
Two pictures this week, both entries for our Photo Contest, which is still running till end of January!
The first one belongs into the Special Effects (SFX) category, the 2nd one into the Animals category.
Both these categories (plus Humour) have very few entries so far, so your chances of winning would be VERY HIGH! So get off your lazy a** and send me your computer graphics "experiments" (based on Lamma photos) & the best, cutest snapshots of your pets!
• Flame
My Hairy Ass (referring to the Bookworm Café):
Apparently the owner can walk to HK Island.
A closely related message, also about the Bookworm Café and "flames" of a different & dangerous kind:
Li-ka-Donkey:
You know the real reason why you can't smoke in the Bookworm?
It is too dangerous with all those bean eaters farting away.
No naughty personal attack messages at all this week! But creative puns and teasings like the two messages above are usually no problem with most of our fun-loving & quite thick-skinned members. Tease on!
Are we back to our formerly peaceful discussions, sometimes heated & passionate, but free from personal attacks? Let's hope so!
• Website:

Mr. DickStock has been trying to hide his great Multimedia website from us!

But our tireless investigative reporter, Paparazzi webdog, has succeeded once again and discovered his secret website!

If you've been at any party, bar or event in the last several months where Mr. DickStock was present and snapping away, you might find your mug shot, video or sound recording on his website! For a typical example, see on the right!

Very pretty picture frames, and the photos are not half-bad either!


http://homepage.mac.com/doodah2099/PhotoAlbum16.html

• Username: Brian Colony

A newly registered user, but what really caught my attention was his honest listing of his interests in his Profile, truly lad-ish and so very politically incorrect: "Chicks, booze, fags".
The baby above seems on the same track, 1 out of 3 is not bad at such a tender age!
We're doing a house-cleaning of our registered members' e-mail addresses. Quite a few have registered with invalid e-mails, or their e-mails have expired since they registered.
If you're registered and you did NOT receive a reminder about this e-zine being published, then you need to update your e-mail address in the Profile. In the near future, we'll only allow active e-mail addresses.
---
We've finally reached 200 registered members and 500 topics this week!
Topic #500 is "Pull Moon Farty" (logo on left, the "Wooly Farting Swan"), started by the Official DickStock Photographer, The Stick Insect Hunter, promoting an "art and music partival" on Easter at - no, not a Full Moon Party on Powerstation Beach - Puerto Galera, the Philippines!
Member #200 is Peter Jackson from Po Wah Yuen:
He's a Language and Piano Teacher and is interested in "Piano, Yoga, Tennis, Watercolour Painting, Cantonese and English Language".
Welcome, Peter! Some of our members might want to learn from you!
---
Would you believe it's already been three years since we celebrated the new Millennium?
I'm getting a yearly reminder of this as my Chinese step-grandson is a Millennium baby (Yes, I spent Millennium Eve/Jan 1 morning in Queen Elizabeth Hospital, waiting...). We just celebrated his 3rd birthday on Jan 1 (see right).

My three wishes for the new year:

| | |
| --- | --- |
| 1. Peace | No major war in Iraq, or anywhere else! |
| 2. Love | Between lovers, friends, families, neighbours, citizens, humans, and pets as well! |
| 3. Laughter | May laughter fill much of our happy lives! |
Funny how my good wishes add up to the motto of this e-zine: Peace, Love, Laughter, Lamma! (PLLL)
Here's a Year of the Goat "Fai Chun" from the first site I ever webmastered, saying "May all your wishes come true". Click to make your own!
All good things come in threes, like 2003, yes?
Here are a few more Lamma things that come in threes (click to enlarge):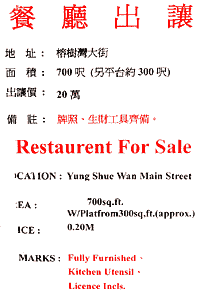 You might have seen that the Holiday Mood Grill Restaurant on Main Street has closed down?

This "Restaurent...W/Platfrom" is up for sale, at $15K per month, plus $0.2M for the furnishings, kitchen utensils & licence.

This could be your big chance to open the pub (or a tea room?) you've always dreamt of!

But the survival chances are not too good, as recent history seems to indicate. This place has gone through almost ten reincarnations in the last ten years, according to longtime residents.

I've witnessed three of them during the last year alone, from BBQ to Thai to "Grill room" to "really inexpensive", while all the restaurants around it have survived almost unchanged for years. Bad Fung Shui?

I'll be missing their $20 cheesecake tea sets...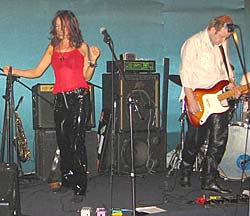 Have you heard about the "Big Rip-Off" of BBChris, our Classy Rock Goddess?
Who ripped her off? Shocking but true, it was actually HER doing this infamous rip-off!
ANY publicity is GOOD publicity!
Better infamous than NOT famous...
BBChris (about Thinking Out Loud's recent gig at the Fringe):
"Awesome gig! Thanks! Only 2 Lamma people turned up! hahahahahahaha
Glad a lot of my friends from town could make it!
First gig with 20-20 vision and first gig where I sang all the songs.
I also ripped off my T-shirt in the second song.
That felt incredibly GOOD! hahahahahhaaha
I think there's a stripper hiding somewhere inside of me. wheeeeeeeeeeee".

Unfortunately, even though I've really tried, there seem to be no photos of the T-shirt strip-rip, as it was a huge surprise for the audience! On the right, a BEFORE-RIP-OFF picture of the gig.
These days, BBChris is singing praises to Lasik's (Laser-Assisted In Situ Keratomileusis) "slash & burn" surgery on her eyeballs, resulting in "20-20 vision" (see right, w/o glasses!).
But I've also found a Viagra banner ad at the top of one of her web pages (see below)! Hahahahahahahaha It's true! That's what you get for hosting your website on a free, but advertising-supported host with random banner ads you cannot control!
The promotion of the mobile SPCA clinic to spay & neuter cats & dogs turned into a discussion on...dog poop and how to avoid it!
Suggested solutions range from a "death sentence to curb these minor polluters" to watching where you're stepping to fining the owners.
Plus a passionate plea from our "angry young man" Insomniac:

"Can you please not take your dogs to bars and restaurants - yes, even outside. Its for eating and

drinking, not having your leg humped and your balls sniffed."

Which place could he be talking about? Read more...

By the way, Lamma Animal Protection is entrusting their website revamp/redesign to Yours Truly.

Watch out for their super, amazing, incredible, all-new site around Chinese New Year!!!
Save Lamma campaign mass e-mail
(register at SaveLamma.org for occasional updates):
Dear Friends of Lamma,
Holiday greetings to all! Here's a brief campaign update as we enter 2003. Following the meeting with the Planning Department and Civil Engineering Department, we submitted them a report entitled "A New Vision for Yung Shue Wan".
The report is now available at www.savelamma.org. Rather than a detailed plan, it is an examination of the approaches and guidelines most suitable for enhancing Yung Shue Wan. A copy of the PowerPoint presentation made to the government is also available.
We understand that "A New Vision" has been circulated among government departments. For example, at the beginning of December we met with Duncan Pescod, the Deputy Tourism Commissioner, and senior officials Winifred Chung and Kenneth She.
They had read "A New Vision for Yung Shue Wan" and agreed about the village's importance in the total tourism offering for Hong Kong. They provided useful feedback and were supportive of the campaign's efforts. There seems to be a growing willingness to listen within many government departments, and we are encouraged by the potential for positive and sensitive initiatives going forward.
In other news, the institute of Landscape Architects has sponsored a project within the Masters of Landscape Architecture program at Hong Kong University to examine the Yung Shue Wan situation and come up with alternative proposals. The background field work was very comprehensive and clearly opposed large-scale reclamation.
This background work and the just completed final projects resulted in some very interesting information, visuals, and design concepts which we plan to highlight on the website soon. This material will also be presented to the Planning Department.
For now, the ball is in the government's court. They have gone back to the drawing board and have indicated they are seriously considering the suggestions by Save Lamma and the many people that wrote them urging a more sustainable development strategy for YSW.
If they are really listening then they will incorporate the feedback from the extensive resident, tourist, and business survey's and petitions, as well as the information contained in the articles and television programs that have come out about the YSW reclamation project.
As more information becomes available, we may need to increase our pressure, but for now let us see what the government's next move is.
Happy 2003 and may the upcoming year of the Ram/Sheep be a good one for Lamma!
The Save Lamma Campaign
Usually, many people are eager to meet Chow Yun-fat here on Lamma.

Left: visiting Northern Lamma School a few weeks ago,

"...as head of its alumni association to the delight of its pupils."

But we just received the e-mail below, from somebody looking for his sister, "a distinguished nature photographer". Can YOU help her?

YC Lee:

Dear Sir/Madam,
I am a college teacher and have seen a documentary on the television quite some time ago about Ms Chow Chung ling of Lamma Island (sister of the famous actor Mr Chow Yun fat) who is a distinguished nature photographer.

Is it possible to obtain an e-mail address of Ms Chow so that I can get some advice on nature photography from her?
Your assistance will be greatly appreciated.

By the sound of this, I'd love to get advice from her as well. Looking at all my Lamma nature snapshots, you surely agree that I desperately need some good advice! But I'm not easily discouraged!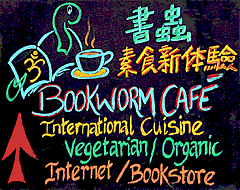 This must be the m
ost weird & outlandish topic of the week. What the heck are the guys in this topic talking about? And what about all these weird new userids (Beanburglar, Pulsy Galore, Li-ka-Donkey, Ronald McBobsy)?
The anti-Political-Correctness forces have assembled at the doorstep of the Bookworm Café, it seems, launching good-natured verbal attacks, confusing and distracting onlookers with messages about a mysterious Wigwam of Love, hirsute lentil eating birds, scurillous little capitalists, Tofu jockeys, bean burgers and a competition for poems/limericks "to Win a Bird". Check it out & contribute!
All of this recent verbal mudslinging and creative misbehavin' seems to confuse new members, giving them a totally wrong impression of "Life on Lamma"! For example:
caff:
Oh, how things have changed, I only left Lamma 4 years ago but it seems that the peaceful, tranquil haven is no more. Can it really be that bad?

Of course, it did not help matters when I told him about the "fisticuffs between bikers and pedestrians, the bloody noses, plus a few broken bones of pedestrians run over by bikes or the occasional umbrella poked into a speeding bike's wheels, but no casualties at all yet this year!"
I also told him about the mob lynching of a VV driver last week, for running over 1 cat, 2 dogs, 3 grannies and 4 Hawker Patrol officers (OK, those 4 didn't really count, as they won't win any local popularity contests).
Unfortunately, caff has never posted again (shooed away?) and I seem to have killed our longest-running discussion with my naughty message... Oh my, maybe I'm also guilty of misbehavin'!?
DickStock's Lewd Parlor Thoughts
Emily (of Emily's Ice-Cream & Yogurt Parlor) drew this great picture (left) of Mr. DickStock.
But she's reluctant to put it up on the wall, because "a lot of kids come in here".
Do YOU think THIS CARD is indecent? Or in ANY way unsuitable for the wall of a family ice-cream parlor?
In response, The Stick Insect Hunter drew and posted this great caricature (right) of "Dick's Lewd Parlor Thoughts".
Can we get more of these great caricatures of Laudable Lamma Luminaries, Mr. Hunter?

By the way, ALL the DickStock 2002 photos have been moved into our permanent photo galleries:
http://www.lamma.com.hk/forum/Lamma-Gung/DickStock-2002.htm
The new, small "Best" selection of the Official DickStock Photographer, The Stick Insect Hunter, will remain at its former location: http://dont-touch-my.com/dickstock/
---
Coming Soon




Introducing local artists:
First up: Mrs. Nick the Bookman!
Interviews With Laudable Lamma Luminaries!
New Stories From Our Contributors
suggest new topics, e-mail Editor

Created with MS FrontPage 2002
Last updated: 23 Jan 2003
© 2002 Lamma-Gung, Compunicate! e-Marketing & Website Development