Example photo for "Scenery" category in Photo Contest
(shot by Lamma-Gung). Click for wallpaper-size.
---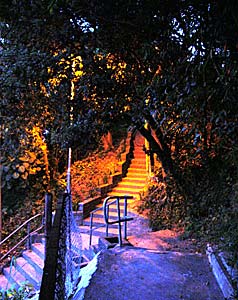 Editorial:

Hello to all fellow Romantic Fools!
(if there are any left in today's oh-so-cynical world)
As promised in last week's e-zine, I'm starting to focus on Local Laudable Luminaries,interviewing them. Due to lack of volunteering Luminaries so far, I've had to start this week with a very minor, insignificant, quite shy "wannabe celebrity": myself!
More famous local celebrities next time! We've heard more than enough about BBChris already, but how about Mr. Bastard, the driving force behind Lamma's very own Dan Kwai Fong? How about Mr. DickStock, or the vivacious Marilena (Mrs. Nick the Bookman)? If you want to hear more about their deepest, darkest secrets, convince them to do an interview for this e-zine!

Do you enjoy writing? How about writing something for this e-zine occasionally about any Lamma-related topic you like? Wouldn't that be neat? Fame (but no money) awaits you! E-mail me and let's start discussing it! Alternatively, suggest new feature topics and introduce knowledgeable friends of yours to me!
Cheers from Lamma-Gung-Ho
---
E-mails to the Editor:
Aaron (USA):
The e-zine's new format looks great! It's definitely interesting to me. I love the pictures, and it makes me think back fondly to my time on Lamma. It's great!
webdog (Site Admin):
I like the new background pattern, it is an excellent touch. But I think there are too many lines, and that makes the e-zine quite distracting.
Mr Tough (re: Mrs Tough's "Website of the Week"):
Thanks for that - I shall show her this evening what a star she is.
---
• Quote
k@ (re: dragon boat ladies):
Yes, I have seen the "hatred face and pumping muscles", Webdog,

I lived with one of them for many years but was lucky to escape one day while she was out rowing and had forgotten to lock me in the broom cupboard. She had her own paddle too!
I will not be so easily captured again, but thanks for the warning.
• Website

A fun site with everything you'll ever need to know about the Funday Sunday on Dec 8, maps, news, stall application forms,...


The site was created & hosted for free by our generous Mr Tough! On the left is a photo of the ferry wall with the HUGE ad for the website! If you need free hosting for your charitable Lamma-related cause, contact him!

His own company www.ToughDomains.com, located in Silicon Valley Lamma (Tai Peng), is also hosting www.LAP.org.hk.

New regular feature every week!
I'll feature the "Best of the Week" quotes, topics, new usernames, Lamma Website, website stats and other highlights:
For more Lamma-related websites:

• Username

Not a single new member has registered on My Lamma in an entire week now, even though the website was as busy as usual!
This has never happened before. The last new member was cheetah on Nov 22. S/he likes "swimming, travel, reading" and posted this single message so far:


cheetah:

i've installed my satellite only for about 2 months and all the english channels aren't working! i would love to know why and whats the chance of watching them in the future?

No solution yet for this problem, but we'll let everybody know as soon as the English channels will be restored!
I'm eagerly waiting, too!
---
• Website Traffic & Visitors
One day log summary (Nov 28, 2002):
A total of 1,541 pages were accessed from 58 unique hosts.
There were a total of 7,815 hits, consisting of 67 Megabytes of information downloaded.

There were approximately 110 distinct visitors;
the typical visitor spent about 14 minutes visiting the site and viewed some 14 pages.
• "Record Book"
| | | | | | |
| --- | --- | --- | --- | --- | --- |
| Most Hits: | 11,911 | (Oct 29, 2002) | Most Page Views: | 2,528 | (Sep 09, 2002) |
| Most Visits: | 175 | (Oct 29, 2002) | Most Bytes: | 135MB | (Nov 24, 2002) |
• 1,000 views per topic!
Only one topic so far has ever managed to surpass 1,000 views:
can drivers and bikers slow down? with 1,045 views of a total 114 messages posted so far!
DickStock De-briefing came close, but missed the 1,000-level by just over 100 views!
• Search Engine Watch
How do people find My Lamma amongst the millions of websites?
Search terms that people used recently include: community without cars, rock goddess pictures, heavily pierced woman, full moon party sex pictures, fruitarian shirts...
Two people on Google even searched for lamma gung and found My Lamma this way!
The SCM Post did a Valentine's Day Features section cover story and interview with us a few years back.
Instead of telling our story myself, I'll let the reporter tell it in a much better, funnier way than I ever could.

Next week, we want to hear from some REAL Lamma celebrities!


Here's the story, timely for our wedding anniversary: TODAY!

Lamma.com.hk/forum/Lamma-Gung/Real-Romance-in-a-Virtual-World.htm
---
On an entirely unrelated topic, we've found the LAST VIRGIN ON LAMMA!

According to the results of our Sex Survey so far, there's at least one virgin living on Lamma! Could this be a picture of him; looks like one of the barflies in Spice Island? Nah, probably not...
Results so far, age of first sexual encounter:
0-15: 4, 16-18: 8, 19-25: 0, 26+: 3, virgin: 1
Understandably, s/he wants to remain anonymous, hoping nobody will ever know!
Read more details and enter the survey yourself!


Photo Contest: First Entries!




I've managed to find several more prizes & great honours for the winners of our contest!

webdog will donate some new, top-quality kitchen appliances; and the Island Bar will give winner(s) free booze tabs! Plus:

Luciene (Manager, Island Bar):

Photo Contest:
Yes, I would put the winners' photos on the walls with pleasure.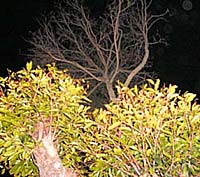 Besides this exhibition of winners, we'll also feature your winning photos in the 2003 My Lamma Weekly Calendar, highlighting your winning photo for an entire week/month on My Lamma and in this e-zine, maybe even include it in a printed calendar!

Here are some of the first contest entries

, no names mentioned to give all contestants equal chances, amateurs and professionals alike!

Where are YOUR entries? Here are more details and how to enter.

Then find your best Lamma photos, shoot some new ones & send them to me!

WANTED! Outgoing Caucasian Females


The walls around YSW are a never-ending, constantly-renewing source of news, sales, reminders, amusement and, quite frequently, hilarity!
Check out this intriguing, mysterious and slightly suspicious help wanted ad on the right that I noticed just this morning.
This is a truly Politically Incorrect ad, discriminating by race AND sex, illegal in HK classifieds! Fie!


"Excellent Rates of Pay" sounds suspicious in these depressed times, where employers go for the cheapest talent, not the best...


"Christmas Style Meet and Greet" sounds VERY suspicious as well, like "PR school girls" in these HK movies I never watch...


But this ad is probably harmless and genuine and I just have a dirty, suspicious mind!
If you're an Outgoing Caucasian Female and want to earn some extra cash, call Mike!
P.S. All these oversized Smilies above (and many more) are available for your use!

Places to Meet People on Lamma
According to our resident expert BBChris (who's met EVERYBODY on Lamma already):
1. Green Cottage. Get a smoothie and sit in front.
2. Lamma Ferry Pier in Central.
3. Talk to Nick (the bookman) on corner. He will tell you
everything about everyone walking past.
4. Go to Aroy Thai for breakfast on weekend mornings and
chat to people there.
5. There's a gym now but I don't know if you're straight or gay.
6. Get a dog and take it for walks. Make it a cute dog if you're
gay. A butch dog if you're not.
7. Get a baby and push a pram about - great for meeting women
apparently. If you want to meet women that is...
8. And yes, you can hang out in the bars and listen to the same conversation again and again...

Tell us YOUR own favourite "Places to Meet People"!
Restaurant Rating Results


webdog & I have been adding new restaurants, photos, even name cards to our Bar & Restaurant guide! Loads of new reviews & ratings from YOU!
A few places seem actually to have been LISTENING TO YOUR COMMENTS!
Especially complaints & suggestions seem to generate actions sometimes, to our big surprise & delight:
The Bistro painting its formerly ugly doors, Spicy Island putting up a screen to separate the bar, Anastasia's adding desserts to the menu... Great! Here's some free promotion in this e-zine as a reward for being so responsive! Send us YOUR complaints!
Holiday Mood is offering a "Wallduff Salad" on its new menu.
Send me your favourite typos from Lamma Restaurant menus!
I'll publish the best ones!
webdog (Site Admin, Gourmet & Food Critic):
Can I suggest we make a section to list the most popular restaurant by the votes.

Ratings results: most popular! most controversial! The most popular bar, international , chinese, tea restaurant, take away etc. The most controversial, such as Spicy Island. The most hated...
The most ignored... those without a vote.
Yes, we surely can, webdog, but we need more votes!
Sand Castle Building & Parachute Games

Do you like "races, sand castle building, painting, parachute games and all sorts"? There's even a Beach Volleyball contest!
Doggy (Lamma Funday organiser):
We are short of people who are willing to organise kids games for the Lamma Fun Day.In the last two years that has been one of the main focuses of the event and loads of kids have had a great day of competitions, races, sand castle building, painting, parachute games and all sorts.

Contact me at info@lammafunday.com if you can help out.

They also need more stall holders! Apply now ($250 for charity): www.LammaFunday.com
Ground-breaking Break-through!

Scientific cosmology research, hosted on My Lamma, has made a major discovery through deductive reasoning in a worldwide distinguished discussion panel of self-appointed experts:

I'll alert the Nobel Prize committee and other big-cash science prizes (like the new Sir Run Run Shaw awards) right away! Glory & fame are within our grasp!
But the much-discussed, mysterious properties of "Dark Matter" remain unsolved. The expert panel's work continues, on to new challenges!
Expert panel: Lamma-Gung, webdog (Lamma); k@, Goat Maison (UK); AutumnAuburn (USA):
"The Universe is made up of
chewy, virtual dragon boat girls,
who are all called Colin, love goat curry, and
have pumping muscles powered by Dark Energy!"

P.S. The BBQed k@, who has suffered singed whiskers and even burnt his fur in the name of science, we salute your noble sacrifice!
Full details of the (soon-to-be) award-winning panel!
Loverboy@Lamma.com.hk
Would you like an e-mail address like the above? Almost any name @Lamma.com.hk is still available! Other e-mail services never have the good names you'd like still available!
You can become SuperStud, SexGoddess or any-name-you-can-imagine@Lamma.com.hk.
Live out your secret fantasies online! Who did you always want to be?
These accounts include web e-mail, POP/SMTP, e-mail forwarding, up to 10MB capacity, only HK$30 (US$4) per month (quarterly pay, 2 months free if you pay 1 year in advance).
Apply now and soon you'll have the COOLEST e-mail address among ALL your friends!
Next Week:

All-new forums & moderators!
Nick's website goes live!
Member-get-member drive!
plus: Lamma's Dark Side,
more "intellectual stimulus",
suggest new topics, e-mail the editor
Last updated: 04 Dec 2002
© 2002 Lamma.com.hk